DOC POW
The day started out right, we hit the hill before anyone else with the First Tracks Program. Guests of this powder-filled adventure get an entire hour of the slopes to themselves, and whether there is snow or not, it's a chance to get up and check out the sunrise with some stellar benefits.  FERNIE, BC — It's the only way to stay on top of it – you've got to be on a pair of skis or a snowboard. Fernie Alpine Resort's reputation for the POW is legendary and that was certainly the case during a recent visit. 
"This First Tracks experience allows you to head out with someone from ski patrol or our snow sports school and get a jump on the rest of the skiers and snowboarders," said Matt Mosteller from Resorts of the Canadian Rockies, owners of Fernie Alpine Resort.
With an annual snowfall of 30 feet, Mosteller added that there have been many ski seasons where every third day has been a powder one.
The guy responsible for it all
With any visit to Fernie, you'll start to hear about a character behind these numerous powder days – The Legend of the Griz. This fictional snow god supposedly can be found in the surrounding mountains, away from the hustle and bustle of the ski resort, but his role to it is a very important one. Armed with a musket, he shoots into the sky and causes the clouds to unleash their moisture in the form of the white snowy stuff we all crave.  
With 10 chairs and over 2,500 acres to play in, you can sometimes feel like you have the resort all to yourself. 
BRANDON BOUCHER/SnowSeekers
If the Griz is watching over you and you've timed it right, your First Tracks program could be a powder-packed hour featuring heli-style turns at a price that can fit any budget.  
Our day was blessed by receiving 10 centimetres overnight, which was gratefully rejoiced by our hoots and hollers on the way up the chair.
The first thing we started with was a hike just off the top of the Timber Bowl Express Quad chair; a little one to wake the legs. It got us up and onto a black diamond named Morning Glory, which certainly lived up to its name, providing us with the world's only way to wake up – continual powder-filled face shots. 
Big glades and big cruisers
The rest of the day was full of incredible glades and big wide open blue cruisers through powder bowls.
What I really like about Fernie's on-slope scene is the way the terrain is laid out. Home to five powder bowls, this award-winning hill offers killer intermediate runs down through those areas, but it's along the ridge lines that make up these bowls that you'll find the steeps and deeps.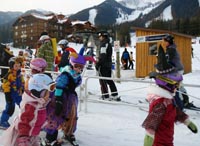 Fernie's not just for big kids, little shredders can find plenty of runs to play on too. 
BRANDON BOUCHER/SnowSeekers
The hike up Mongolia Ridge is a good one, dropping you back in through some gnarly glade runs and into Siberia Bowl. Note: this is entering into some of Fernie's incredible backcountry areas; to travel here, one must be equipped with an avalanche beacon, shovel and the rest of the kit. 
Kick-ass terrain
Along some of the ridge lines of the bowls, you can hit Concussion Ridge in Cedar Bowl, and then jump into the back side of Curry Bowl. With a little support from the trail map you'll be able to lay out these suggestions and click yourself into some of the resort's most impressive and challenging terrain.
If you are like me and want to get into some glades, head on up The White Pass Chair to gain access to the Anaconda Glades. A word of caution though - you may be so impressed with the run and its conditions you could suffer from weeks of perma-grin syndrome.
Watch this video to hear from a true ski bum what it's like skiing on Fernie's powder slopes!
For more stories and detail on Fernie check out our SnowSeekers' destination page.