Former Albertan rejuvenated after trip across the Rockies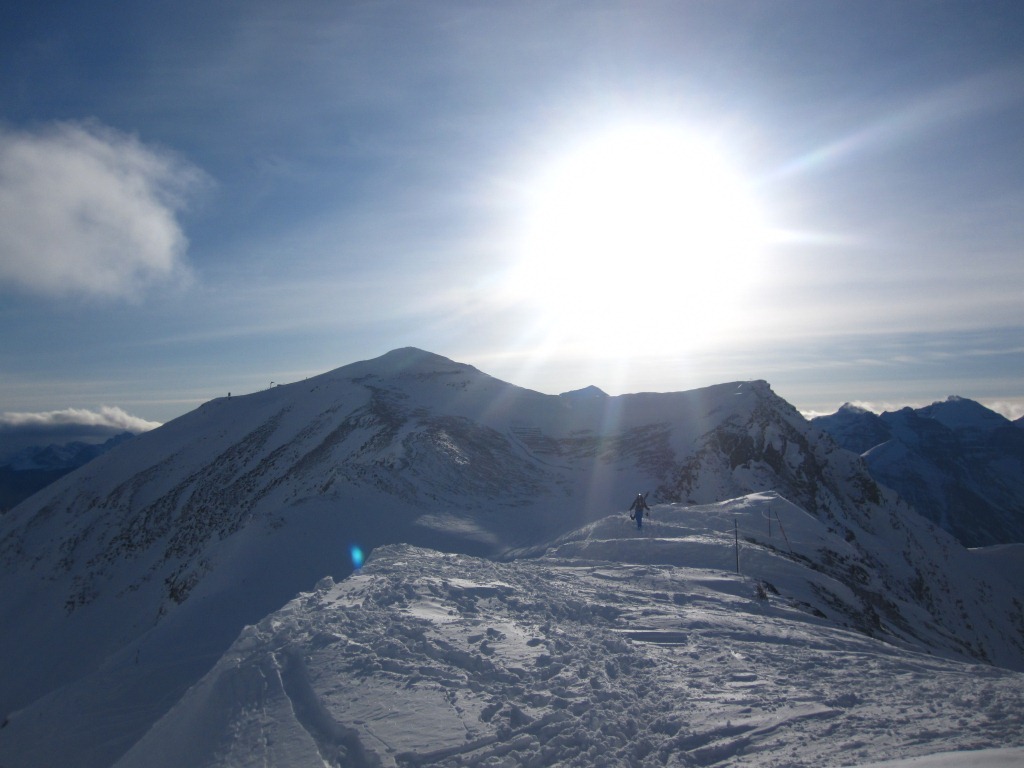 There are few pleasures greater than a beautiful day at the Lake.
Photo by Sterling Todd Keys
STERLING TODD KEYS
LAKE LOUISE, AB — A year of heavy, Pacific Northwest snow (I spend my winters on Vancouver Island) had left me longing for the Rockies and the champagne powder I had grown up shredding. I made a pact with myself earlier in the season that I would trek back across the provincial border and experience the glory of the Alberta Rockies again, if only for a short time.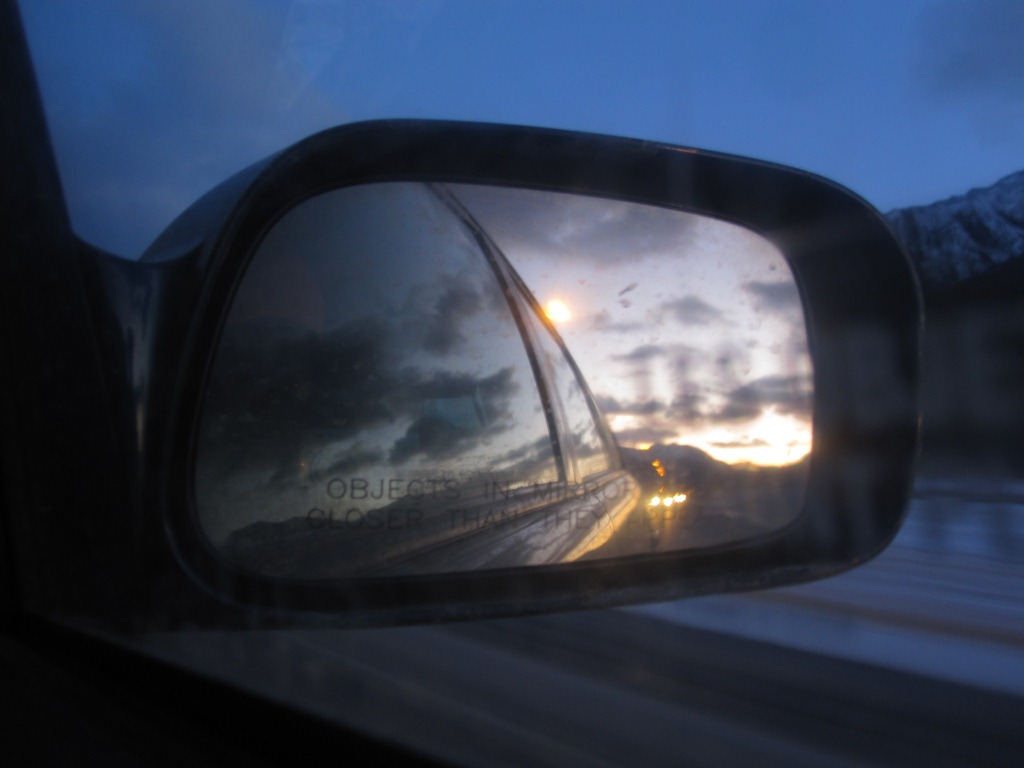 The road to Lake Louise never looked so sweet.
Photo by Sterling Todd Keys
So it goes without saying that, as I drove into the parking lot of Lake Louise Ski Area, just in time for first chair, I couldn't have been more stoked. Having left Edmonton just five hours earlier, it took very clear roads, a little determination not to stop anywhere, and a bit too much coffee to make it to the Lake before the chairs started to turn.
Not having been to Lake Louise for the past three years, and hearing about the ridiculously good conditions that the hill has experienced, I absolutely needed to maximize my time there.
A little snow is all you need
Stepping onto the base area I saw a giant notice board that boasted seven cms of fresh snow overnight with a smattering of dustings over the week. After having a conversation with a few of the lifties, I learned that a strong southwestern wind had picked up the majority of new snow from the West Bowl of Mount Whitehorn, thus leaving many powder stashes through the South Face, as well as the Powder Bowls and Larch Area.
Oh, the wonderful power of snow and wind, that beautful force that's able to turn a few centimeters of fresh snow into pockets of up to four times the posted depth in certain special locations.
Excitement began to creep in as we reached the peak of the mountain. Thoughts of our promise to warm up on an easier groomed run vanished as soon as our skis hit the snow.
One of the great things about Lake Louise is the absolutely amazing variety of terrain that the resort offers. The Front Side (South Face) mixes in almost every type of run: big open-faced blacks, moderate tree runs, and even a large blue and green area near the base for the less-experienced skiers.
Lake Louise offers a memorable experience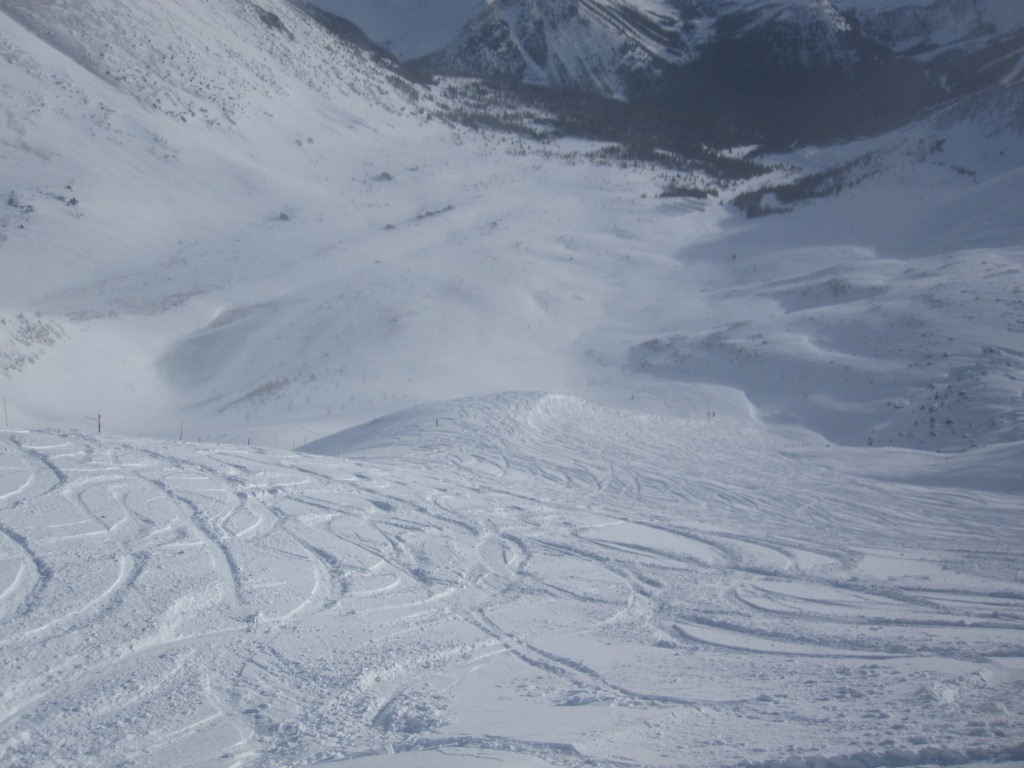 Sterling and his crew were finding powder all over the mountain. Check out those sweet turns!
Photo by Sterling Todd Keys
For people looking for more of a challenge, a quick drop and hike onto the Powder Bowls will open up a completely new world of shredding potential. Even in the early afternoon a quick hike to Hiker's Paradise (fitting name!) will bring you to an expanse of untouched pow.
Dipping into the Larch Area for some glade skiing provided a natural catch basin for the remainder of the snow, and despite being skied out near the end of the day, there was enough slough throughout the area to mimic the conditions found everywhere else.
As a re-introduction into skiing in Alberta, after over a year hiatus, Lake Louise provided me with one of the most memorable skiing experiences I've had in years. As for my three year hiatus to this particular mountain, I can easily say that Lake Louise is back on the list of resorts that I will definitely be checking whenever I'm in the area.
Lake Louise was just the first stop in Sterling's tour. Follow along as he stays overnight at Castle Mountain Chalets just outside of Lake Louise. Or, if you're just looking for more shred stories, continue on to Sterling's tour of Kicking Horse Mountain Resort.