RICK MACDONNELL
FERNIE, BC — Imagine a glorious, powder-filled mountain. As you ascend through dazzling glades and awe-inspiring steeps, you marvel at the sheer number of amazing opportunities available to you. Yet despite the many adventures to be had, there's only one place you want to go: the peak. If accommodations in Fernie are that mountain, then 901 Fernie is the summit.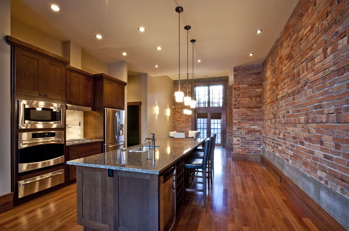 One of Western Canada's (just just Fernie's) greatest accommodations experiences.
Photo courtesy of Fernie Central Reservations
Located in the heart of downtown Fernie sits one of the most unmatched accommodation experiences in Western Canada. Created from the restoration and rebuilding of the town's original public school (from 1908), it sits right at the end of the shopping and dining district and offers an unmatched stay in terms of quality and comfort.
"Attention was paid to every detail during the construction of the 901 Fernie to ensure its contemporary, historical design," said Derick Berry, owner/director of Fernie Central Reservations. "That might sound like a contradiction, but the 901's combination of 21st century style and classic architecture is something that doesn't exist anywhere else in Western Canada."
The 901 Fernie's loft-style residences range from 750 square feet to a whopping 1914. Designed to accommodate indulgent retreats, these lavish living spaces come fully equipped with features to keep your eyes wide throughout your stay.
Whether its the beautiful hardwood floors, the 16 foot ceilings, the sublime open kitchens, or the class 55 sound transmission, you'll be in awe from beginning to end. 
If you're in the market for an unmatched, low-density stay in downtown Fernie, then look no further. And as if it already didn't offer enough, the 901 is set to unveil a brand new massive spa (that includes hot tubs, a gym, and mineral pools) in Fall, 2011.
The best just keeps getting better.
For more on 901 Fernie Executive Suites and Fernie Central Reservations, visit its website, or call 1-800-622-5007.
For more stories and detail on Fernie check out our SnowSeekers' destination page.