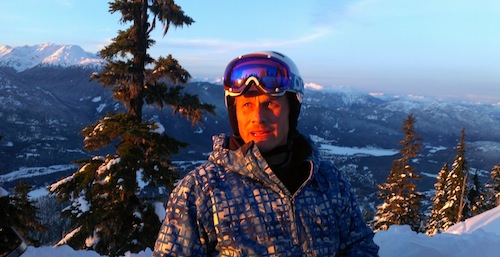 Ross Rebagliati on the hill in January 2012.
All photos courtesy Ross Rebagliati
LISA MONFORTON 
Gold medal. Marijuana scandal. You need only hear those four words and you know who we're talking about – Ross Rebagliati.
Rebagliati became the first snowboarder to win a gold medal in the sport's first-ever appearance at the Games 15 years ago, at the 1998 Winter Olympics in Nagano, Japan.
Next day, the dream win went briefly up in smoke when Rebagliati tested positive for trace amounts of THC (tetrahydrocannabinol) and was stripped of his medal. But when the Olympic committee read its own rules, it found THC was not a banned substance, after all. (It is now.)
Rebagliati's life has since then been defined by the medal and marijuana incident. Now, at age 42, he's OK with that and has turned it into a positive – borne out of his life motto.
So, it may not be surprising that his latest business venture involves something called Ross's Gold. What you may find surprising though is one of Rebagliati's new favourite sports.  Read our Snow Seekers Q & A to find out what's new in Rebagliati's world.
What was your first snowboard experience?
I think it was at Point Grey in Vancouver in the early '80s. We had made snowboards in woodworking class at school. They lasted 30 feet until they totally exploded. 1988 was the first year that some ski resorts (allowed snowboards), including Blackcomb. Whistler came on board in '89.
How did you get into snowboarding?
A couple of friends of mine - one had moved from France to Canada - and he brought a snowboard. Ironically he brought a Burton board made in Vermont.
Describe your best day at Whistler Blackcomb?
The best ever was the first year that Blackcomb allowed snowboarding. We went up the Seventh Heaven T-bar (no chairlift yet). We hiked over to the peak at the Blackcomb glacier. We got over the other side (and) we found an ocean of powder. 
Favourite run at Whistler?
It depends on the day of week and the weather. I did 60-plus days at Whistler last year. I really love the Crystal Ridge area on Blackcomb and the Peak to Creek at Whistler.
Can you share any Whistler secrets?
There are quite a lot of special places that are not secret. The ones that are, are a secret for a reason. Find your way up Spanky's Ladder. It's pretty extreme.
How has snowboarding changed in the past 15 years?
The sport itself hasn't changed. But the people who do snowboard have. It was definitely quick to become mainstream. The culture of snowboarding is so popular. The cool factor attracted so many people and that has transcended the ski culture. Now, the young people don't see the difference between skiing and snowboarding.
What are some of your tips for beginner boarders?
Take a lesson, wear a helmet, wear wrist guards, make sure your boots are the right size and that the boots fit inside the bindings properly. Having a good setup is your first step to success.
Next favourite thing to do when you're not on the slopes?
Dirt biking, car racing, wake-boarding, surfing, kite-sailing. 4x4-ing. Skiing is my latest.
Rebagliati featured in High Times magazine.
Tell us about your new medical marijuana business venture.
We've developed a medical marijuana brand. (Sanctioned by Health Canada) We'll be selling various strains branded Ross's Gold, (and other levels platinum, silver and bronze). First of April is the "go day," for the business.
What would most people be surprised to find out about you?
That I'm skiing, now. That's probably the most shocking thing. I also have two kids – one is 4 and the other is 14 months. It's the best thing ever.