Copper Horse Lodge is the property many dream of
DOC POW
You are in the land of luxury while at the Copper Horse.
Photo courtesy of Rick Bulich
GOLDEN, BC — For years Kicking Horse Mountain Resort has provided snow seekers with some pretty epic opportunities for shredding the slopes. After the expansion that took place in the fall of 2010—which welcomed the backside of T2 into the in-bounds skiable mix—the resort now boasts 2,504 acres of skiable terrain. 
With endless powder bowls packed with an average of 8.84 meters of annual snowfall, to some of the gnarliest runs in Western Canada, most of us would just show up, score some epic turns, and leave. But not Rick Bulich.
Bulich and a couple of his colleagues were lured by Kicking Horse's powder filled future and saw a potential to invest on-mountain. In 2004, they built something that could bring people even more enjoyment out of their time at one of Canada's premier snow-bound destinations. "It was a unique opportunity to build something with a cool concept, something we've seen in other places like Europe and the States, but not in Canada," Bulich said.
Live on-mountain full time
On mountain, Kicking Horse has been a community in development since it opened in 2000. Now, after six years of operating a restaurant and hotel within the destination, Bulich and his partners are putting it up on the real estate block. If you're up for it, you no longer have to leave at the end of the day; it could be a full-time gig to live on the mountain and move turnkey into a business that is anchored by snow-filled hospitality.
The inspiration for Bulich's Copper Horse Lodge comes from Australia, where this style of property is common: one that features a small boutique lodge, smaller than a hotel but bigger than a bed & breakfast. It's small enough to make close connections with guests, while those same guests enjoy generously spacious guest rooms, with private spa style bathrooms, plus a great, lively restaurant. 
The property features 10 guest rooms and has a full restaurant, Corks, within the property that seats 60 people. It's also known for serving up the best Caesars on the mountain. The Copper Horse Lodge is within a two-minute stroll of the Eagle Eye Gondola.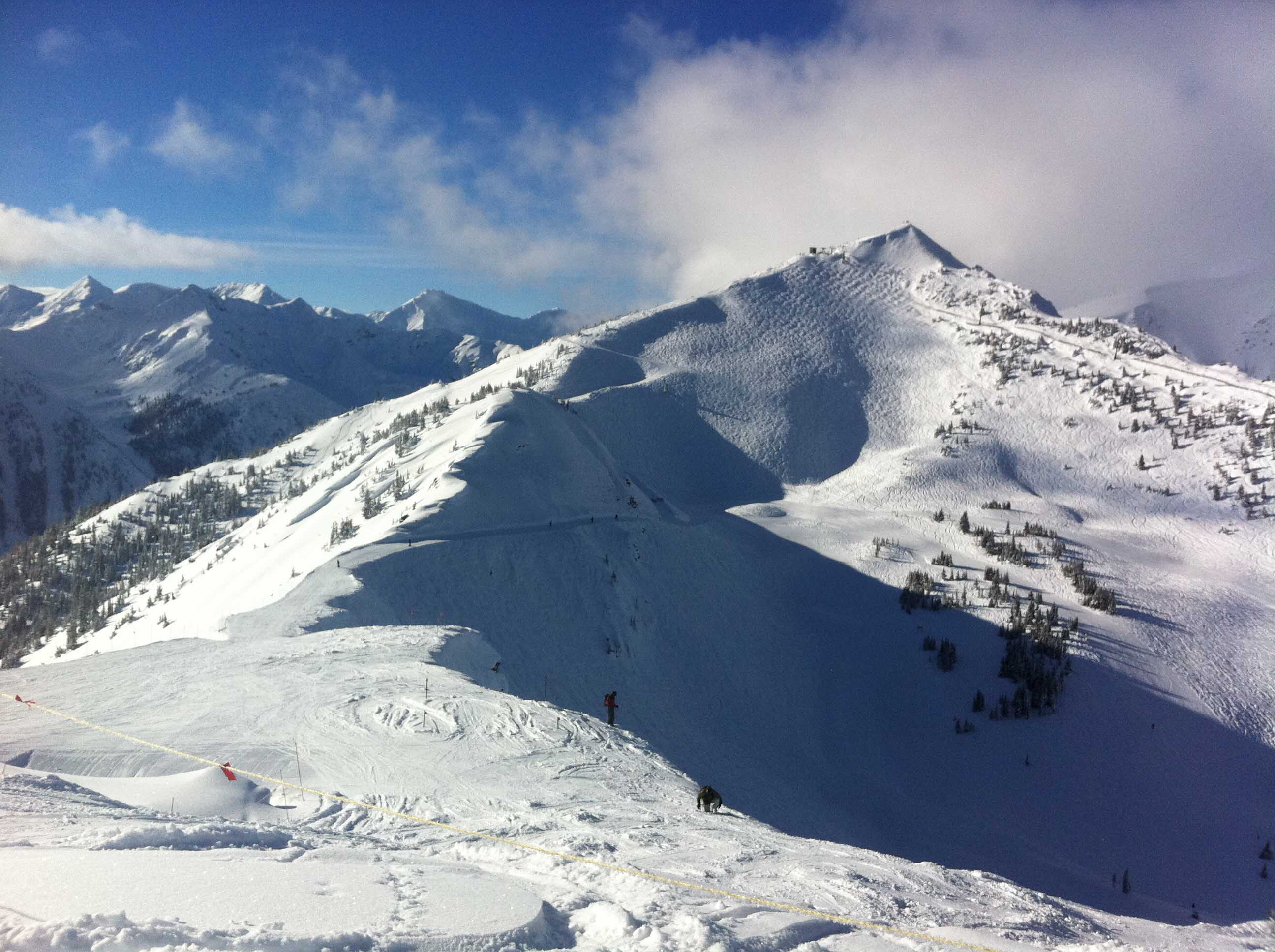 Looking out over Kicking Horse's skiable terrain, it's easy to see why the lift in the background is called "Stairway to Heaven."
Photo courtesy of Rick Bulich
No mountain like it
Bulich cherishes any conversation about his lodge's surroundings. "There is no mountain like it. Kicking Horse's mixture of terrain, snow quality, and proximity to a major skiers' city (Calgary), and the international airport connecting powder hungry Europeans and Americans ... is unprecedented. And the resort still has so much potential—and plans—to keep it expanding in both summer and winter."
If you've never had the chance to get into the scene on mountain at the Horse, it's worth the visit. It features an après ski style that allows people to hop lodge to lodge. And if you are looking to get out of the rat race to spend the rest of your life chasing powder, get in touch with Bulich, as he's got a deal for you on a property that will take you from bored to bliss … overnight.
For more stories and detail on Golden check out our SnowSeekers' destination page.