Tube and Dine date night at Canyon Ski Resort
'Going all the way to the straw' at the 'Tube and Dine' is a wintry twist on romance
DEBBIE OLSEN
RED DEER - It was a Friday evening and I laid back on my snow tube, stared at a dark sky filled with stars and breathed in the crisp air as I rode the tube lift to the top of the run.
If you have ever tobogganed, you know the most challenging part is carrying your sled back up the hill. But snow tubing at Canyon Ski Resort, near Red Deer, eliminates that because you'll be riding the tube back up the hill, which is also part of the fun.
When I reached the top, I waited for my husband and visited with Harry Booth, the employee manning the top of the tube park that night. Harry hails from England and works as a ski instructor at Canyon.
Not your typical date night
On this night, he'd signed on for an extra shift at the tube park. His job at the top was to give riders a big push, so they gather more speed going down the hill. My husband and I linked our tubes and Harry gave us a running start.
There are two tube runs at Canyon's snow tube park and we started on the right side first. The hill is steep and the run is long and windy and I couldn't help making a few excited squeals as we picked up speed and our tubes edged up the berms on the turns. When we reached the bottom, we noticed straw near the back of the run, which is there to slow down tubes going really fast.
"This is our goal." said my husband. "We need to make it all the way to the straw!"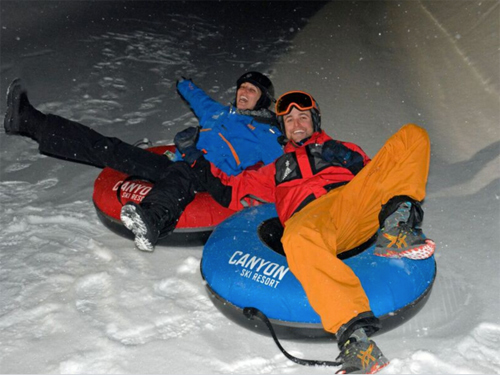 A date night of tubing and dining - and 'going all the way to the straw' was a first for me and my husband.
We're always trying to come up with new things to do on our weekly date night, but I have to admit going "all the way to the straw" was refreshingly out of the norm.
Every Friday, Canyon has a Tube and Dine special that gives a couple an evening of snow tubing and dinner for $59.99. Since dinner alone normally costs us about that much, we decided to try the special.
Worked up an appetite
As we made our way back to the tube lift, we said hello to Kristi, the Australian staff member handing out tubes. Canyon Ski Resort is Alberta's largest non-mountain downhill ski resort with about 80 staff members from all over the world – including 35 to 40 ski and snowboard instructors. The family-owned and operated ski resort is something you don't expect to find outside the Rockies.
We spent the next couple of hours riding our tubes up and down the hill and with the help of Harry's pushes, and we slid all the way to the straw multiple times. By the time we headed into the ski lodge for dinner, we had a hearty appetite.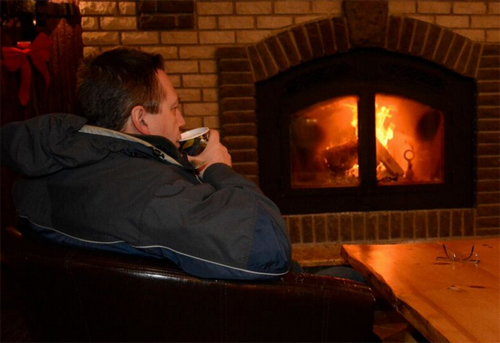 Take the chill off sitting by the fire after a couple of hours of tubing. a new take on date night. 
We entered the lounge area and pulled up two chairs next to the roaring fire. Alois Kunc, co-owner of the ski resort was behind the bar and poured us each a drink while we waited for dinner - a delicious beef dip served with a home-style pasta salad.
As we relaxed by the fire, I couldn't help thinking that this was the best date we'd had in a very long while
If you go: 
Tube and Dine at Canyon Ski Resort costs $59.99 per couple and runs every Friday night beginning Jan. 8, from 5-9 p.m. It includes snow tubing and a pre-set dinner in the lounge.

Canyon Ski Resort is Alberta's largest non-mountain ski resort, located eight minutes east of Red Deer. It has 70 acres of skiable terrain, 18 runs, six­­­­ lifts, a ski school, snow-making equipment, a terrain park, a tube park, night skiing and equipment rentals. (www.canyonski.ca)

Read Jeremy Derksen's take on skiing at Canyon with kids and bring them along for some amazing ski lessons. 
Looking for a new date night idea to share with someone. Share this page with someone you'd love to bring along.
 
For more stories and detail on Canyon check out our SnowSeekers' destination page.