Then and now: Marmot Basin
Marmot Basin history built on bravado and big ideas

JEREMY DERKSEN

Skiing down Marmot Run on a clear day, you'd be forgiven for thinking that little has changed in over half a century since Marmot Basin (then called Marmot Basin Ski-Lifts Ltd) officially launched operation in Jasper National Park in 1964.

Compared to old black and white photographs from the early days, the terrain bears few marks of development: a cluster of buildings (the lower chalet, mountain operations building and old avalanche control office), newer high-speed quad chairs and far below, the town footprint (effectively restricted to its current size since the late 1980s). These would be the only recognizable changes.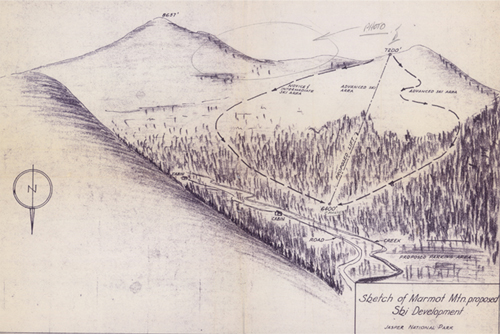 Early sketch of Marmot Basin.
All Photos by Marmot Basin.

Within the thousands of years of evolution and 12,000 square kilometres of Jasper National Park, human history seems nothing more than a speck. Little do most Jasper skiers realize that beneath their skis lies a rich, 50-year plus history — and pre-history — of brash independence that permeates the local alpine culture to this day.
Swiss know-how, Scottish bravado
Like anywhere else in Western Canada, alpine history in Jasper owes its origins to the Swiss. Joe Weiss first guided cross-country skiers into Marmot Basin via Whistlers Creek back in the 1920s. But unlike elsewhere, Marmot also owes its existence and possibly some of that brash independent streak to the Scots.
Take for example the first tow rope, built in 1961 out of spare parts from an old British Army truck. Typical of the early pioneer spirit in Jasper, then-operator Toby Rayner made the best out of what he had on hand.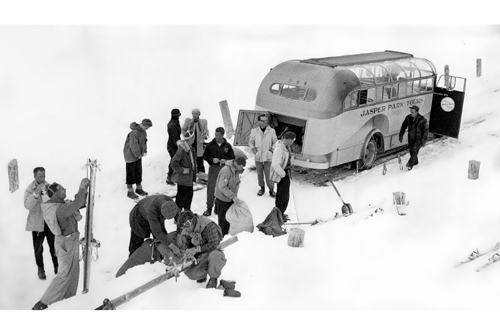 The first tow rope was made from the spare parts of an army truck

But Rayner's ingenuity would have been nowhere without earlier cowboys to wrangle their way into the area. It was the British Army's Scottish Lovatt Scout Regiment, following Joe Weiss, who first rode their way over roughly-hewn forest track into the area for training operations during the Second World War. The Scouts used snowmobiles and snowcats for transport into the basin, but also managed to leave behind the army truck Rayner would eventually cannibalize for parts to build the first motorized tow rope.
Partnering with Parks
Those first Scottish forays paved the way for Bill Ruddy and Tom McCready, who pushed to get a road in to the hill in the 1950s. With that in place, the pair began transporting skiers into the area 15 at time by snowcat. Charlie Dupres was one of those skiers, an adventurous local who skied some of the hill's best terrain. An avalanche would kill Dupres in 1955, but he left his mark: two of his favourite runs are named after him — Charlie's Bowl, and Dupres Chutes.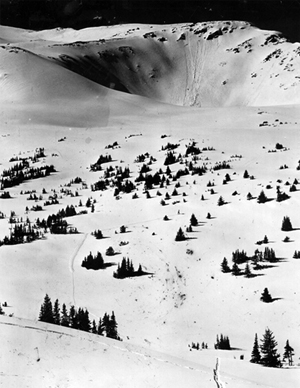 Marmot Basin is home to beautiful bowls and chutes.
Rayner took over in 1961, got the tow rope going, and eventually, succeeded in getting a licence to operate from Parks Canada in 1964. That would prove to be a momentous year.
Besides becoming an officially licensed ski area, it was the year Marmot got its first legitimate surface lift, the Yellow T-Bar, and built the upper mountain chalet.

It was also the year that Toni Klettl would arrive and take over as warden for Parks, overseeing ski patrol, avalanche control, run cutting and development at the hill.

Although Parks' staff are less active on the hill these days, that partnership with Parks Canada has remained instrumental as the ski area management has worked closely with Parks as a partner in environmental conservation — recently, resulting in Marmot being the second ski area in the Canadian Rockies to complete and get approval for its long range plan in June 2015.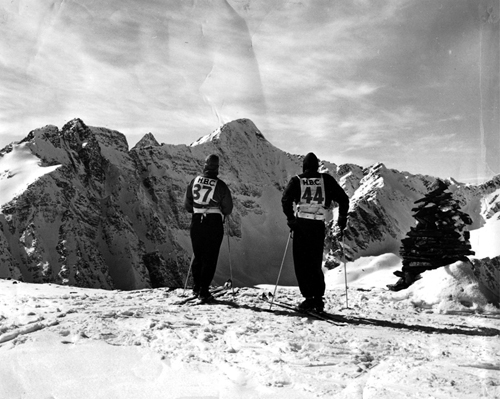 View from the top of Marmot Basin.
But back in the 1960s, Klettl and his team played a major role in shaping the ski area — clearing and packing the runs, clearing the road in and making sure the snow conditions were safe for skiers. 
Olympic endeavours
From the mid-'60s through mid-'70s, development continued at a rapid pace, with the Red T-bar added in 1965-66, the first chairlift (the Yellow chair) and the lower chalet in 1968-69, an improved highway and the Caribou Chair in 1970, and the Knob Chair in 1976.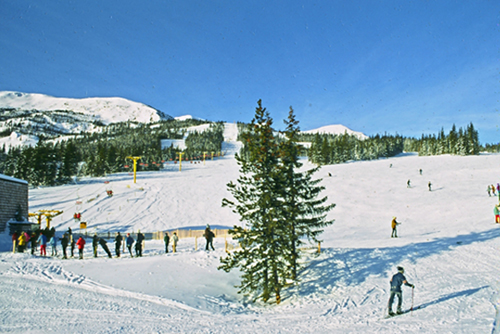 The old yellow chair at Marmot Basin.
Those were exciting times for the hill. In 1966, because of Marmot's great early November snow conditions, the Canadian national team — and one Nancy Greene — came to train at Marmot Basin. The impressions left by the Olympic skiers inspired a strong competitive tradition at Marmot. Among the athletes who have roots at Marmot Basin are Olympic downhill racer Loni Klettl (Toni's daughter), and Olympic gold medal freestyle skier Jennifer Heil. 
Back to the future
In 1990, the new Eagle Express quad ushered Marmot into the modern era, and began a series of modernizations that would transform the skiing experience over the next 20-odd years. Most notably for skiers, the opening of the expert Eagle East area and the Eagle quad in 2003, new state-of-the-art snowmaking in 2006, the Canadian Rockies Express high-speed quad in 2009-10 and the Paradise Express high-speed quad in 2011-12.

These days, a few relics — like Charlie Dupres' old ski equipment — still adorn Marmot's chalets and remind skiers of older times, and the pioneering ethic and alpine bravado of generations past. Like specks along the continuum those early artifacts of human history at Marmot have long since disappeared in favour of modern lifts and lodges, and greater comfort.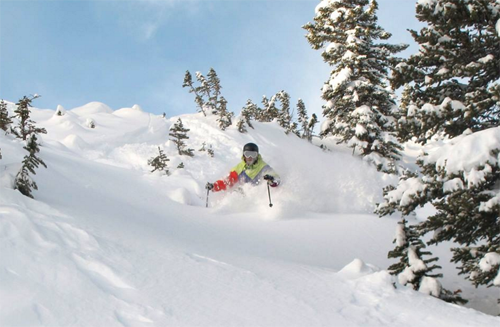 Marmot is known for incredible snowy conditions, all season long. 
But the ski experience itself remains much as it was from the beginning — pristine, wide open and uncrowded, just like in those old black and whites — with a little bravado, for good measure.
For more information, head to the official Marmot Basin website
Become a SnowSeekers member and get exclusive access to deals and more.
Check out how Lake Louise became the birthplace for skiing in the Canadian Rockies
Show your stoke for the awesome history of Marmot Basin by sharing this page with your friends!
Powder Pioneers, Ski Stories from the Canadian Rockies and Columbia Mountains, Chic Scott, Rocky Mountain Publishers. 

Guardians of the Peaks: Mountain Rescue in the Canadian Rockies And Columbia, Kathy Calvert and Dale Portman, Rocky Mountain Publishers. 

Archives Canada: No RCIA 252381 

Shirley Klettl Fonds, Jasper Yellowhead Museum and Archives. #990.5, 995.18
For more stories and detail on Jasper check out our SnowSeekers' destination page.