DOC POW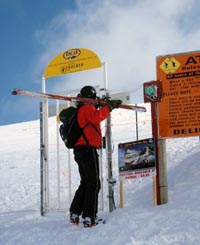 Access to all of Sunshine Village's three freeride zones are only accesed through gates.
BRANDON BOUCHER/SnowSeekers
BANFF, AB — Even just standing at the lip of it is intimidating. Sunshine Village's Delirium Dive is infamous amoungst skiers and snowboarders across Canada, and it's only one of three free ride zones here—the other two being Wild West and Silver City.
Back in the day, through the 60s and 70s, people would sneak into the now Dive area to get in some epic runs. Today it's been sealed off and only those who are confident backcountry shredders and equipped with full avalanche kits—beacons, shovels and probes—have access.
"We wanted to build it with respect for the backcountry and to be a gateway to mountaineering. By putting up gates and restricting access to only those who had the equipment and the expertise, it keeps that respect and provides a unique experience," said Sunshine's President Ralph Scurfield.
Area demands respect
The freeride zones are void of any signs marking cliffs, rocks and any other natural hazards found in the area, keeping you on your toes at all times. Being out in the Dive is an experience that will set you in your own little snow-filled world.
It's a short hop up from the top of the Continental Divide chair, with a hike that leads you down a set of metal stairs and across a traverse which opens up into some impressive options. Runs like Steel Pipe or a hike along Galaxy Ridge to get into the Galaxy One through six series of shoots offer up double diamond runs that will leave you puckered up.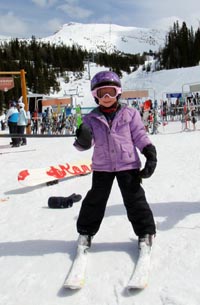 Sunshine Village has long been known as a great family hill with terrain for every member of the family.
BRANDON BOUCHER/SnowSeekers
Looking out onto Galaxy ridge is an impressive site, with all of Goat's Eye Mountain out front and mountain peaks way in the background. It's a very dramatic spot.
The crew behind it all
"Some folks will get into what we call super laps, hitting Delirium Dive and then up Goat's Eye to hit Wild West from there," said Alec Winterburn, a four year member of Sunshine's trail crew.
It's his team's efforts which lay the foundation for the season. Winterburn and crew are out early in the season laying out over 25 kilometres of fencing, capturing the snow so it stays where it needs to—on the runs.
On a recent visit, I took in some black beauties including the Shoulder found off Tee Pee Town before heading over to Goat's Eye to grab a double black known as the Wild Side and into Hell's Kitchen.
"The black diamond runs off Goat's Eye Mountain, combined with our three freeride zones, has Sunshine known for its extreme terrain. It offers tremendous variety.
The resort has always been known as a great family destination while in addition, we have these zones. We are family-orientated but with a wild side to us," said Sunshine's Marketing Manager Doug Firby.
For more information on Sunshine Village or to book your ski, snowboard, or winter getaway to Banff, Sunshine Village, or Lake Louise, check out Banff Tourism's "Ski the Rockies" website by clicking here 
For more stories and detail on Sunshine Village check out our SnowSeekers' destination page.