BRANDON BOUCHER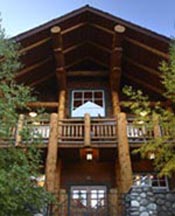 The beautiful Buffalo Mountain Lodge in Banff, Alberta.
Courtesy CANADIAN ROCKY MOUNTAIN RESORTS
BANFF, AB — Well what can I say. Sunshine Village just never seems to disappoint! But who would be disappointed in mid-May strapped to a snowboard? I certainly can't think of anyone.
Having only been to Sunshine a handfull of times, I can definitely say that this was my favourite. Riding all season with Doc Pow was great, I really stepped up my game being along side a shredder like him. But riding with my closest friends from back home really blew this trip out of the water.
Banff's best blues club 
If you're going to plan a trip to Banff, you better do it right. We scored ourselves a stellar suite at the Buffalo Mountain Lodge. Some of the comfiest beds on the planet I think. After we checked into the space, we headed to town for some food. One of the best things about the Buffalo Mountain Lodge is that you feel so secluded from everything, meanwhile Banff Avenue is only a stone's throw away.
We headed to the Rose and Crown Pub for some good tunes, good brews, and good eats. This place always has it happening. I don't think I've made a trip to Banff without making a stop. Being a music magnet myself, I was lucky to have a good friend by my side to remind me that we had a pretty serious day of riding the next morning. I probably would have stayed until the lights came on if he wasn't there. Back to the Buffalo we went for a nice rest before hitting the slopes.
Getting up was a little slow. I'm pretty sure I could still hear the amplifiers ringing. But duty calls. We were out of the pad in T-minus five, loaded in the car and ready to rock. Stepping onto the gondola about 10 minutes later with an ear-to-ear smile, the day was already off to a great start.
Bluebird skies and fresh pow
Riding up the gondola, the conditions looked pretty good. Snow was still covering very wide range of terrain on the mountain, but the ski out was a little shady. But what's to complain about? After all, it IS the middle of May.
When we got to the top, we were greeted with some bluebird skies, and about four centimetres of fresh snow from the previous night. It was great to get out and ride with my buddy, Rick. I hadn't made any turns with him yet this season, and I got to show him some of the good stuff that Doc Pow and I stumbled across on our last tour like the Southside chutes off of Goat's Eye.
If you want some steep gnarly chutes, this is a great place to go. Double blacks all the way, there's no messing around in these quarters. A short traverse off of the top of the Goat's Eye chair-lift and you're there. The runs were awesome. After you kill your thighs through the fat bumps and steeps, you slingshot into a set of glades that make you feel like you're competing in a boarder-cross competition.
Wicked tight turns and berms that make your legs burn worse then Tiger Balm. What a great burn though. Powder hounds from all over can relate to that "good" burning sensation.
Backdoor pass
Steep chutes not your thing? Looking for a more back-country experience? Rick had a few tricks up his sleeve for this trip. Having never been to The Back Door at Sunshine Village, this was a great opportunity to knock it off my list.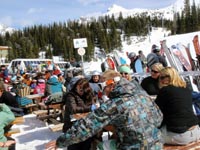 Skiers and riders hang out under bluebird skies at Sunshine Village, Alberta.
BRANDON BOUCHER/SnowSeekers
I had heard of it before from some friends, but never really knew what it was all about. Until now. The Back Door is a short hike off the top of the WA WA chair lift. About 15 minutes later and you step into a white abyss of backcountry style terrain. I really couldn't believe A) what I was seeing and B) that I had NEVER been to this spot before.
Hiking up to a huge natural roller filled with fresh pow was the highlight of the trip. I love fresh snow, so marshmallow-like, and I love marshmallows. Rick and I sat on our boards just to take in the view for a few minutes before dropping in. It was crazy.
No, it was EUPHORIC. How about screaming at the top of your lungs and listening to the echo go on for miles, and miles, and miles? Listening to my own voice travel through valleys and bowls of the amazing Canadian Rockies ... just because I could.
We dropped into the roller and met up at the bottom. Before continuing, we looked back at our tracks weaving and winding in and out of each other. Couldn't do anything but smile. Sunshine has it all from steeps and deeps to mellow cruisers. Whatever your looking for, find it here at Sunshine Village.
For more information on Sunshine Village or to book your ski, snowboard, or winter getaway to Banff, Sunshine Village, or Lake Louise, check out Banff Tourism's "Ski the Rockies" website by clicking here 
For more stories and detail on Sunshine Village check out our SnowSeekers' destination page.