Revelstoke Mountain Resort provides a "Top 3 Powder Day"
CHRIS TOBIAS
Trip Odometer Total: 868 kms (539.4 miles)
Everything was on schedule after we left Lake Louise late yesterday afternoon. Ahead of us was a 3.5 hour drive West on the Trans-Canada Highway to Revelstoke, British Columbia. It was another scenic route with winding two-lane roads carving right through the mountains. There was some light rain and the roads were damp, but nothing out of the ordinary… until we reached the town of Golden.
We slowly made our way through to the town's edge but were suddenly redirected off the road by BC highway workers. Road block – Highway 1 to Revelstoke was closed due to avalanche control. We followed the updates via radio and internet for about 3 hours until they finally announced the highway would reopen at 7 pm Mountain Standard Time.
Our initial schedule was planned so that we wouldn't be driving at night through the mountains, but in this case it was unavoidable. Thankfully the ZDX was equipped with standard HID headlights and fog lights to help illuminate the path. The highway started out fairly calm but we quickly found out why they had it closed in the first place. Mother Nature had struck with a new barrage of tricks for our ZDX to battle. A combination of rain, snow, slush, massive puddles and patches of fog stood in our way on the 149 km stretch of road to Revelstoke. The long train of vehicles followed closely, and it was nice to have the ZDX's extra height to see ahead over some of the smaller sedans in front of us. Again, the SH-AWD system and winter tires came through for us. Our vehicle moved exactly the way we wanted it to, the steering and handling was uncompromised even with the mix of unpredictable road conditions.
Revelstoke Mountain Resort
The  morning rain was an unpleasant sight to wake up to, but at least it cleaned off some of the mud and dirt that had accumulated on the ZDX. We were hoping the rain would equate to snow higher up at Revelstoke Mountain Resort. I've been to "Revy" only once a few years ago, but today I quickly noticed huge developments in terms of accommodations and retail stores at the base. Revelstoke is still fairly new as a resort, but it looks like they have plans for mega expansions in the next few years.
Revelstoke Resort has the longest vertical descent in North America, so the trip to the top was expected to be a bit lengthy. We shared a gondola with a trio who were also stuck in Golden, and they asked us how our drive up to Revy was. "It wasn't so bad, we were in an Acura ZDX" Kevin responded. The three instantly let out a groan in jealously. Apparently they drove out in a compact sedan with summer tires, a scary thought after what we experienced last night in the ZDX.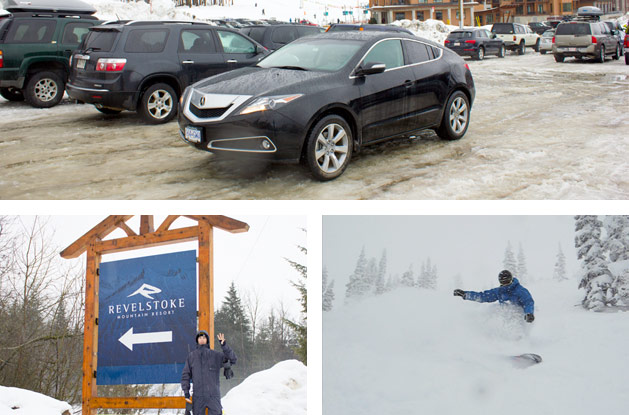 Photo courtesy of Chris Tobias
6 cm overnight is what the snow report read, but with such a slushy base we weren't sure what to expect once we reached the summit. Folks, snap on your powder skirts and tighten those goggles, because it was another day of epic snow at Revelstoke. That 6 cm felt about the same, if not more than the 26 cm we saw at Lake Louise the day before. We stuck to the "Stoke" chair for most of the morning because we just couldn't get away from all the good stuff up top. Riding through the trees was where we found the best thigh-high and even waist-high snow. I should have brought my powder board, because I must of dug myself out at least 6 times. Today definitely took a slot in my personal "Top 3 Powder Days" list. For more on Revelstoke Mountain Resort visit SnowSeekers.ca/britishcolumbia/revelstoke
Tomorrow we head out to the city of Nelson for our visit to Whitewater Ski Resort. Can our snow streak continue?