Paradise Awaits the Naughty or Nice at SilverStar Mountain Resort
CRAI BOWER
Welcome to this story from SnowSeekers' classic collection.
VERNON, B.C. - They're known as the Naughty Neighbours. You might notice this gaggle of adventure-minded folks who call SilverStar Mountain Resort home for all or a good part of the winter.
They gather at Bugaboos Bakery on Tuesday night for appies and drinks where they share village gossip, the week's outdoor highlights among other friendly fodder. Most are ski hosts, ambassadors who sign up to lead visitors to their secret off-piste stashes and tell enviable tales from life lived on the hill.
Eclectic and discriminating by nature, the Naughty Neighbors come in all shapes and ages, veritable poster children for SilverStar's amazingly good multi-generational offerings. The choices could fill at least two winters: sleigh rides and a skating pond, snow-cat rides to remote cabin dinners, tubing, fat tire biking and yes, a ski-in, ski-out ten-pin bowling alley. Seriously!
US friends: With the exchange rate in your favour, why not come and visit your neighbours in the great white north this winter? Explore winter deals and getaway packages at SilverStar Mountain resort.
"The mountain report dictates what skis I grab each morning," confides Rick Bauer, who has enviably split his time between SilverStar and B.C.'s Savary Island for a couple of decades. "If we have fresh snow, I'll grab my alpine gear, zip through the powder until lunch, then switch to Nordic for an afternoon excursion to Alder Point."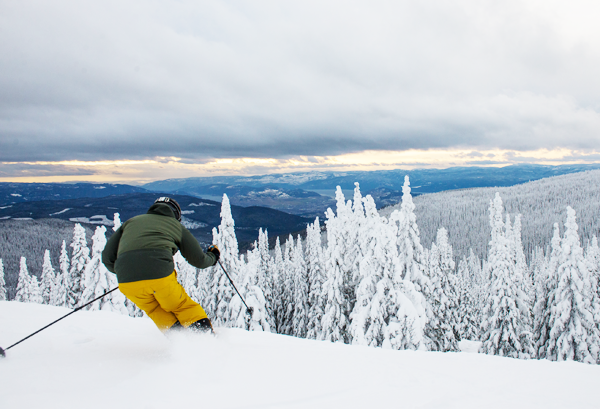 The Okanagan Valley lays out in front of Attridge Summit.   
I admit to being pretty alpine-centric in my outlook, but SilverStar's Nordic reputation is hard to ignore. Week-long Super Camps gather en masse in the village awaiting their instructors. The Dartmouth Nordic ski team is here. The Larch Hills Nordic Club, 160 kids from Salmon Arm, dart, munchkin-like, about the brightly coloured village buildings.
"Are any of you Nordic skiers?" a bubbly 13-year-old from Larch Hills asks during my first night's dinner. "Yes!" responded my dinner companion enthusiastically.
"Are you on a team?"
"Absolutely!"
"May I take your picture for our scavenger hunt?"
"Of course!"
It goes like this here, where gloriously unplugged teens cruise the compact village on a good old scavenger hunt without a Pokemon to kill in sight.
"SilverStar's known to Nordic skiers across North America," says my friend, still beaming from his photo session. "Our alpine should be, too."
The resort sits adjacent to SilverStar Provincial Park, stitching together 105 kilometres of trails groomed daily. I'll follow – and I do mean follow – Rick along the groomed Cross Mountain Trail the next morning, a perfect early-season trail with a few moderate climbs through the lower alpine, proof that Nordic and alpine trails can co-exist just fine.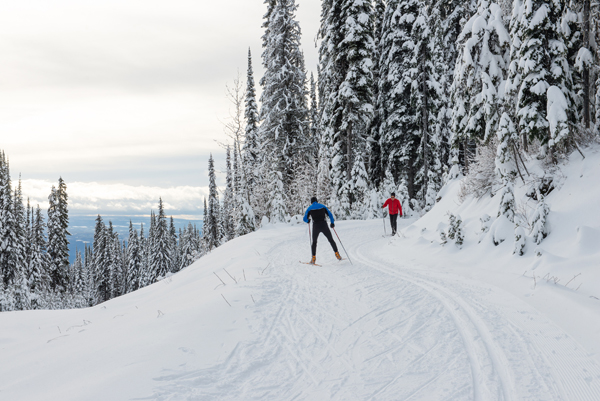 There are 105 kilometres of groomed Nordic trails that traverse the mountain.
Before I get too carried away into the woods on my frightfully skinny skis, it's time to give a little love to the very deserving alpine. SilverStar's territory spans 1,328 skiable hectares, the third largest in B.C. It's 760 metres top-to-bottom and the longest of the 132 marked runs stretches eight kilometres. About 700 centimetres of natural snow falls annually and the temperature rarely dips below -8. Best of all, every place to stay, and I mean every place at the resort, is ski-in and ski-out. Park, unpack, ski, play. It doesn't get better than that.
It doesn't take much to flake things up when the snow is this dry, so off we go into 15 cm of freshies that manage to tickle my kneecaps as I slide down Whisky Jack from the Comet Express six-pack chair. One of my favourite traditions when skiing is going high to claim a vista of the surrounding landscape. Pausing on Attridge above the Alpine Meadows chair reveals the Okanagan Valley's lakes and foothills, panned wide as a Bob Ross brush stroke.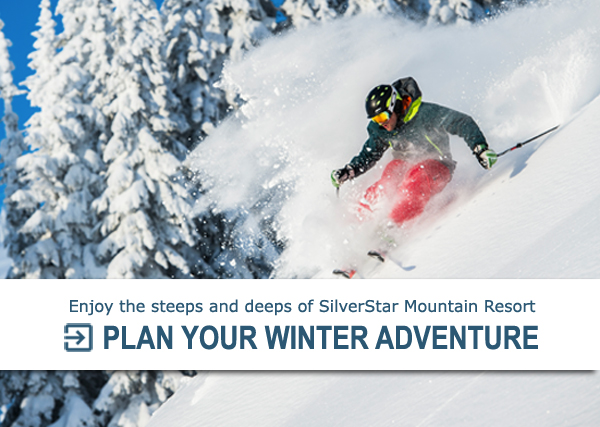 It's early season so we stay on the front side, though it's the backside, Putnam Creek, that has given experienced skiers a real kick in the pants since opening a couple of years ago. Think of Putnam Creek as an alpine octopus with eight arms adorned in black and double black diamonds with a cool blue cruiser or two thrown in for contrast.
Like the alpine menu, SilverStar's amenities offer morsels to suit every family member's taste. Brewer's Pond, a natural skating area with forested island in the middle, has grown from a change room and skate rental shop into a diverse winter play centre, adding towrope-accessed tubing hill and café that serves up hot drinks and several food items like chili and burgers.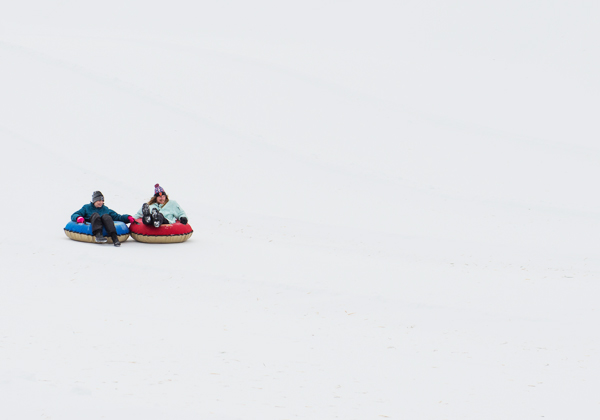 Tubers get to use the new Brewer's Pond Pavilion for warm-up runs.
"We often plan to come for an hour and stay for the afternoon," says a mother of two young girls who are happily noshing hot dogs. "The tubing is gentle enough for my first grader but still gives my fifth grader a thrill or two. Then it's on to skating."
What makes this winter playground so awesome is that my two teenage boys have spent their afternoon the same way. SilverStar remains their favourite ski vacation because of hours spent chasing each other and the puck around the island on Brewer's Pond. We played shinny for four solid hours the last time we all visited.
After-dark amenities
My latest resort amenity of choice is after-dark amenities. While I'm not opposed to a little table dancing at The Bulldog, I've lately looked for more exclusive fare. I like to call them "Wow!" experiences – or, um, maturity?
We're talking more sensory thrills like daily sleigh rides and weekend night skiing. Taking a snow cat up a mountain provides plenty of thrills on its own, but tacking on a three-course at Paradise Camp nails the aforementioned "wow" factor.
I'm reminded of Rick Bauer's comment 12 hours earlier when we were tearing into our morning cinnamon rolls at Bugaboos. "People often wonder whether it gets boring living at a ski area for the winter," he said.  "But you get so far away from everything it's actually paradise."
Staring at the outline of the Monashee Mountains beneath a purple canvas of stars, I wonder if anyone around here would notice the new naughty neighbour who just m­­ight move in. 
If you go
U.S. friends: With the exchange rate in your favour, why not come and visit your neighbours in the great white north this winter? Explore winter deals and getaway packages at SilverStar Mountain resort.
Like this story? Share it with your crew on Facebook!