Look no further than Castle Mountain Resort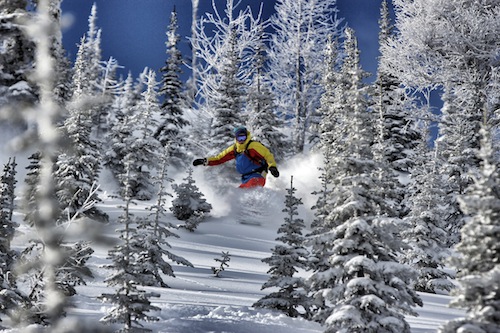 Photo by Garth Helland
JOANNE ELVES
PINCHER CREEK, ALTA. - Standing at the top of Red Chair at Castle Mountain Resort looking down at all those tree runs there was only one thing going through my head. OK, two things: Look at all the glades! And - what was I thinking!
There was only one thing I could do. Ski them. Over and over and over!
HOT TIP: Purchase a Wonders of Winter card and receive 50% off your Castle Mountain, Hidden Valley and Pass PowderKeg lift tickets, valid any time, no blackouts.
Castle Mountain is tucked into the mountains about a half hour from Pincher Creek in the southwest corner of Alberta. It's a quiet resort, no frills and no wasted expense on fancy doo-dads.  Everything is about enjoying what gets dumped in vast amounts every winter.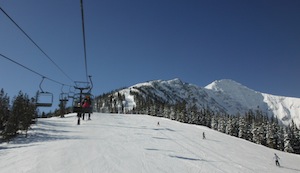 Photo by Kim Edgecombe
With an annual average of 910 cms (or about 30 feet) you can expect fresh powder nearly every day. Why Albertans drive by is a shocker.
It is big, offers every level of ability and is hosted by gosh-darn friendly employees.
Our day started with 124 footsteps.
That was the distance from the front door of the Castle Mountain Ski Lodge and Hostel to the ticket window.  Talk about a ski to your door experience. It's perfect for us wanting a room for the family and perfect for the diehard ski crowd looking for reasonably priced accommodations. The hotel room that accommodated us was less than $150 while a bed in the hostel can be as cheap as $28. A hostel room that sleeps you and five of your closest friends has a rack rate of $145 for the night.
As soon as the lifts were spinning we were on the Huckleberry Chair on Haig Mountain for some warm-up groomers. The resort has been around since the 1960s and had a reputation as a steep resort. So, in 2006 they cut some lovely long trails on Haig that are perfect for novice and intermediate skiers or boarders.
If you go:
From Calgary, Castle Mountain Resort is about 2.5 hours, or 1.5 hours from Lethbridge, or 30 minutes from Pincher Creek.

Accommodations are plentiful at Castle Mountain, Beaver Mines and Pincher Creek. Check the "Where to Stay" tab on skicastle.ca for options that include the Lodge and Hostel as well as many of the private homes on the hill - with dog-friendly options, too. Watch that page for specials at the hotels in Pincher Creek.

Heritage Inn offers a "Shred and Bed" deal for $111 per person.
More information about Castle Mountain Resort
As we rode up the Huckleberry chair, it was surprising to see how many on-hill accommodations there are. Being outside the national parks, Castle Mountain Resort has private homes tucked into the trees. Many are included in the rental pool.
There are a total of six lifts with 104 trails with 45 per cent of those labelled as advanced or expert on two mountains and eight bowls. Considering I was with the family who loves the steep stuff, after two laps on the Huckleberry, we were off to find the glades. Being owned by a small conglomerate of shareholders, the resort spends money wisely.
When Sunshine Ski Resort upgraded a lift in 1996, Castle bought the gently used chair and added it to the top of Gravenstafel Mountain.
On the trail maps it's called the Tamarack Chair but to the locals, it's simply the Red Chair.
To get to the Red Chair, ride the Sundance Triple Chair and that's where we met the locals' favourite liftie – Huggy Marie. This lovely pint-sized lady has been giving out hugs as she scans the tickets for at least a decade. I actually heard a guy complain when she missed him.
A quick traverse across the wind-swept saddle of Skyline Traverse had us aiming for runs called Powder Horns, Double Exposure and the North Bowl. They all wander through the trees. It was steep  - sometimes as in holy crap this is steep! But it was so thick with powder that falling was even a blast.
We spent most of the day in those trees and on the lower runs that seem to be at every resort, including Lynx, Wolverine and my favourite at the end of the day called Easy Way.
Shotskis are the quickest way to make good friends.
The evening found us 182 steps from the lodge at The T Bar Pub and Grill where pizza and heaps of nachos left the kitchen non-stop all evening long.  The decor is typically ski resort pub, the walls filled with Castle memorabilia and a photo history. Funny thing is, we'd never been there before but within 20 minutes we bumped into friends and by the end of the evening we'd made many more.
Its small, it's crowded and it's the place to be.
A repeat visit is planned and we'll be sure to include a day on the trails only accessed by the snow cats.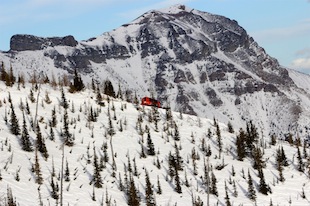 Photo by Garth Helland
Castle's Powder Stagecoach is the only resort based cat skiing adventure which takes you further up Haig Mountain to runs that are 2,000 vertical feet wide and covered in that awesome powder waiting for epic lines.
And I don't care how many times I fall – I will enjoy every last minute. 
Watch a YouTube video about the Castle Mountain Cat Skiing experience
For more stories and detail on Castle check out our SnowSeekers' destination page.