DOC POW
KICKING HORSE, BC — The anticipation was as thick as the powder we were all waiting for. It was 8:20 p.m. on a Saturday morning and Kicking Horse Resort was just about ready to crack its season wide open.
The energy rivaled that of a big rock show that you've been waiting months for. Cow bells, shouts hoots and hollers filled the Golden Eagle Express gondola lineup just prior to opening.
"Some people arrived at 6:30 a.m. this morning," said Mountaineer Lodge manager, Sandy Bell.
We were all just feverous to get at it, and rightly so. Record snowfalls had delivered over 390 cm or 12.8 ft. of snow on the resort slopes, over half of the average snowfall Kicking Horse gets for the season.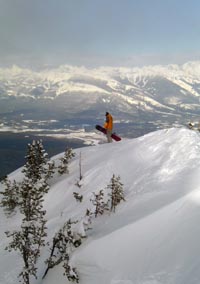 Known for its steeps and deeps, Kicking Horse guarantees an adrenaline for even the most hardcore shredder. 
DOC POW,SnowSeekers
"I think a few of these guys would sell their own mother to get further up in line," said Todd Summerfeld of Calgary, Alberta. 
Definitely heaven-sent
The good folks at the Horse did not make us wait too much longer, opening 30 minutes early and to thunderous applause as the start button was pushed at 8:30 a.m. and the line started moving. My sidekick for this powderfilled adventure, Krista Klemick and I took our first run off CPR Ridge and went straight to heaven.
Living up to its name, Stairway to heaven delivered us to some of the freshest, untouched lines filled with powder. Heli skiing at lift ticket prices – Klemick and I spent the morning in powder euphoria.
"I have never hit a fresh line like that ever," exclaimed Klemick as we made our way off Redemption Ridge from Stairway. 
"This was all heli ski terrain six years ago, when it was known as Whitetooth," said the Horse's sales manager, Mark Dobson. "The lift serviced area only included the terrain off Pioneer chair which served about a quarter of the mountain."
Amy Barett, a six-year ski patroller for Kicking Horse, has never seen an opening this great. "We weren't even allowed to shred any of the snow as we set boundary lines. As we went to set what was to be open and what was not, we had to keep off the main runs, leaving them untracked and fresh."
The resort, since its Whitetooth days, has grown into one of North America's most acclaimed ski destinations. In 2004, CNN rated it the powder destination on the planet, and with the longest vertical in the Canadian Rockies, you have lots of run time to rip it up.
Unforgettable experience
If you are a bit more adventurous and as long as you're skilled in the ways of avalanche safety, consider meeting up with Chuck Gorton of Canadian Powder Skiing Adventures. As the owner of Canada's leading backcountry guiding service and avalanche safety schools, Gorton and his crew lead people out for tours in the mountai ns all season long.
"That was one of the best runs I have ever hit in my life," said Edmonton, Alberta's Todd Bown, absolutely beaming having just made a run with us down Ozone, located in Kicking Horse Resort's reknown backcountry.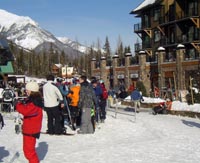 Still a young resort compared to many other Canadian resorts, Kicking Horse offers excellent on-hill accommodations right at the base
BRANDON BOUCHER/SnowSeekers
Gorton spent the day with us on snowshoes, skis and snowboards leading us to some of those pretty special places that locals don't brag about because they don't want anybody to know.
Not in the business of poaching lines
"There are certainly some locals who don't care too much for my profession," said Gorton, who explained he's not here to steal anybody's lines – his service is here simply to guide us into powder euphoria and teach us how to do it with caution.
In addition to backcountry guiding services, Gorton's powder adventures offer weekend recreational avalanche courses. "Learn to read and interpret snow features in these areas, the course opens your eyes to the risks of avalanche territory and self rescue."
Once the legs have had all they can take, whether with in the resort boundries or the backcountry, the mountain village waits – complete with many dining options, including nightly entertainment for those lucky enough to stay on mountain. 
Visit www.kickinghorseresort.com for some great vacation deals or call at 1- 866-SKI-KICK.
For more stories and detail on Golden check out our SnowSeekers' destination page.