Journey to Ucluelet a relaxing odyssey
BARB MARTOWSKI
A trip on one of BC Ferries' ships is a great way to explore the areas between the mainland and Vancouver Island. – and enjoy your first look at the Pacific ocean. 
BRANDON BOUCHER/SnowSeekers
UCLUELET, BC — The Village of Ucluelet takes its name from the local tribe and means "the people from the safe harbour". Ucluelet is home to about 2,000 people, but a 'village' it is anything but.
Located on the Ucluth Peninsula on Vancouver Island in British Columbia, Ucluelet offers a wealth of accommodations that range from campgrounds to luxury resort hotels, excellent dining options and plenty of adventure and fun to keep all family members and friends happy.
Getting there is half the fun 
There are several ways to get to Ucluelet, including driving, ferry, private boat, and regular or charter flights. Most visitors, especially those from out of province, start their journey by air landing on Vancouver Island in either Victoria, Nanaimo, Comox, Ucluelet itself or on the mainland in Vancouver. With the exception of Vancouver (add in a 1.5 hour ferry ride), all destinations have easy scenic driving access to Ucluelet.
Newbie takes the long route
Since SnowSeekers' cameraman, Brandon Boucher was travelling from northern British Columbia, his first-time-to-the-west-coast journey included a 22-hour ferry ride from Prince Rupert to Port Hardy aboard BC Ferries' flagship (when she was built in 1966), the Queen of Prince Rupert.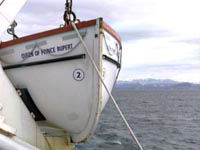 One of the Queen of Prince Rupert's early lifeboats. 
BRANDON BOUCHER/SnowSeekers
"It was kind of cool. They told me that the ship was being retired out and I was on one of the last trips she would make," said Boucher. "I have nothing to compare it to, having never been on a ferry before, but I thought she was great. Also, I had never seen the ocean before, so I wanted to make the most of it.
"Up front were all these windows where you could just sit, chill and watch the waves and the passing islands, and hope to see some whales. I didn't see any whales and I was on the wrong side of the ship when a group of dolphins passed us, but I did see a lot of eagles – lots of eagles."
Being rocked to sleep
Because of the length of the ferry ride, Boucher also experienced another first – sleeping on a big ship.
"You feel like you're in a submarine, or at least I did. But it wasn't claustrophobic or anything – just a feeling of being really secluded – comfortable and relaxing.
"I could feel the waves more in my cabin, and I'm sure for some, it would put them right to sleep, but my stomach acted up a bit. Still, I really enjoyed that trip and would recommend it to anyone who wants to just take their time and enjoy the journey."
For the latest deals, snow reports and contests, sign up today to our SnowSeekers e-newsletter.