Catching waves on British Columbia's West Coast
DOC POW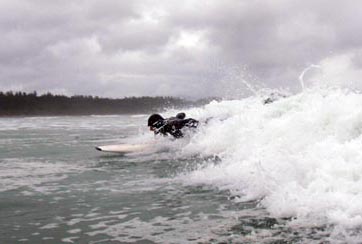 Doc Pow doing his best to catch a wave near Ucluelet, British Columbia. 
BRANDON BOUCHER/SnowSeekers
UCLUELET, BC — We arrived eyes wide open. Pulling up to Long Beach, snuggled along British Columbia's Vancouver Island's Pacific Rim National Park, there were bald eagles flying overhead and an endless beach before us as we squeaked into our wet suits. It's March, it's Canada, and we are going surfing – is this wrong?
Oh no, it is soooo right.
There are few spots on our planet where you can go from surf to snow within three hours, but Vancouver Island is one such destination. The west coast of Canada's biggest island is listed as one of the top surf spots on the globe, especially during the winter storm season, which just so happens to coincide with the ski season.
With an outstanding drive between Long Beach and the island's Mount Washington Alpine Resort, you can be back on the skis or snowboard making turns in no time.
Hooked in more ways than one
"You'll probably quit snowboarding and move out here after today," said Dean Montgomery, founder of Inner Rhythm Surf Shop, located in Ucluelet, British Columbia. 
Not only was this the first time surfing for my buddy, Brandon Boucher of Edmonton, Alberta but it was also his first time seeing an ocean – any ocean. "This so rad," he said. "Imagine if you lived here and could get out and do this everyday." 
Montgomery's known as the pioneer in establishing the Canadian west coast surf scene. Thousands flock to this neck of the woods each year, both winter and summer, to catch some waves, enjoy the outstanding surroundings and some of the world's top beaches.
Physical and mental workout
"The scene around here really took off about four years ago, but I've been riding these waves here for over 35," he said. "Between the 45 kilometres that bridge the towns of Ucluelet and Tofino, we have approximately 20 incredible surf breaks.
"It is as much a mental work out as it is physical. It's all about focus, you have to pay attention to the pitch and the wave, the toughest thing about the sport is catching it."
He isn't kidding. By the time my body connected with my brain to "GET UP." I was in trouble. With the nose of my board starting to dig into the bottom of this beast of a wave, I could feel my backend starting to ride up.
Still on my stomach, it got interesting, as the wave pretty much cart wheeled my board with me on it. A mouth full of water later, I popped back up, a little flustered but loving life.  
Considering this was a winter surf session, we had a few concerns about the cold water, but in the end, we could have been out there all day – the adrenalin rush and our enthusiasm kept us plenty warm. 
Along with daily surf lessons, Inner Rhythm Surf Shop offers both adult and youth beginner camps as well as advanced and one-on-one sessions. The instructors are all members of the British Columbia Association of Surf Instructors and safety is key. To find out more, visit www.innerrhythm.net.
For the latest deals, snow reports and contests, sign up today to our SnowSeekers e-newsletter.