DOC POW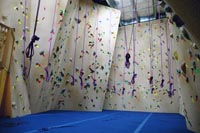 Golden's Dogtooth Climbing Gym offers a number of programs, including a quick and easy introduction and lead roping. 
Courtesy DOGTOOTH CLIMBING GYM
GOLDEN, BC — In addition to a ski hill bursting at the seams with adventure, anyone visiting Kicking Horse Mountain Resort, will find a wealth of off slope activities to enjoy. The resort is less than a 10 minute drive from the Town of Golden, British Columbia.  
Still a pretty serious railway town, Golden has attracted folks from all over Western Canada who are looking to live the adventure everyday. If you find yourself here for a week or so, and are staying on mountain, you'll certainly want to venture off at least one day to visit this great town.  
To earn some vertical mileage in a whole new way, take an afternoon or early evening and head to the Dogtooth Climbing Gym, an easy walking distance from the Kicking Horse River Lodge.
Winner of Golden's best new business by the Chamber in 2008, the gym has some healthy options to keep you moving and is the town's newest leisure facility. With something for everyone, the gym is the perfect spot to work the other half of the body, including the chest, arms and back.
Perfect for everyone
"We see a great mix of both locals and tourists here at the gym," said owner, Ian Archbold. "This is an excellent facility for those who may not ski or who are on an extended stay and want to mix up the adventures a bit."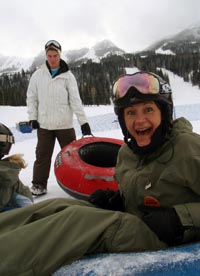 Regardless of age, everyone loves to go tubing
BRANDON BOUCHER/SnowSeekers
The gym offers a number of instructional climbing programs for all levels that range from 1.5 hours to 2.5 hours – plenty of time to increase your vertical. Equipment rentals are available so if you already have a handle on indoor climbing, rent some gear and go climb the walls. For more information, visit www.dogtoothgym.com
And speaking of the Kicking Horse River Lodge, it's the first place you want to visit in the morning. You can't miss this place, it's set right along the Kicking Horse River as you cross the bridge up to the resort and its Bugaboo Café serves up a tasty skillet breakfast.
It's a huge local's hang-out; dive in for one and you'll be guaranteed to receive all the fuel you'll need for the huge day on the slopes. Visit Kicking Horse River Lodge for more information. 
Visiting the big bad wolf
More off-hill fun can be found at Kicking Horse Mountain Resort, including tubing, skating and cross-country skiing. Another excellent adventure is a visit to the Northern Lights Wildlife Wolf Centre. Daily interpretive talks lasting approximately 20 minutes and take place right at the fence, giving you an up-close-and-personal visit with these beautiful animals.
The centre is open year-round and no reservations are required, but it is a good bet to phone ahead (Toll free: 1.877.377.WOLF) to find out when the talks take place. 
A number of guided tours are also available at Kicking Horse are heli-skiing, First Tracks, snowmobiling and avalanche courses. These programs and more should be pre-booked through the resort's Golden Guides by email at [email protected]
For more information on all of what Kicking Horse has to offer, check out some of its fantastic dining options, accommodations, and what makes skiing at Kicking Horse so incredible.