DOC POW
BANFF, AB — Finally! After a long summer of anticipation I was back on the slopes, cleansing the soul with some crisp mountain air and the incredible views of the Canadian Rockies – and Mother Nature had provided her own present in the form of 11 centimetres of snow over night.
With my Doc Pow hat firmly in place, it's game on.
"My best day of the season dude," my buddy, Dave Urner said as we hit into Wawa Bowl.
With a good percentage of friends saying "Sunhine's open already?" I was feeling a guilting pleasure knowing I cheated out a day that most skiers and riders, had they known, would have jumped at.
"I remember coming here a couple years back at the top of December and compared to this year, only half the terrain was open and it's three weeks earlier," said Trevor Suer over lunch at Mad Trapper's, a popular on-mountain pub.

Time to take the dive
We were all chowing down with Mike Moynihan, a local from Bow Valley for 11 years and these are the best early conditions I have ever seen."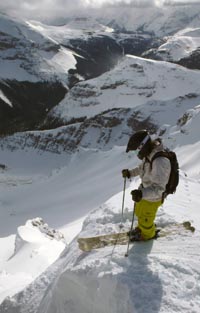 Standing at the top of Delirium can be daunting, but grab life and dive in.
Courtesy TRAVEL ALBERTA
Moynihan was looking to prove it and when he heard Suer and I had never been in Delirium Dive, one of Sunshine's three double diamond freeride terrain zones, he jumped from the table with the words "I'll be right back."
We were really real stoked when he returned with avy kits for us.
"No guarantees" he said, "but if ski patrol gives us the nod, we'll get you into the Dive this afternoon."
Anyone heading into any of Sunshine's free ride terrain should be warned – an avalanche transceiver and shovel are compulsory. Ripping up the dive or not, throw a helmet into the mix as well.
With the continued storms that have brought big dumps to the slopes, it's not just Ullr the snow god who needs some praise.
A hard working staff of 18 makes up Sunshine's trail crew, working all the hours God gave them to ensure that the most amount of terrain gets open as early as possible. And they do an exceptional job.
All fenced in
We're lucky – in the mountains this side of the Rockies and within the interior, the snow received is light, dry and fluffy, perfect for epic powder sessions. The only draw back is that wind will pick it up and move it anywhere it wants. Sunshine's trail crew has mastered the art of snow farming, hoisting up over 25 kilometres of snow fencing across the vast terrain.
"We installed permanent fencing which is anchored right into the bedrock," said crew member, Matt Jasper. "It wasn't easy. We had to drill two to three feet into the rock to get it in place. But thanks to the fencing, the snow gets captured we can, with the use of cats, put it in the places the hill needs it the most."
But back to Delirium Dive. Most recently,  Skiing Magazine published an article on its staff venture into the Dive. The article led off with,  "You've never seen terrain like this before – we promise. From the top of the Continental Divide chairlift, hike five minutes from the gate near the patrol shack to reach Delirium Dive. From the top, scope Delirium's 600 acres and 2,000 vertical feet. Then try not to crap your pants."
We weren't crapping our pants, we were too busy smiling with shear joy. Filled with killer lines and incredible powder, our day left us all repeatedly yelling, "this is the best first day, EVER."
Plenty of other options
If the vertical has you a bit concerned but you still like doing jumps and grabbing air, head over to the Rogers Terrain Park. It in itself is quite massive, covering 12 acres and it includes enough boxes, rails and table tops to keep every park fan happy.
You don't have to be an adrenalin junky to enjoy Sunshine; there's plenty of intermediate and beginner runs, plus an excellent ski school that can not only get you started, but maybe take your ability up a notch – possibly enough to try out the Dive.
This resort has been around since 1928, and if anything, it just keeps coming up with better and better ways to improve the client experience. It began with one small cabin built by the Canadian Pacific Railway and today, the resort boasts three mountains' worth of terrain, an excellent 84-room on-hill hotel, top-rated dining options plus plenty of other amenities, including a large outdoor communal hot tub.
Once the crowds have gone back down the mountain, there is nothing better than hanging out in the hot tub, meeting the other guests and counting the stars.
For more stories and detail on Sunshine Village check out our SnowSeekers' destination page.