Dog sledding in Canmore: a howling good time
Howling Dog Tours shows why Spray Valley Provincial Park offers one of North America's best dogsled experiences
LISA KADANE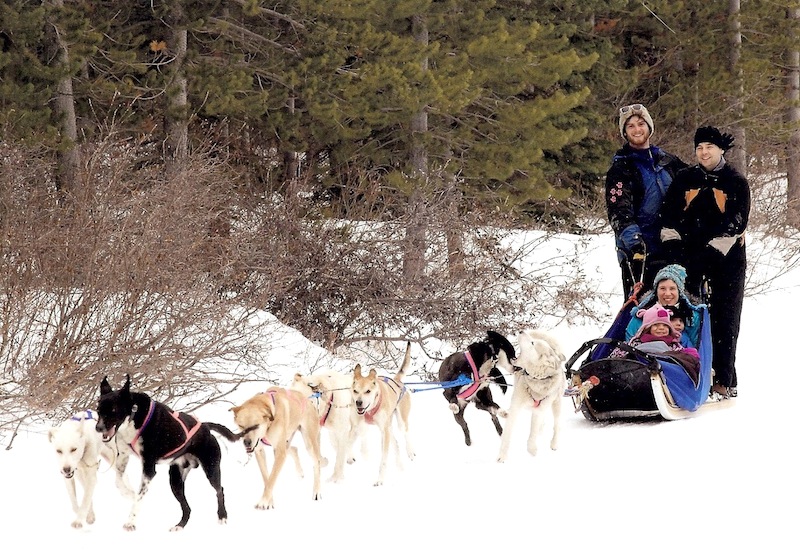 Our sled is caught in action. Cadabra and Screamer are fooling around as usual!
Photo courtesy of Howling Dog Tours
CANMORE, AB — Our team of seven sled dogs goes silent the moment musher Brock Taylor yells "Hike!" and lets their pent up energy erupt onto a snow-packed trail in Spray Valley Provincial Park near Canmore, Alberta. We leave the cacophony of canine barks and howls behind, replaced by the giggles of my two kids as the dogs speed down hills and over bumps, tossing the three of us in the sled like croutons in a salad bowl.
Taylor is pleased the children are laughing - he once guided a sled with a two-year-old who bawled the whole time, likely from the freezing temperature that day.
"Kids either cry, giggle uncontrollably, or fall asleep," he tells us. I'm not sure how sleep is possible with all the jostling, though watching the dogs' legs kick up a plume of snow with every stride is rather hypnotic.
Howling Dog Tours has you covered
We're on a two-hour dog sled ride with Howling Dog Tours, one of three companies that run trips in Spray Valley Provincial Park, one of the biggest dog sledding hubs in North America. My husband, Blake, and I figure a couple hours will be the perfect length of time for our kids - long enough to get their fill of dogs and sledding, but not so long they get cold or bored.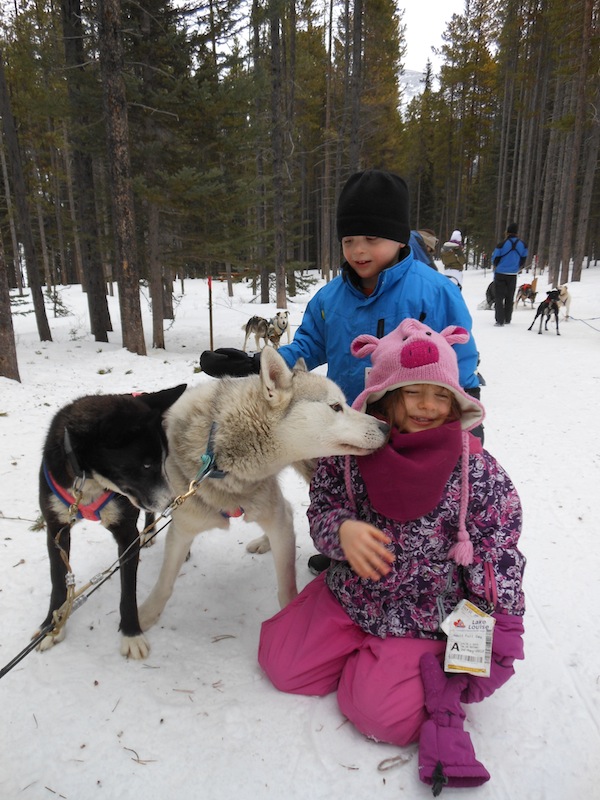 Siberian husky Screamer gives Avery a kiss while Bennett looks on.
Photo courtesy of Lisa Kadane
"Whoa, this is cool," says Avery, my six-year-old daughter, watching the two rear huskies, Cadabra and Screamer, playfully nip each other as they cavort along the tree-lined trail. 
"Faster!" yells Bennett, age four, unaware the proper term to motivate the dogs is, "Hike!"
Blake, who is helping Taylor drive the sled (this involves stepping off, running and pushing the sled when the dogs go up hills), recounts how he got in trouble a decade ago for yelling "Mush!" too much on a dog sledding trip near Nordegg, Alta.
"I could say 'Mush,' for flash," Taylor says, "but that's all Hollywood."
Approachable, safe dogs
Rugged fur trappers screaming "Mush!" may be straight from the movies, but this scene is pure Canadiana. Dog sledding, after all, is how the Inuit traditionally got around up north. It's also the means by which the RCMP patrolled the northern Canadian wilderness in the late 1800s. Now, apart from races such as the Iditarod, dog sledding is mainly a tourist pursuit; a way to embrace winter and the beauty of the snow-dusted Rocky Mountains with minimal effort and four-legged companionship.
When we stop mid-way for a break, I am impressed by the friendliness of the dogs, especially with young children. Avery has fallen in love with Screamer, one of the few Siberian huskies in Howling Dog's armada of 187 canines (most of them are Alaskan huskies), and Bennett is drawn to Cadabra, Screamer's running mate.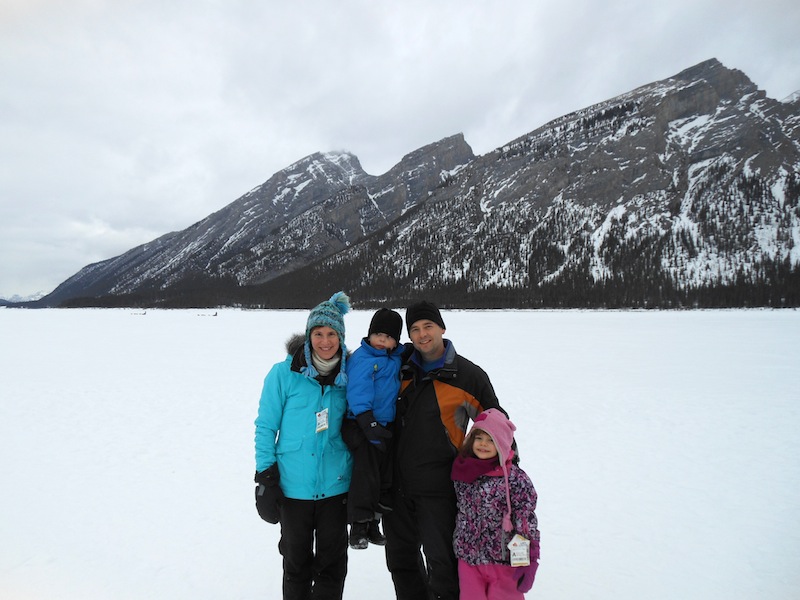 Photo op on Spray Lakes Reservoir, with two dog sleds visible in the background
Photo courtesy of Lisa Kadane
Our kids can't give enough pets or get too many licks in return. Taylor says the company prides itself on its approachable dogs, and on its safety standards. Howling Dog Tours always runs a guide with each sled.
After a walk down to Spray Lakes Reservoir for a photo op we get back into the comfy sled for the five-kilometre slide back to base. Avery decides she wants to hang in the back with Taylor and "help" drive the sled. She stands the entire way back, a huge smile plastered across her face. I don't know what impresses Taylor more - our daughter's endurance, or the fact no one howled but the dogs.
Make a weekend of it
We stayed overnight in a spacious suite (more like a condo) at the Mystic Springs Chalets in Canmore. The property boasts the largest outdoor pool in the area, but it was a bit chilly for the kids so we loosened up our muscles in the giant hot tub before being bounced around in the sled.