OSOYOOS, B.C. - Zipping around in a cart, looking at prime real estate lots for sale, followed by 18 holes and a delicious lunch. No, I wasn't at a South Okanagan golf resort, I was bundled up for the powder and sunshine at Baldy Mountain Resort checking out their latest offerings.
After a glorious morning on the slopes, which I had to myself along with my guide Kevin Rand, I got a tour of some of Baldy's up-and-coming attractions, including its complete Frisbee golf course that can be accessed on snowshoes.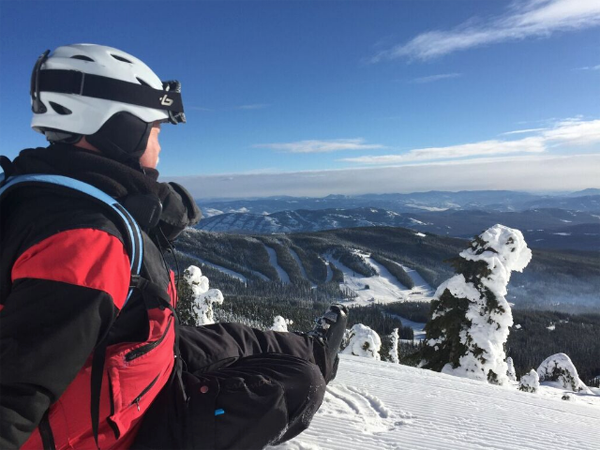 Kevin takes in the stunning view from the top of the Eagle Chair. 
Kevin has been living here year-round for nearly two decades and he still gets excited about Baldy.
Did you know that Baldy Mountain Resort is a quick drive to Osoyoos? Learn more about hotel packages here.
"Eighteen years later I still go, 'wow!'" Kevin told me when we took our last chairlift ride of the afternoon. He's a senior ski patroller at Baldy and a paramedic down in the town of Oliver. I was in good hands that day. 
Kevin and his wife have lived at Baldy for the past three years. He's originally from Ontario and had skied most of B. C., but this is where he decided to buy his home. I asked what made him settle here, and he simply replied: "It's Baldy! "All you have to do is just look around and you'll fall in love with the place. It's awesome."
Baldy's first season was in 1968, and it recently re-opened for 2016/2017 after being closed for a year. Under the direction of "Snowy Joey" O'Brien, the resort has been reimagined and there are some big plans in the works.
"I kind of like change, some people are the opposite of that but I like change, it keeps things fresh." Kevin said as we sat on Eagle Chair. "I'm excited to see what's happening in the future; I'm excited to see the growth of the place. I think it's long past due. I'd like to see tons of people out enjoying this place."
And that includes, naturally skiing in winter, but also hiking in summer and discovering some hidden swimming spots.
After our solitary run down the Baldy Trail we met up with Angie Blenkhorne, who runs the ski school. The three of us hopped into a Mule ATV for a drive around the village area. We passed Kevin's home, and Angie's, and toured around a new development with two dozen lots with plenty of potential.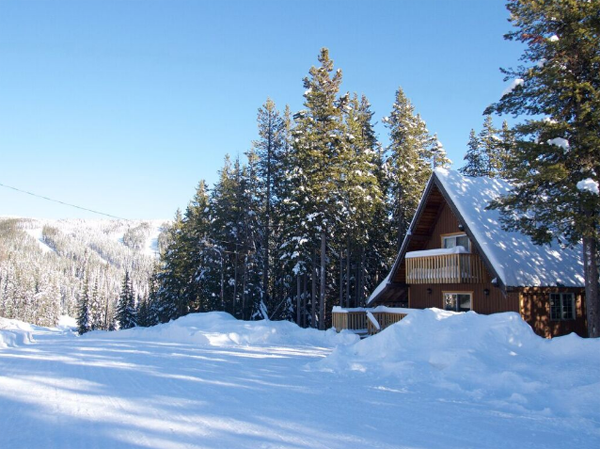 Slopeside home at Baldy. 
When we returned to the lodge, Angie and I strapped on snowshoes and checked out the Frisbee golf course nestled in a wooded area beside the Fairweather run, off the Sugar Lump chair.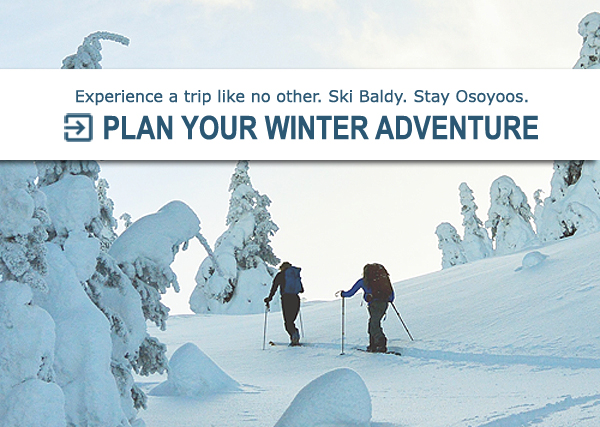 Angie can often be found leading a group of Baldy Babes on Mondays between December and April. The group meets once a week, starting the day with coffee and treats in the lodge, then they explore the mountain, and return to the lodge for lunch, dessert, and a glass of wine.
Frisbee golf, for which you can rent snowshoes is a perk of the snowshoe trail. You can try your hand at flinging your disc through numbered hoops, with distances posted on signs in the trees – a great alternative for those in your party who don't do downhill, or just a great way to end the day.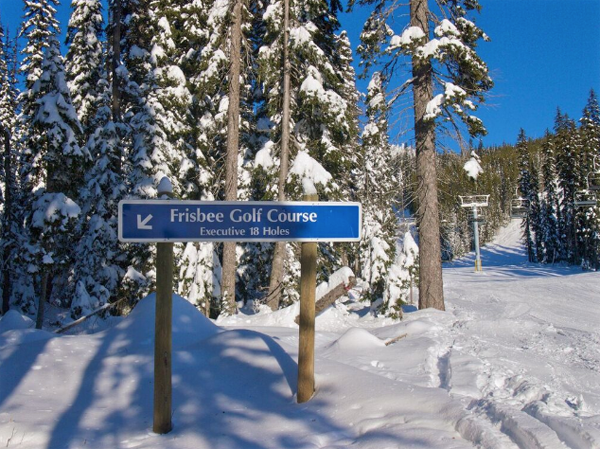 Frisbee golf course is just one of the many fun activities at Baldy. 
We continued on snowshoes past the village and popped out on a run just as the chairs closed for the day. The sun was setting in the valley, casting a pink glow on the Sugarlump runs. We started back toward the lodge for après with Snowy Joey.
"I'm honoured to be here," Joey said over a cup of warm cider. "Baldy deserves to survive."
With great terrain, no lineups, and expanding options, Baldy is still a hidden gem that won't just survive, it will soon thrive.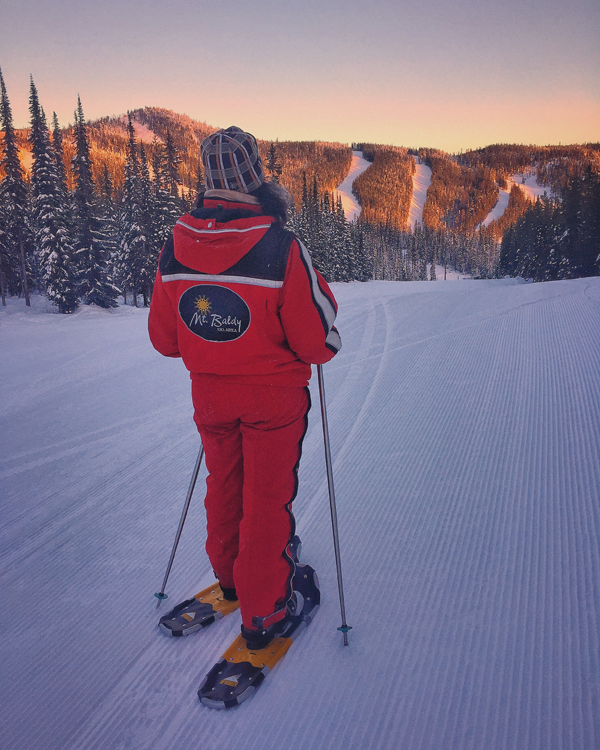 The sun sets on a gorgeous day at Baldy with Angie Blenkhorne.
Osoyoos, Did You Know?
Osoyoos is home to Nk'Mip Cellars, the first Aboriginal-owned winery in North America. This award-winning winery is perched overlooking Osoyoos Lake, under an hour from Baldy Mountain Resort.
In town, you'll also find the Desert Model Railway, ranked as one of the Top 20 Things to do in all of B.C. (on TripAdvisor). It's home to the biggest little European railroad in Canada, filling 4,000 square feet of space.
Make sure to check out the Ski Baldy and Stay Osoyoos website to find more unique attractions.
Are you ready to shred Baldy Mountain Resort with your crew? Share this page on Facebook and start planning your winter get away!