Baldy is back, putting grins on everyone's face from townfolk to skiers and boarders

One visit proves this is a place that loves its local hill
REBECCA BOLLWITT
OSOYOOS - The aroma of fresh-baked cookies wafted towards me as I walked into the Osoyoos Home Hardware on an early December eve. I asked a friendly team member why sweets scented the air rather than the familiar paint and WD-40.
"It's for the community, it's the Light Up parade tonight," she said.
Did you know that Baldy Mountain Resort is a quick drive to Osoyoos? Learn more about hotel packages here.
Walking around town, I found a warm, community feeling everywhere during my visit as I explored Osoyoos in winter – which also included the grand re-opening of local ski destination, Baldy Mountain Resort. Baldy was around for 50 years but was closed for the past few, and the 2016 -17 ski season marked its welcome return.
I left the warmth of the shop, and walked up Main Street as crowds were gathering for Light Up, the annual Santa Claus parade on the first Saturday night in December.

Downtown Osoyoos
My only other visit to Osoyoos, unique because it is Canada's only desert city, was during summer when jet skis made waves on the lake, swimsuit-clad customers were lined up at ice cream shops and winery tours were filled with visitors. 
But on a chillier day, I puffed up the street to Unity, the local sports outfitter, to gear up for my upcoming day on the slopes at Baldy.
"So, are you pretty excited that Baldy is open again?" I asked the staffer who stood among racks of fashionable hoodies, jackets, and skate shoes. "Absolutely, it's so great for the community," said one. Another said she was excited to be heading there right after work.
Out on the street, the sound of a siren kicked off the Light Up parade. A boutique was handing out popcorn and at Watermark Beach Resort, there was hot chocolate and cider as part of the first chair festivities. Families sporting Santa hats indicated the holiday season was in full swing.
The next morning, as the sun crested Anarchist Mountain behind Walnut Beach Resort, it painted the lake pink – a sign it was going to be a perfect ski day. I packed up my gear, got in the car for the 60-minute ride up to Baldy.
Winding up from the Osoyoos Desert – beautiful with a light dusting of snow –  we drove the mountain highway, and climbed to 5,650 feet above sea level, giving Baldy the rights to highest base altitude of any Canadian ski resort.
I checked in to pick up my rental gear and promised the excited crew that I would take care of the never-used black, turquoise and purple snowboard they were envious I was getting first dibs on.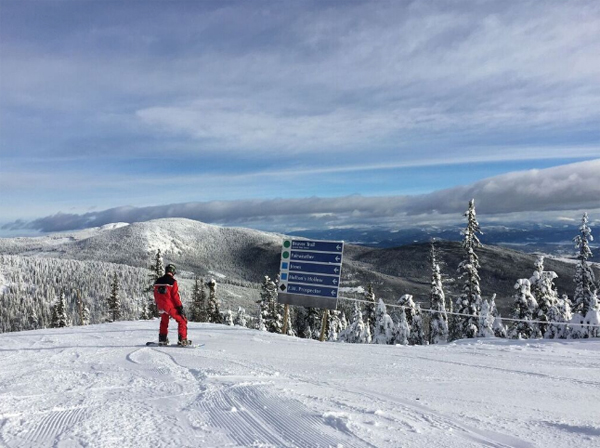 Getting great tips from Kyle
Meeting up with Kyle Edwards, an Osoyoos local and my instructor for the morning, I could tell he too was stoked for the first day.
"The snow is always great, and it's just a close-knit family-style mountain. Everyone knows everyone, everyone is friendly; it's good vibes to be around."
Kyle helped me regain my technique and confidence since it was my first time on the slopes this season. Everyone who passed us said "Hello!" or "Good morning!"
That friendly vibe likely has everything to do with that community spirit I saw in town, but also the reopening of the resort had everyone in a good mood.
"Some people probably stopped skiing or snowboarding when Baldy was closed. So now it means that the family is back up the mountain now. It's awesome," said Kyle.
I got my ski legs back for some runs down the Beaver Trail, until I was ready for lunch.
The lodge is the place for hungry skiers and boarders with a lunch counter and big tables. Upstairs is where the thirsty will find four of Firehall Brewery's draughts flowing. An open area features board games like Trivial Pursuit, and later the space is used for live band apres ski.
Two red seal chefs in the kitchen turn out delicious comfort food you might not find at other ski hills. I had my eye on the grilled cheese with brie, cheddar, emmenthal and caramelized onions served with a hearty side of tomato soup.
I bumped into Dustin Lesmeister, a local who was on Baldy's ski patrol for years and who is thrilled the resort is back.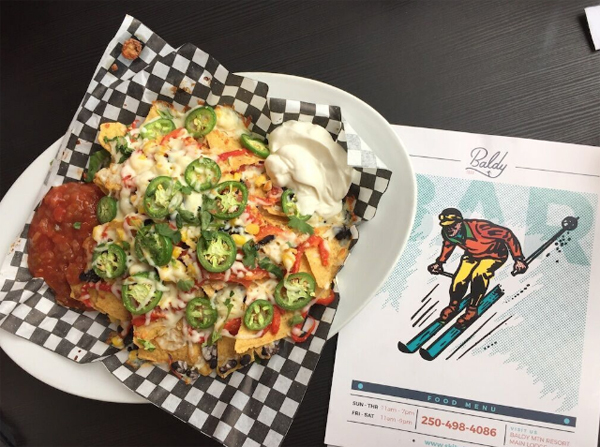 Mmm, lunch!
"It's my getaway, it's the gem," he said over pints of Oliver-B.C. based Firehall beers.
"And you'll always be treated like family up here, no matter who you talk to."
By late afternoon, the fire pit was roaring and the free hot chocolate and cider were flowing. I could see kids trying to get in just a "couple more turns" before last chair.
It's easy to find the joy that the reopening of Baldy has brought this community. All you have to do is spend the day here to learn what makes it special.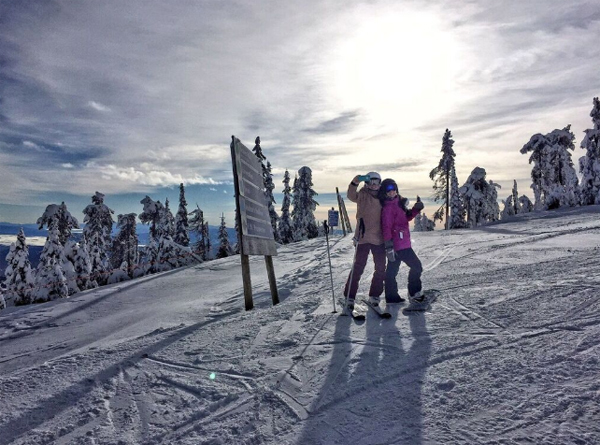 Enjoying the day on the mountain
If you go
Romance in Wine Country This Winter
Ski Baldy while you sip, savour, and spa in Osoyoos. There are three wineries in Osoyoos that have tasting rooms open daily: Nk'Mip Cellars (10 a.m. to 5 p.m.); Moon Curser Vineyards (10 a.m. to 5 p.m); and Bordertown Winery (11 a.m. to 5 p.m).
Mica at Spirit Ridge Resort (http://spiritridge.ca/dining/), next to Nk'Mip, serves breakfast, lunch, and dinner, while Watermark Beach Resort offers the South Okanagan's best tapas along with a Happy Hour menu. Bundle up in your robe after a day at Baldy and soothe your aches in the Solterra Desert Spa  at Spirit Ridge, at Watermark's Levia Spa, or in the outdoor hot tub at Walnut Beach Resort overlooking Osoyoos Lake.
Did you know that Baldy Mountain Resort is a quick drive to Osoyoos? Learn more about hotel packages here.
For more information on Baldy Mountain Resort, head to their official website.
Watch this video and get stoked for Baldy!
Are you ready to shred Baldy Mountain Resort with your crew? Share this page on Facebook and start planning your winter get away!