Alberta's disappearing road
BARB MARTOWSKI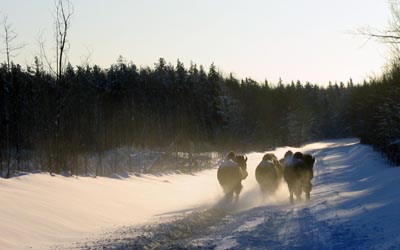 A small herd of bison kick up the snow as they saunter down the Alberta Winter Road which runs through Canada's largest national park, Wood Buffalo National Park.
Courtesy WBNP
FORT MCMURRAY, AB — Beginning the middle of December a road appears between Fort McMurray, in Alberta's northeastern corner, and Fort Smith in the Northwest Territories, and every year, by the end of March, it disappears. This road is known as Alberta's Winter Road (also sometimes the Fort Chipewyan Winter Road) – and what an adventure it provides for winter enthusiasts looking for something that is truly "off the beaten track."
"The Winter Road is very much dependent on the weather," said Christen Turner, an interpretative officer with the Wood Buffalo National Park. "Once it gets cold enough, it takes the maintenance team about 10 to 15 days to get ready."
Turner was also our chauffeur on this trip and provided a wealth of information throughout the two-day journey.
The road itself is only 518 kilometres long and I suppose you could drive it in one day, but it would be a bloody long day. Average speed on this road is about 60 to 70 kilometres per hour with many areas where you are only doing about 40K. 
Like I said, it would be one long day. 
The road skirts along the eastern edge of Wood Buffalo National Park, and cuts through some spectacular scenery that is as completely different from Alberta's central and southern regions as night and day. From Aspen Parkland, grasslands, and into one of the largest boreal forest in the world, one that stretches from one side of Canada almost to the other.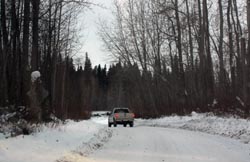 As it meanders through heavily forested areas, the Alberta Winter Road varies in its width. Sometimes it's wide enough for two vehicles and in other areas, it's only slightly larger than a single lane road.
BARB MARTOWSKI/SnowSeekers
Beyond the city 
It doesn't take long before you've left the urban setting of Fort McMurray and find yourself surrounded by thick stands of trees – a mix of aspen, poplar and pine trees with the occasional birch. Once the trees close in, you know you have left civilization behind.
Though it's not the most heavily travelled road, there are other travellers – transport and regular trucks, maintenance crews and the odd law enforcement – for the most part, you're on your own.
"If you do want to experience the Winter Road, it's best to come prepared," said Turner. "A good emergency kit with a sturdy shovel, blankets, candles, flares, the usual. As you've already figured out, cell service is not the greatest up here, so depending on whether or not you are travelling with another group, a satellite phone might not be a bad idea either," adding that letting someone know when to expect you is always a good idea.
We were travelling with another group and we had walkie-talkies between the two trucks which made for some great entertainment along the way. Every once in a while we would hear others transmitting messages and I can only wonder what they thought of our conversations.
Delta blues
We also travelled through the Peace-Athabasca Delta, an area where the Peace, Athabasca and Slave rivers converge at the end of Lake Athabasca. Incredibly large, this freshwater delta is an important habitat for over one million ducks, geese, swans and loons who pass through this area. It acts as both a nesting area and a staging area for migration.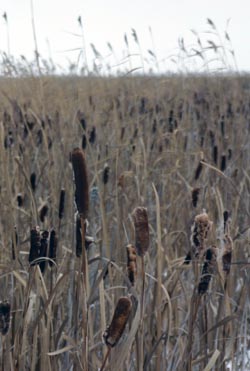 A sea of cattails flanks both sides of the Winter Road as it runs through the Peace-Athabasca Delta.
BARB MARTOWSKI/SnowSeekers
Turner told me that the water table has been going down somewhat over the years. "It's actually a semi-arid area. There isn't a lot of rain or snow, so the delta really depends on the river floods, especially the ice jams in the spring."
While I can only imagine what it looks like in the summer, even with its winter coat on, the delta is beautiful. An array of colours: reds, oranges, tans, deep browns and rusts thanks to the willows, grasses and large cattails that grown in this marshland. 
If it sounds like we are travelling through fairly solid ground – at points we are, but between the delta and the number of rivers – both large and small, creeks and even a lake that we crossed – this road could easily be called Alberta's Ice Road. Not exactly on par with the History Channel's Ice Road Truckers, but it still has its own fair amount of frozen water both on and off the gravel pack surfaces.
As a fan of ice-fishing I've done a fair bit of travelling on frozen lakes, but probably one of the most impressive sights that really hits home is coming into Fort Chipewyan which located on the banks of the Lake Athabasca. True, it's on the western tip of the lake, but even from this point and frozen though it may be, you know you are crossing a large body of water. And Fort Chip, as it is commonly called, is one of the reasons for the Winter Road. 
Unlike Fort Smith where the road ends, this tiny isolated hamlet, one of the oldest communities in the province, is only accessible by boat or plane in the summer; only in the winter can goods and people reach it by vehicle and that's thanks to the Alberta Winter Road.
Big brown brutes
The Winter Road also offers another unique and fairly rare attraction – a chance to see bison, the largest free roaming herd in the world.
Now you would think this would be easy. Not. Wood Buffalo National Park, a World Heritage Site and Canada's largest national park, is a just under 4,181 square metres (45,000 sq. ft.). And the number of buffalo? About 5,000 of them. Why I just expected it to be a given that we would see them while travelling the Winter Road, I'm not sure, but the closest we came was a large metal sign in the shape of said buffalo.
"The park is pretty big, about the size of Switzerland," said Turner. "As with any wildlife, there is no guarantees, but they do like to travel the road as well." 
Her advice if you do come in contact with them, "Let them have their own way. They outweigh your vehicle by a lot, so don't think you can drive through them. Just follow slowly behind and wait until they decide to move off the road on their own."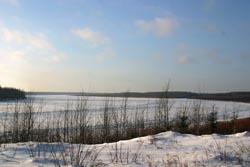 The Slave River is just one of several bodies of water you cross on Alberta's Winter Road.
BARB MARTOWSKI/SnowSeekers
Driving the Alberta Winter Road was an amazing experience. There's something absolutely soul-cleansing about getting away from the urban sprawl and travelling over frozen water, through relatively untouched forests and frozen marshlands; much of which is along the same routes travelled by ancient aboriginals and early European fur traders . 
It could be that the cell service is all but non-existent (same with radio reception) and this journey makes you remember what the art of conversation (and silliness) is like face-to-face with your fellow passengers. Or it could be that when you look out your window, Mother Nature punctuates the beauty of the landscape by providing a spectacular sky as a backdrop. 
Whatever it is, I know it will be different for each traveller, so I highly recommend taking this road that's definitely less travelled. Just make sure you have a great group of people to travel with – and you call ahead to let someone know when you will be arriving.
For more information on Alberta's Winter Road, visit any one of these four websites: www.travelalberta.com, Fort McMurray Tourism, Wood Buffalo National Park, or the Town of Fort Smith.
Ready to learn more about how you can #SkiNorthAB? Learn more here.
For the latest deals, snow reports and contests, sign up today to our SnowSeekers e-newsletter.