The allure of the aurora borealis
ANDREW PENNER
FORT MCMURRAY, AB - Near midnight the milky smear of clouds that guarded what lay beyond – an infinite jet-black sky salted with stars, planets, distant galaxies, and, most importantly, the celebrated aurora borealis – starts to break.
Suddenly, the people in our group of amateur astronomers, wannabe photographers, stargazers, and northern lights chasers (yes, those people exist) are acting like kids in a candy store. A very, very large candy store.
Get more information about the stunning aurora borealis in Fort McMurray here.
The prognosis, we were told as our bus bounced along towards a lake south of Fort McMurray, was good for tonight. A solar storm – you know, when highly-charged particles explode off the sun's surface and shoot toward earth – had occurred approximately two days ago. Blasting through space at 500 kilometres per second, these particles were due to arrive around midnight. This was good news. It meant, fingers crossed, that a jaw-dropping show of other-worldly light – the aurora - would paint the northern sky. But then came the disclaimer. "Unfortunately, however, we cannot control mother nature."
Rats. Who are these people?
Our group is huddled together at rustic Camp Yogi on the shores of Willow Lake in Anzac, AB. The tiny, oil-and-gas-fueled town is located approximately forty-five minutes south of Fort McMurray. It seems like an odd place to gather for a northern lights tour. Except for one interesting fact. Its location.  
Fort McMurray is situated directly beneath the outer band of the auroral oval, which increases the likelihood that stunning aurora will be on display here. With the many long, cold, and clear nights – as well as minimal light pollution – the aurora can be bigger, brighter, and more beautiful here than anywhere else on the planet. So, not surprisingly, they're taking advantage of their geographic position. Enter Adventure Borealis. www.adventureborealis.com.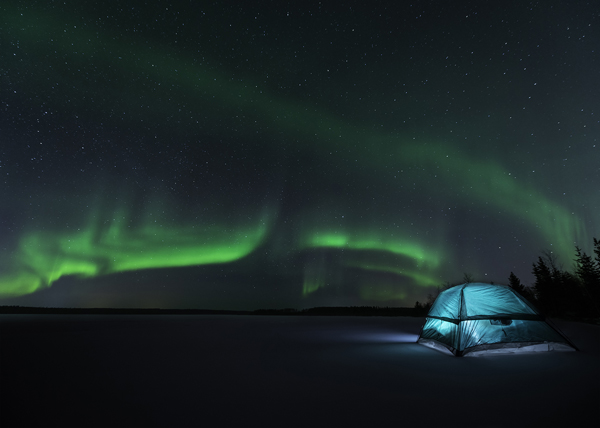 Of course, the aurora can be viewed throughout the north. And, if conditions are right, they've actually been seen as far south as Florida. At the South Pole, too, where they are called the "aurora australis," they are also common, although, due to the geography, not nearly as many people see them. 
It all has to do with the earth's magnetic force, which propels the solar winds to the earth's poles. And there, thanks to the particles colliding with nitrogen and oxygen atoms and molecules, and the subsequent loss of energy, the colourful light shows are produced. 
However, as we found out, patience is often required.
"Part of the allure of the aurora is their shifting, unpredictable nature," says professional photographer, Jeremy Mac Knott, who is one of two partners in Adventure North Photography. www.adventurenorthphotography.com. Both Mac Knott and another talented local photographer, Stan Novotny, guide and conduct photography workshops for the Adventure Borealis tours. They also spend much of their time chasing after the lights with clients or just on their own. "In just seconds they can go from dull and barely recognizable to brilliant, bold, and absolutely awesome to behold
As the clock ticks and approaches midnight, which is typically the peak time to view the northern lights, our group is treated to some engaging "side shows." A stunning photography tutorial, compliments of Mac Knott and Novotny, whets our appetites for what is possible in terms of recording the phenomenon. Hot chocolate, snowshoeing on the frozen lake, stories around the fire, and food - including bannock and, perhaps, the tastiest beef stew I've ever inhaled – are also on the agenda. 
As for the northern lights themselves? Well, on this night, they decide to dance at a different party. While the momentary break in the clouds does reveal a few streaks of splendour, the show is fleeting; the trickle of light a mere tease from a temptress. I suppose, also just part of their legendary allure.  
If You Go: 
More info about tours can be found at

fortmcmurraytourism.com and www.adventureborealis.com. 
The two-night Aurora Borealis package tour includes: transportation to and from the airport to the viewing area, three viewing opportunities at Vista Ridge ski resort, complimentary breakfast and dinner, two night stay in a newly renovated hotel. Get more information here.
Other things to do in Fort McMurray include the Oil Sands Discovery Centre. There are also optional tours that include snowmobiling, ice fishing, sking, boarding or tubing at Vista Ridge, a visit to MacDonald Island Park and aerial tours. 
Like this story? Share it with your friends. 
Andrew Penner is a freelance writer and photographer based in Calgary. You can follow him at www.facebook.com/andrewpennerphotography
Ready to learn more about how you can #SkiNorthAB? Learn more here.
For the latest deals, snow reports and contests, sign up today to our SnowSeekers e-newsletter.