Red Mountain Resort Expansion makes the resort the 8th largest in Canada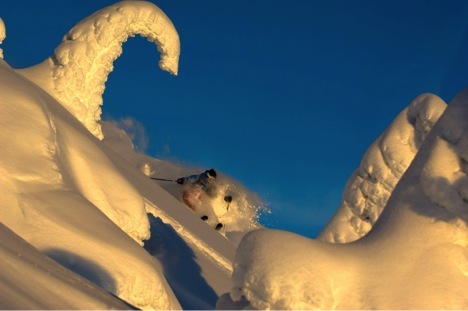 With 2,682 skiable acres now all accessible by lifts, there will be plenty of fresh pow for everyone.
Photo courtesy of Dave Heath
AMBER HAYES
ROSSLAND, B.C. - As a die-hard skier, Red Mountain Resort is one of the main reasons I live in this beautiful mountain town of Rossland, B.C. The light powder, 360 terrain with wicked tree lines that keep powder fresh and untracked at Red just got more abundant.
If you have been to Red Mountain Resort you know what I am talking about when it comes to the snow, lines and culture but you may not know it just got better. The favourite back-country area of Grey Mountain's 900-plus acres just became accessible by chair lift. Having toured Grey numerous times over the past 15 years, I can guarantee the terrain will not disappoint.
A quick look at the new trail map clearly shows the spacious open drop-in along the south flank. Work that ridge. Need a little more dark side, steeps? Take a look at the backside. I'd gladly race anyone to "Drop the Line" and there's a whole season of exploring to do in "Pretty Vacant" alone. What else has me excited about this expansion? More terrain disperses riders and skiers even further, so that means more snow for everyone.
Red Mountain Resort is traditionally known for its shorter lift lines and due to terrain, its ability to offer up fresh powder for days after a good powder dump. But this new chair will mean fresh powder lines are going to last even longer. It's hard to imagine just how many individual lines are out there for us all this season.
This development of Grey Mountain marks one of the single largest expansions of an existing resort in North America in four decades and total skiable terrain of 2,682 acres. This puts the "local legend" hill in the Top 20 of all North American resorts in terms of terrain scale. The Grey Mountain expansion makes Red the eighth largest ski area in Canada and, for comparison, the 18th largest in the United States out of approximately 500 resorts.
With 2,919 ft. of vertical on offer from the top of Granite and 2,831 ft. of vert off the new peak on Grey, it's no wonder The New York Times voted Rossland/Red Mountain its  "Number 8 Place to Visit in 2013." It cited the expansion as a true game changer, remarking, "Suddenly Red's trail map will stretch as wide as Jackson Hole's inbounds terrain. With a new lodge and the first on-hill accommodations added in the last few years, this local legend is ready to step out into the spotlight," writes Christopher Solomon.
Well that's what they say. But as a 15-year Red Mountain veteran I will simplify it.
This is going to blow your mind; get to Red Mountain and ski it.
Here is a video that gives more details on the expansion.
For the latest deals, snow reports and contests, sign up today to our SnowSeekers e-newsletter.