John Forrest of Northern Escape Heli-Skiing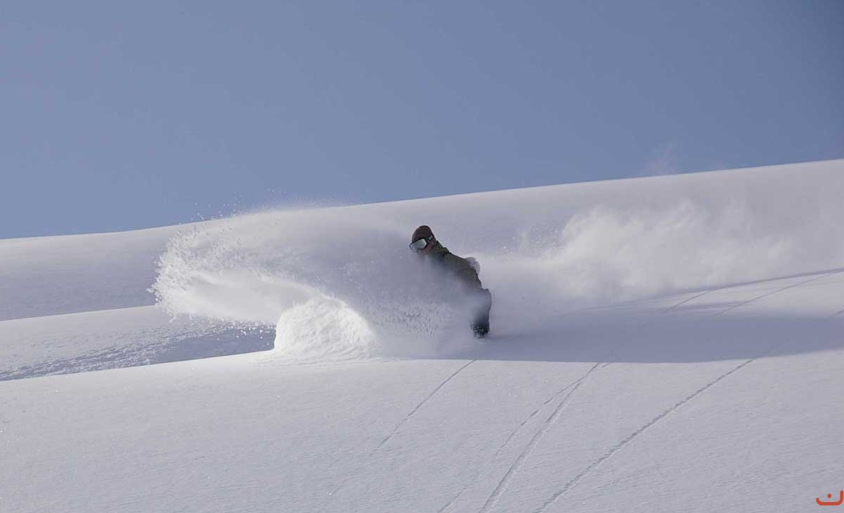 With NEH you're pretty much guaranteed all pow all the time.
Photo courtesy of Northern Escape Heli-Skiing
TERRACE, BC — There are no "gimmicks" or outrageous claims here, just the best terrain imaginable and the certainty that you'll ski and ride it every day.
A year ago, Northern Escape Heli-Skiing introduced its Snowcat Back-up program and it was a great success! We skied every day of the season, Zero Down Days, and our guests went away having skied more than they ever believed they could or would. It's not a game of who skis the most though, as we believe in quality and not just quantity.
With a tenured area of over 7,000 square km (1.8 million acres) we have endless terrain choices at our fingertips every day. Our immense glaciers and stunning alpine will leave you speechless. Our vast tree skiing areas are nearly right beside the lodge and we can heliski them in all but the very worst of weather, but when it's snowing just too hard to fly safely, we move into the snowcats without skipping a beat. The transitions are nearly seamless and that maximizes your powder time.
Ski more days, and more vert
With last season being one of the strongest La Nina's ever, which tend to bring significantly more snow, our historical average is still better than six days a week in the helis and one day a week in the snowcats. Given how deep it was during and after the snowcat days, it was awesome to be out there every day and you knew that tomorrow's heli day was going to be epic!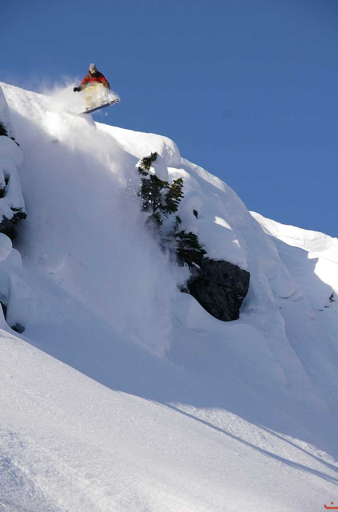 The Terrace region features some of the gnarliest terrain you'll find in Western Canada.
Photo courtesy of Northern Escape Heli-Skiing
This year's forecast looks like more of the same!
We found the benefits of our Snowcat Back-up went way beyond simply ensuring you skied and rode every day of your vacation with us. We found that our guests skied more with our average exceeding 140,000 vertical feet (42,500m) per week. This may also have something to do with the fact that our "week" packages are a full 7 days, but with people skiing so much more we decided to offer our Unlimited Vertical Option for those that didn't want to worry about their extra vertical bill at the end of the week.
This Option gives you Unlimited Vertical and increases your minimum vertical guarantee. That way, unlike other "Unlimited Packages", if you don't use all of the extra vertical included, you receive a credit for the difference. Our guests enjoy all the upside of Unlimited Vertical without the risk that you don't get your money's worth.
A full day, every day
We also found that we skied not only every day, but we skied a FULL day every day. We didn't bother waiting for the weather to improve enough to fly in the mornings and we never came home early due to weather. That's the beauty of the snowcat back-up being ready to go at any time.
Lastly, our guests loved that we were not stuck on 1 or 2 "home runs" or "poor weather runs", you know the ones with infamous names such as Tarn and Home Run, when the weather turned difficult. There was no need to pound up and down those limited runs just for the sake of calling it a "heli day".
Our snowcat back-up area is large enough to stand alone as a full sized snowcat skiing area in its own right and our guests loved the variety and quality of the terrain. It's over 7,000 acres with nearly 30 km's of roads and endless beautiful open tree skiing.
With an average annual snowfall of 480 inches (1200 cm), Shames Mountain is a powder hounds happy place. Only 35 kilometers from Terrace B.C., it offers 28 runs and plenty of access to backcountry bliss. Planning a weekend get-away is easy with five flights arriving daily from Vancouver on Hawkair or other choices from Air Canada. Rent a car at the airport using the #SkiNorthBC discount campaign then toss the bags in a welcoming room at a local inn or lodge then hit the powder.
If you go
Visit the official Terrace website to learn more about the region http://www.visitterrace.com/stage.php/events/activities
Check out the conditions at Shames Mountain here http://mymountaincoop.ca
Fly into Terrace via Air Canada and Hawkair with daily non-stop daily service: http://www.yxt.ca
For all your Travel Northern BC details, the folks from Northern BC Tourism can help make the planning process smooth. http://www.travelnbc.com
#SkiNorthBC and explore more. SnowSeekers has partnered with National Car rental to secure you a SnowSeekers preferred rate. Make a reservation online, or with an agent and in the Contract field enter XVC4SNO for a savings that could cover your ski pass cost every day.