Then and now: Murray Ridge
The many charms of Murray Ridge
Run by volunteers and boasting the world's longest tow rope and heaps of snow
Chris Greenaway was about four-years-old when he first skied Murray Ridge only 10 minutes from his home in Fort. St. James.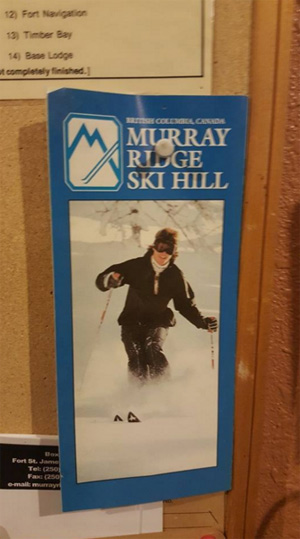 One of the first brochures from Murray Ridge
"There wasn't much there for infrastructure," he says laughing. "I remember putting my boots on in the car and standing around a campfire to warm up while eating my sandwich."
That was probably 1977, one of the first seasons the south-facing runs had been cleared on Murray Peak. Small surface lifts would tow skiers up a short distance, a CAT would drag anyone if they wanted to go higher.
#DaretoExplore, build your own SnowSeeking bucketlist.
The next summer had Greenaway playing with his hot wheels in the dirt at the base, while his dad and another man worked to put the communications in at the top of the ridge so the new T-Bar could be installed for the next season. "That was the same season they brought in some old ATCO trailers so we could have a warming hut, a kitchen and a place to rent skis. We thought that was luxury!"
A few things have changed in the four decades it's been operational but one thing has stayed the same. Murray Ridge started out operated by the non-profit Fort St. James Ski Club and it still is today with the mandate to offer affordable skiing to the local population - and anyone else who happens to stop by.
Add Murray Ridge to your bucket list for exclusive news, deals and more!
Talking to the folks at Murray Ridge they all say it started with Richard Haslinger, a local mineral prospector who thought the town could use the slopes seen from town as a ski hill. He set out to use the local talent and companies to make it happen. The logging companies volunteered to clear the runs while other companies and tradesmen like Greenaway's father, offered their expertise to get the resort operational. Partnering with the District, the resort bought a groomer but before that was purchased the snow packing was done with a snowmobile and man-made packing devices.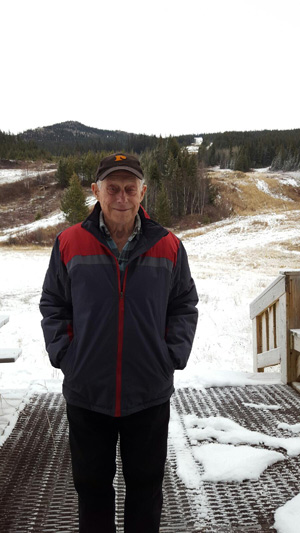 Richard Haslinger has been a huge part of Murray Ridge since the beginning.
If you take a look at the names of the runs you'll see Haslinger gracing a black diamond run with local companies and other dedicated volunteers names labeling the rest of the runs.
The ATCO trailers were hauled out away in 1986 making room for a 6,000-square-foot lodge, paid for by EXPO Legacy fund, was built so they could host the Northern Games that year in style. Everyone who walks in is impressed with the facility where massive beams from the surrounding forest are the main beams for the structure. The lounge is pretty popular after a day on the snow.
"I've been up here since I was four years old. My grandpa Glen, was the lift mechanic and ran the groomer when I was a kid. My parents brought me here to learn to ski and now I can sit in the lodge with a hot chocolate and watch my kids on the bunny slope, says Jana Gainor, general manager, Murray Ridge Resort. "We are pretty low key here because we all know each other. If we see someone new we make sure they have a great time. It's a great hill - too bad the rest of the world doesn't know what we have up here."
Murray Ridge has 22 runs cut into the thick forest offering a challenge to every level of ability. The snow ghosts at the top are a delight to maneuver around, while skiers and boarders seek out fresh terrain in the glades. The terrain park near the bottom keeps the shredders happy. There is still only two lifts; the bunny slope handle tow and the longest T-Bar in North America.
"Our T-Bar is the longest - maybe in the world," says Greenaway. He should know. As the volunteer mechanic for the resort, he is in charge of maintaining the lift. "The lift is about two kilometres long and takes maybe 12 minutes to get to the top. The four-kilometre long main haul rope is the original from 1978. That's unheard of. I guess we take good care of it."
Along with volunteering to maintain the lifts, Greenaway is also on the board of directors, a ski instructor and helps to run his kids' ski race teams. That sounds like a lot of responsibility but he shrugs it off. "We all chip in any way we can."
Because it's a community slope, it's only open from Thursday to Sunday with school groups from the surrounding communities learning to ski and board from Monday to Thursday. There is more than three metres of natural snow each season so the resort doesn't have to rely at all on snow-making machines. Murray Ridge is only two hours from Prince George and hotels are available 10 minutes way in Fort St. James. Cross-country ski trails on the way to town are lit for night skiing.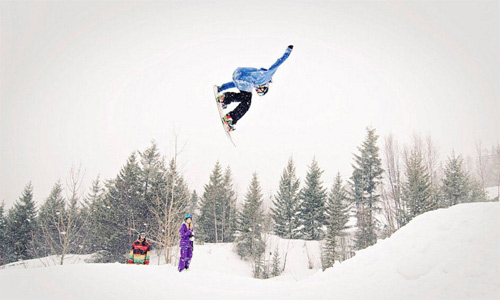 Murray Ridge is home to a great terrain park!
"Not being seen as a destination ski resort, has its pros and cons," says Gainor. "We rely heavily on the local skiers from here to as far away as Prince George to come. But on the other hand, if it snows on Thursday night, anyone skiing on Friday can expect to lay fresh tracks all day long,"
For more information, head to the official Murray Ridge website.
Become a SnowSeekers member and get exclusive access to deals and more.
Learn about a prairie island left by glaciers now a snow-covered ski oasis called Hidden Valley.
Show your stoke for the awesome history of Murray Ridge by sharing this page with your friends!
Add Murray Ridge to your bucket list for exclusive news, deals and more!
For the latest deals, snow reports and contests, sign up today to our SnowSeekers e-newsletter.