Then and now: history of Mount Norquay
Mountain-high ambitions made Norquay first ski resort in the Canadian Rockies 
It's not easy to climb a mountain but it is the ambition of many people. Back in 1887 or '88, the premier of Manitoba had just that dream.
John Norquay went to Banff and attempted to climb a peak seen from the hamlet of Banff. He was not a fit man and actually, quite unhealthy. Historians don't know how far he got, but they do know he did not reach the peak. Within a year he died at the age of 49.
To honour the premier, the mountain was named Mount Norquay in 1904. 
History of skiing at Mount Norquay
Meanwhile, Gus Johnson from Sweden had been teaching the local kids how to ski jump on Tunnel Mountain's small bumps. But like all adrenalin junkies, he wanted something steeper.
WATCH: SnowSeekers introduces the steeps at Mt. Norquay
After seeing the fire-ravaged slope of Mount Norquay as the perfect pitch, around 1917, Johnson, along with other members of the new Banff Ski Club, cleared debris and shrubs for the first runs and jumps.
Other prominent Banff residents, including Cyril Paris and Cliff White, built the first chalet. In 1926, Mount Norquay became the first ski resort in the Canadian Rockies.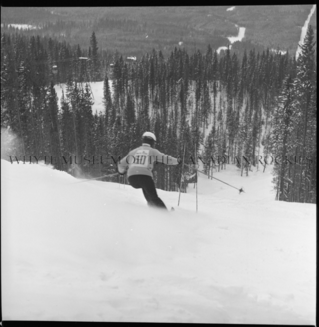 Norquay has always been a mecca for racing. photo: Whyte Museum of the Canadian Rockies
Early days at Norquay
With the runs in place, the art of downhill skiing took over from the ski-jumping and cross-country skiing and more trails were cut. Calgary skiers started coming on weekends by trains, cars and buses supplied by Brewster.
4 runs for 25 cents
Luxury lifts didn't appear until 1941 when the first tow rope powered by an automobile engine pulled them to the top of the run. Four trips to the top cost 25 cents.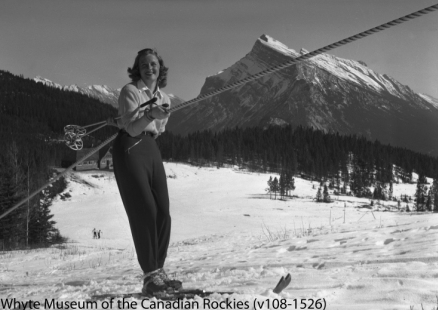 In the early days, you could use the tow rope at Mount Norquay for 25 cents.
Photo: Whyte Museum of the Canadian Rockies
After the war, a second rope tow was added. They must have gone crazy when "The Big Chair" was built in 1948 taking them in single chairs to the top of the North American.
Until then skiers hiked with their skis up to "The Bowl," maybe twice a day if they were fit. The chair made it easy to make eight runs. Luxury! 
Ski racing mecca
Four years later the Norquay Cliff House was built at the top and dignitaries and movie stars, including Marilyn Monroe would ride to the top to take in the spectacular view.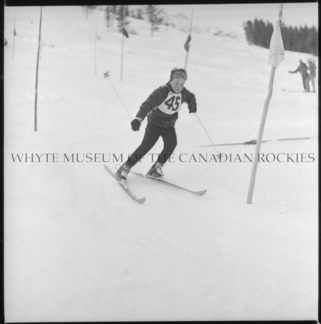 Norquay was the ski racing mecca in Western Canada for decades. photo: Whyte Museum of the Canadian Rockies
---
Feeling sendy?
Get the 2-minute weekly newsletter that connects
3k+ readers to winter stoke in Western Canada
---
By 1959 lift tickets had risen to $4 a day for the use of the chair and several tow ropes. In 1961, the single chairs were replaced with double chairs. Over the next decade Poma lifts and T-bars replaced the rope tows.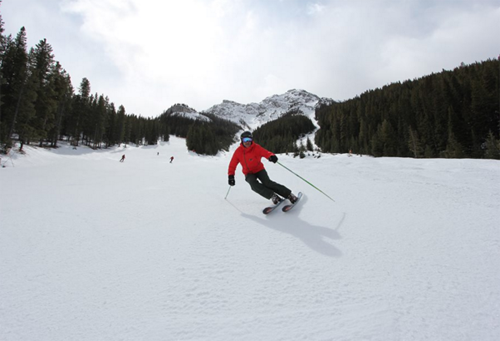 Norquay has slopes for every level, from groomers to monster moguls. photo: Mount Norquay
Norquay was for many years the ski racing mecca for Western Canada. The first slalom was held in 1929 with other major Dominion Ski Championships to follow.
Norquay ski legends
Interesting to note that Dorothy "Dee" Burden, winner of the gold in the downhill and combined in 1948, was the mother of Ken Read, two-time Olympian and five-time World Cup winner and current co-owner of Norquay Ski Resort.
Other notable legendary skiers who honed their skills on the Norquay slopes include Eddie Hunter, Bruno Engler, Steve Podborski, Dave Irwin, Jan Hudec, Karen Percy Lowe and Thomas Grandi.
Now: Mt Norquay today
Today, Norquay is still dedicated to enhancing the visitor experience. Ski clubs still train and compete on the steeper slopes. But it still caters to the family with terrain and activities for every ability.
Five lifts take skiers and boarders to 60 runs, two terrain parks and the tubing park is the largest in the Rockies. Unique lift ticket options make it easy to ski for as little as a few hours. If you don't want to slap on any boards but still want an adventure, you can visit the Cliffhouse Bistro for gourmet dining.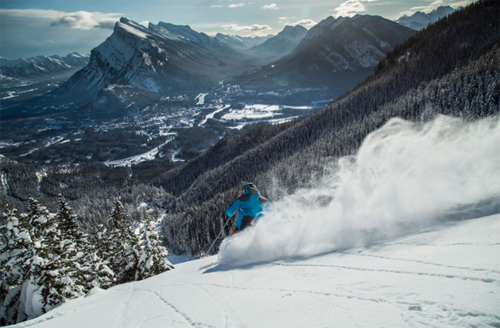 The view will take your breath away. photo: Mount Norquay
Speaking of adventure, Mount Norquay's Via Ferrata opened in 2014, returning Norquay to its all-season status.
During the warmer months, using a series of ladders, suspension bridges and cables visitors work their way up the mountain to some of the best views in the world, which sadly Premier Norquay never did see. (You can read more about the summer adventures at Mount Norquay, and ski resorts around Alberta, here.)
Earliest opening ever, another century ahead
In 2020, Mount Norquay opened on October 24, its earliest ever opening in nearly 100 years. With its official 100th anniversary ahead in 2026, Norquay is preparing to embark on its second century with a bold new plan, consistent with the ambitious leanings of its namesake.
Included in the plan is a replacement of the classic North American chairlift, and expansion of the Cliff House, one of Banff's most iconic views.  
For the 2023-24 ski season, Norquay opens on November 3, 2023, which will make it the earliest hill to open in Western Canada—another milestone for this historic destination. 
Know people who love local ski history? Share this story about Mount Norquay's colourful past with your friends and family.
For more stories and detail on Banff check out our SnowSeekers' destination page.
Get ready for 2023-24
Will Mount Norquay be the first ski resort in Western Canada to open for 2023-24? Guess right and you could win with our Opening Day Sweepstakes contest. And for more info, including opening dates for all your favourite Alberta and BC ski areas, read on.