Then and now: Big White Ski Resort
A history of Big White Ski Resort: Doug Mervyn and Cliff Serwa saw what others missed, and built it into one of North America's top ski resorts.
Kelowna, BC - Do you ever have conversations on the chairlift that go like this?  
"Do you ski here often?" 
And the young lady next to you says, "Yeah, a lot. My grandpa was one of the guys who opened it."
Not only have you talked to Kelsey Serwa, the granddaughter of Cliff Serwa, one of the two men who first cut the trails for Big White Ski Resort  near Kelowna, B.C., you are also riding the chair with a Silver Medal winner of the 2014 Sochi Olympics for ski cross. So, yeah, you rode with a pretty interesting person. 
Back in 1960s, there was no such thing as Google Earth to show you what lays beyond the next ridge. Doug Mervyn was a pilot and could see exactly what everyone was missing. A great big mountain covered in snow-crusted trees with glades covered in pillow soft snow. 
Big White blazes new trails 
Along with his good friend, Cliff Serwa, he'd hike or ski into the area. By the winter of 1963, the two had a rough 56-kilometre road cut to the base of the mountain. The longest T-bar in Canada took skiers dressed in woolen sweaters and leather mitts to experience the snow they'd dreamed of. 
Big White was open for business.  
It must have been tough to make a living with a little ski resort back then. The population of Kelowna was roughly 10,000 and not everyone skied.  That road would have been tough to manage for the old Impala. They needed some on-hill accommodations.  
By the end of the '60s, three T-Bars and a few cabins were drawing in the skiers. They'd go back to town with stories of epic terrain and crazy snow ghosts. Those stories brought in the crowds and the construction of chair lifts, lodges, chalets and condos started.  
By 1985, skiers from across the western provinces were visiting but Big White Ski Resort  needed a heavy hitter to make it a world-class destination. Des Shumann from Australia bought the resort and instantly revamped and expand the resort.
They moved roads and lifts, incorporated more terrain, built infrastructure and more accommodations. The first quad chairlift in B.C. was installed as was the first high-speed detachable quad lift. Skiers were delighted with the changes. And so were the new kids on the block.
First ever snowboard-only event 
In 1987, Big White held the first snowboarder-only event - The Inland Snowboard, and the 1st Annual Banked Slalom.  
Word was getting out that Big White was the place to be and it grew like a snowdrift in January. By the end of 1999 there was enough pillows to host 5,500 happy sleepers every night. More high-speed quads were added to move everyone faster up the mountain including the Gem Lake Express - the longest vertical quad chair rise in Canada. 
Here's where the numbers are staggering. In the year 2000, Real Estate totalled more than $39 million. But that's nothing. In 2003, construction broke a record. Total Real Estate for that year was a ripping $150 million. By the end of 2004, there was 14,000 beds in the community.
Now the world noticed the Okanagan. The runway at the Kelowna airport was extended to bring direct flights from Toronto and overseas. Ski magazines were ranking Big White Ski Resort  as having the best snow or best ski holidays or best family ski resort and yes, as one of the most luxurious ski resorts in the world. All because a couple of guys thought putting up a T-Bar half a century ago was a good idea.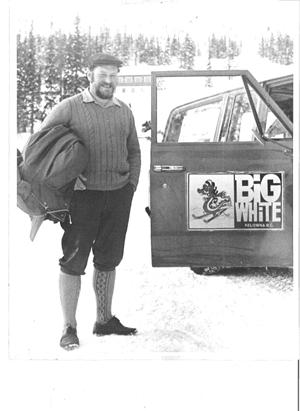 Early days at Big White. / Big White Ski Resort
Today you can ski and snowboard all day without doing the same run twice - unless you want to. There are 119 designated trails serviced by 16 lifts taking you to more than 7,355 acres of terrain. If you were to line the runs together, you'd be skiing for 105 kilometres. 
There is also the second biggest pipe in Canada to flip through and a terrain park that will make any shredder giggle like a kid skipping class. From Tuesday through Saturday, there is the opportunity for night skiing in case you missed a few runs during the day. 
Not everyone wants to hit the slopes every day of a ski holiday, so the resort offers a wide array of family-friendly activities including snowshoeing, skating, snowmobiling, tubing, dog sledding, Nordic skiing and ice climbing.  
An array of apres choices 
Apres ski is a problem only because of the multitude of choices. There are 15+ restaurants, cafes, delis and pubs and the option to order groceries to your accommodations. If the kids still have energy to burn after shredding the terrain park, head to the Moose Lounge. From 4-6 there is live music. No kids? Perfect! Check out the Sante Bar for a signature martini or book ahead for a slow dinner at 6 Degree Bistro for the muiti-course wine-pairing menu.  
Nightlife is awesome. Ditch the ski boots in the room so your toes are free to tap at Sessions Taphouse & Grill. DJ's and bands and festivals are always happening. Or, there is Snowshoe Sam's, rated as the No. 1 place to kick back for live music and some crazy drink called "Gunbarrel Coffee" There is a double barrel shot gun and flames involved. Need I say more?
A day on the slopes at Big White always leads to another. The snow is fantastic and the glades are incredible. With over half the terrain designated intermediate, it's perfect for the family. But don't let that fool you, there is plenty of black diamond terrain to test your mettle. Just don't land on a snow ghost. They aren't as soft as they look. 
When you go
For more information about Big White, head to the official Big White website.
Check out how Marmot Basin was built on bravado and big ideas
Show your stoke for the awesome history of Big White by sharing this page with your friends!
For the latest deals, snow reports and contests, sign up today to our SnowSeekers e-newsletter.