Sunday Family Funday at Canyon Ski Resort
JULIA GABRIEL
RED DEER, AB - I almost feel guilty saying this living so close to world-class ski hills, but when it comes to skiing, my family barely has the basics down.
My husband and I know enough to have fun on the smaller runs, but when it comes to the kids, teaching them is beyond us. We end up staying away from the hills because most of our time is spent teaching them - that and helping them up every time they fall down.
Enter Sunday Family Funday at Canyon Ski Resort. With the purchase of a full-day family pass on Sundays, which includes lift tickets for four immediate family members (with at least one parent), get a free ski or snowboard lesson.
Get the details on Canyon's Family Sunday Funday 
and enjoy winter with the entire family
"The instructor is there for you," says Robyn Martel, a co-owner at Canyon Ski Resort
How would you like your lesson?
A full-day family pass at $130 (excluding equipment rental) is already a great deal, but when you add in ski or snowboard lessons for any or all members of the family, it becomes hard to pass up.
You can use the instructor's time for the kids, the whole family, or just those members that need a little extra help. Then you can opt for lessons and pick up some tips, head off for an hour of kid-free skiing, or just hang out in the day lodge reading a good book.
My three youngest kids, husband and I headed down to Red Deer from Edmonton recently to take advantage of a little skiing and some lessons for the kids. We were quickly given our lift passes and headed downstairs to get geared up. Once we found our boots and picked up our skis, helmets and poles we headed to the bunny hill for the kids' first official ski lesson on Canyon's 350-foot Magic Carpet Beginner Area.
While waiting for the instructor to arrive, I met two women who had just completed lessons. Maggie and Kaitlyn decided on the Discover Snowboarding lessons, instead of ski lessons, and they seemed to thrilled with the experience.
"It was fantastic ... because they went from basic stuff to like stopping and  to starting to go down hills and turning," said Maggie. "It was a great introduction because we had never snowboarded before."
Kaitlyn agreed. "It was really good. They made sure we were comfortable with everything before moving on."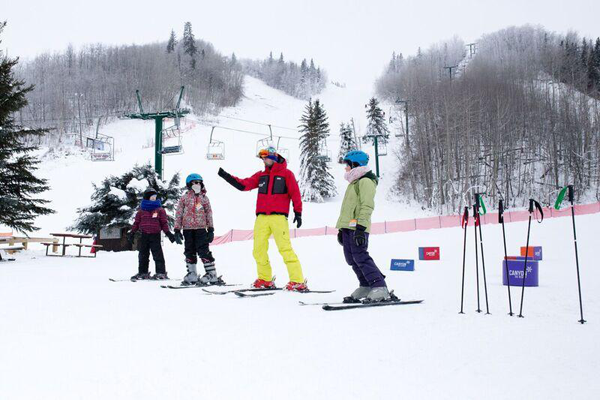 The kids get lessons on how to stop from Harry, their instructor. 
Pizza slice anyone?
Harry, the ski instructor had a relaxed and easy-going manner with the kids and quickly got them engaged in the lesson. I sent my husband off to enjoy a couple of runs without the kids while I watched the kids learn the ropes, learning the pizza move to keep them from going too fast. After quickly running each of the kids through some basic manoeuvres to get a feel for their ski ability, he dove into the lesson. 
"Harry was really nice and patient," said my daughter, Arianne.
The kids were put through their paces, learning the basic skills of stopping and turning. As they progressed they were able to ski from a little higher up on the hill. It was great to see how the lessons were geared to my youngest daughter, who hadn't even conquered the bunny hill yet. I could tell by the smiles on their faces, they were getting the hang of it and feeling more at ease on their skis.
Once I felt sure they were gaining confidence, I snuck off to join my husband for one last run. I'm so glad I did. Because the wind was bitterly cold we almost had the hill to ourselves. Once we started our descent we took our time getting our ski legs under us.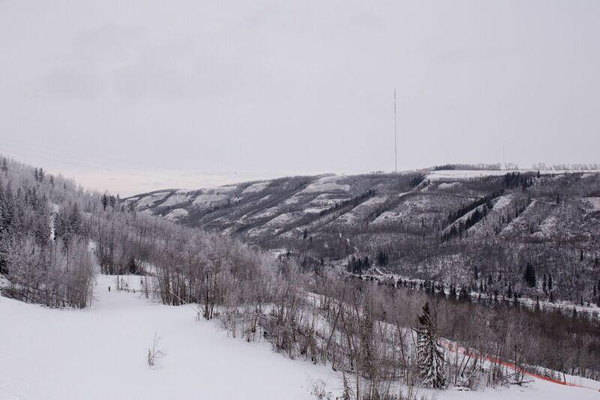 The view of the river valley from halfway down one of the blue runs. 
Success is a dish best served cold
After our run, we met up with the kids and Harry just as they finished their inaugural lesson. After a quick rundown of how the kids did, recommendations for further lessons, and congratulations all around, the kids headed up the T-bar to show us everything they learned.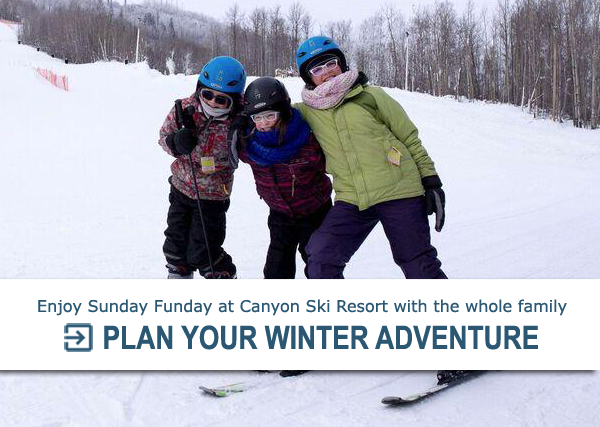 I couldn't help but be impressed. By the time lunch rolled around the kids were going up and down the hill without us, racing each other to the T-bars and skiing down together.
It was a thrill seeing my kids gain confidence as they conquered the ski hill. 
After a quick break for lunch in the gorgeous chalet with a cosy stone fireplace, we were back on the hill, trying to get as many runs in as we could before heading back to Edmonton.
We were exhausted, but at the same time exhilarated. I'm was happy we didn't let the cold keep us away.
And it seemed the kids felt the same way.
"The hills were awesomely fun, the food was fantastic, and we had a tonne of fun!" said Sabastien. Valerie agreed: "It was an awesome trip. Can we do it again?"
We'll be back at Canyon Ski Resort. It was so close to home and learning to ski was so easy that it makes the perfect family day trip.
Learn more:
Get the details on Canyon's Sunday Family Funday here. http://www.canyonski.ca/ 
Like this page? Share it with your friends on Facebook.