Spring skiing in Jasper beats a tropical getaway
A snow sailor in search of spring powder sets sights on Marmot Basin again.
Been sailing for near 100 days, battered from port to port. Murmurs of El Nino everywhere. I've steered these straits before. One minute it's powder reports; the next, the common folk of Edmonton are raking leaves at plus 10 C.
Times like these, tropical fever sets in. When the lawn is turning green, it's easy to forget that just a couple hundred nautical miles west, the great white sea (that's snow, for you flatlanders) roils and churns.
My crew and I set ashore in Jasper for a March 3 – 6 layover at The Crimson Hotel, on the trail of the Marmot treasure. I've frequented these parts long enough to know that when many Edmontonians start polishing their golf clubs or greasing their crank sets, Marmot Basin still has lots of powder potential.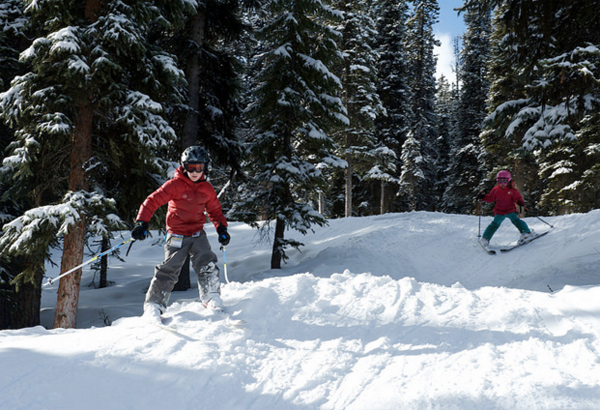 The crew at Marmot Basin.
That was why I came—to document a phenomenon I've been researching for some time now. Eventually, all us marginal ski industry pros anchor in some little mountain village, and for me that place is Jasper. I've circumnavigated it to learn a few things about what makes the ski area such a great hidden treasure, and how and when to find the best booty.
Bermuda Triangle of snow attracts national attention 
Last season, a Bermuda Triangle effect hovered around Marmot, drawing in powder and powder lovers to its snowy island. And another ski season later - the effect is still… uh… in effect.
With its high elevation, long season, cooler climate and northern latitude, Marmot enjoys a combination of good snow conditions and sunny days that stretch late into the spring. The hill regularly stays open until the first weekend of May.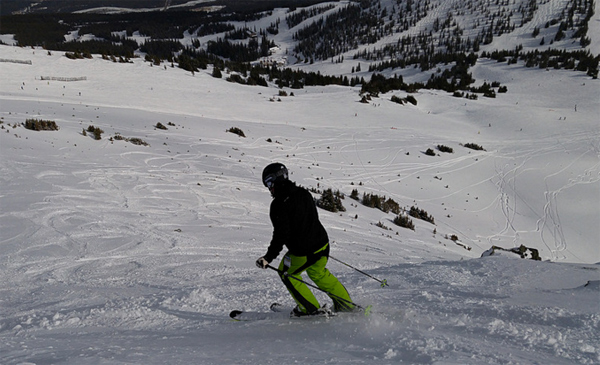 A gorgeous day at Marmot Basin.
Each year, Ski Canada Magazine conducts its annual ski test, rallying a team of 40 men and women—mostly accredited CSIA level 2 instructors or CSF coaches—to put the test to most major North American ski manufacturers' new ski lines. It all went down at Marmot Basin this March, and editor, Iain MacMillan raved about the location.
"It's going to be hard to top this week," he said. "Everything went so well, even the weather: it was winter up top and spring in town. What else could you ask for?"
It wasn't MacMillan's first visit—he and his family came to Jasper on a cross-Canada ski trip by train about eight years ago. "We arrived in this incredible blizzard, the snow was just puking," he recalled. "We had four powder days with hardly anyone here."
Rob Gomme, the Alberta rep for Elan Skis and another industry vet, took Saturday, March 5, to explore the upper mountain with his family. "It's one of the best in the country, if not the best," he said when asked about snow conditions up in Jasper.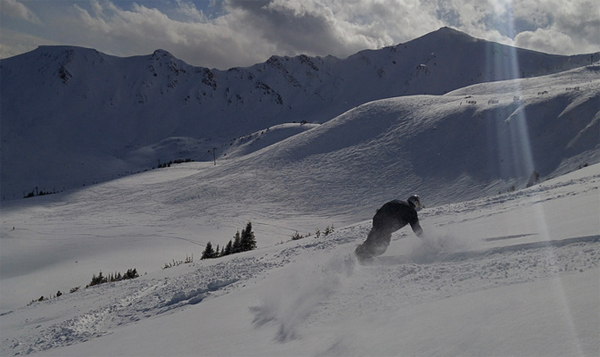 Spring time powder.
"We're just about five centimeters from greatness today."
Snow, sun and springtime shenanigans - the perfect storm
Snow conditions are one good reason to ski Marmot this spring, but there are others. For one, Marmot's northern latitude positions it for long, sunny spring days.
After charging hard all day, there's nothing like peeling back a few layers and soaking in that alpine warmth under a bluebird sky. The mood on the hill as the temps climb and the snow softens is an experience snow sailors seek and bask in.
You might enjoy a serenade from one of the live bands that hit the hill for Kokanee Freeride (April 23). Or, you can don a Hawaiian shirt and join the revelry of the Aloha Cup (April 16), show up in your pajamas on Pajama Day (March 20) or just soak in the general spring skiing stoke over Easter weekend (March 25 – 28).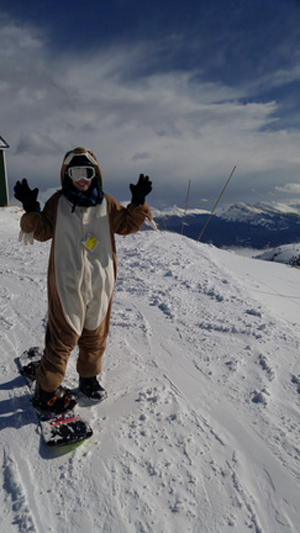 Found a marmot at Marmot Basin.
Being a little farther away from an international airport, Jasper always has a cool small town vibe, with less traffic than some of the bigger name ski destinations. But in spring, that amplifies into a potent mix of adrenaline, endorphins and vitamin D that is hard to beat.
Enjoy awesome events at a gorgeous setting. See what events are on the horizon at Marmot Basin.
MacMillan has skied all around the globe for Ski Canada Magazine and sums up the Marmot experience favourably. "More than anywhere else in North America, it reminds me of the Alps. Lots of flavour, colour and flair you just don't get at a purpose built resort. To have an actual living, working town with great streets full of vibrant shops and restaurants so close makes it a gem."
For my crew and me, with alternating snow and sun to prime the slopes, we felt as if we really were pirates set loose in port. If you haven't been to sea, you haven't lived and that's true for me - I'll take a snow storm on the white seas over a cozy tropical berth any day.
If you go:
Enjoy awesome events at a gorgeous setting. See what events are on the horizon at Marmot Basin here.
Looking for a place to stay while hitting the slopes? Check out the Crimson Jasper.
Are you ready to hit the slopes in Jasper? Share this story with your crew and get them excited to adventure with you!
For the latest deals, snow reports and contests, sign up today to our SnowSeekers e-newsletter.