Nordic club has BC's highest participation per capita
DOC POW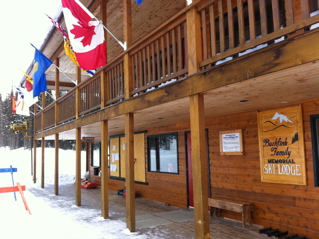 The Buchfink Family Memorial Ski Lodge
DOC POW/SnowSeekers
SMITHERS, BC — It's fair to say that a lot of snow seekers look for opportunities to "get off the beaten path" in order to find those unique experiences stories are made of. For snow seekers with a nordic bent, head north to Smithers, British Columbia for a some pretty cool discoveries.
Located in the Bulkley Valley of Northern BC, Smithers is home to an incredibly active cross-country skiing community that has over 700 members. 
Given that the town itself is home to just 6,000 people, the Smithers Bulkley Valley Nordic Centre is an amazing success story.
"It's pretty impressive," said Smithers BV Nordic head coach Chris Werrell. "It's a family thing. Around here people have been nordic skiing for years and now that love of the sport has transferred to their kids. Smithers is a super-outdoorsy town and we have some fantastic facilities."  
Once you get out there and actually immerse yourself in the Centre's offerings it's easy to see why there's such a buzz. 45 km of groomed trails wind through and impressive forest. The trails are tracked and groomed and laid out in a way that allows you to choose between huge sweeping green loops or thigh burning black diamond climbs, and everything in between.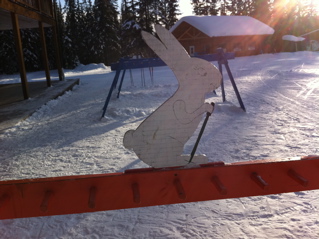 Follow the white rabbit to some outstanding nordic skiing.
DOC POW/SnowSeekers
Werrell, who recently moved to Smithers after a few years coaching in Kamloops, sees a difference being further north. "Here, you really feel like you're out in the woods. It's a real outdoor experience. Typically, it's a colder snow compared to the Okanagan, which generally means that the waxing is a lot easier. And there's a longer season, opening earlier and lasting longer." 
The Centre traditionally opens in mid-November and stays wide open until the end of April. "I think this year we might be skiing till June. It's been such a huge snow year for us."
Making your way into Smithers is easy, via direct flights into Smithers Regional Airport or a drive along the Yellowhead Highway. No need to travel with your own gear, either, as Smithers has a couple of outdoor sports stores that can get you suited up, including McBike, right on the main drag in town. Peter and his staff are uber knowledgeable about all the winter adventures that await in Smithers, and would be stoked to see you pop in for a visit.
If you're a nordic fan, an adventure to the Smithers Bulkley Valley Nordic Centre will not steer you wrong. Take in some of that northern hospitality, get out on the trails, and leave in finer form.
Smithers also has downhill riding. Take a look!
Go for a different kind of ride. Check out this video to preview the snowmobiling experience in Smithers.
The people that call Smithers BC home know exactly what the rest of us are missing. Surrounded by mountains it's an adventurer's dream home. Especially because Hudson Bay Mountain Resort is only 20 minutes from the centre of town. With 36 named runs and loads of backcountry and glades, every skier and boarder will be entertained. Get this! There is even a trail that will take you right back to town. How cool is that? Planning a weekend get-away is easy with many daily flights arriving daily on Hawkair or Air Canada. Rent a car at the airport using the #SkiNorthBC discount campaign then toss the bags in a welcoming room at a local inn or lodge then hit the powder.
If you go
Learn more about the community of Smithers here. http://www.tourismsmithers.com/explore/ski-stay-smithers-bc
Fly into Smithers via Air Canada and Hawkair with daily non-stop daily service. http://www.smithers.ca/airport/
For all your Travel Northern BC details, the folks from Northern BC Tourism can help make the planning process smooth. http://www.travelnbc.com
Sure you can stay and ski, but have you ever thought about relocating; http://bveda.ca/startup-smithers/
#SkiNorthBC and explore more. SnowSeekers has partnered with National Car rental to secure you a SnowSeekers preferred rate. Make a reservation online, or with an agent and in the Contract field enter XVC4SNO for a savings that could cover your ski pass cost every day.