Banff's Nordic Trails first Olympic-bound steps for Heidi Widmer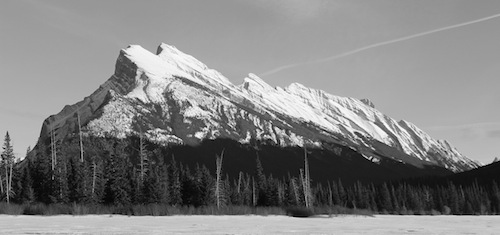 Banff offers great cross-country skiing trails, where the Widmer family often frequents.
Photo by Paula Worthington
PAULA WORTHINGTON
BANFF - I love a great home-grown success story, especially when it comes to the Olympic Games.
The Widmer family of Banff has a long and impressive list of accomplishments.
Their youngest daughter Heidi has headed to the Sochi Olympics as a Nordic skiing athlete, following in the footsteps of her older brother Phil, who competed at the 2006 Torino games.
As I sat down for coffee with Heidi's father Erwin and sister Angela in their cozy Banff home, I could tell immediately that this family is passionate about the sport of Nordic skiing.
Always a skiing family, Heidi started alpine skiing at six years old, adding Nordic skiing to her repertoire at nine because she "didn't want to wait for the lifts." Nordic skiing became a regular pastime for all four Widmer children.
"We'd head out skiing after school, sometimes up the Cascade Fire Road, or out to the Spray River area," says Angela. "There's great track set trails and we'd get in a couple of hours before dark."
It's said that the family that skis together, stays together, and this holds true for the Widmers. Parents Erwin and Lorraine, and kids Matt, Phil, Angela and Heidi still take time for ski trips together. A favourite place is Selkirk Mountain Experience near Revelstoke, where they ski tour together. The kids in the family also take surf trips, which recently included a getaway to El Salvador.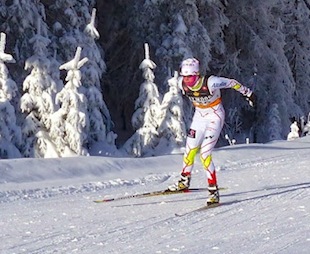 Heidi Widmer in action.
Photo courtesy Heidi Widmer
Making it to the final round of Nordic skiing at the Olympics is no small feat. Heidi's journey will begin with a qualification heat, which is composed of a roughly 1.5-km track and 100-120 skiers, all setting off in intervals 15 seconds apart.
The top 30 will qualify for a quarter-final. From there, it's five heats of six racers each. The top two finishers from each heat plus two "lucky losers" compose a 12-person semi-final. Once again the top two from each heat plus two more lucky losers make up the final.
Heidi's fans throughout the Bow Valley will undoubtedly be cheering her on. And if you want to get into the excitement of Sochi and all things Nordic, head to Ticino's Swiss Italian Restaurant on Banff Avenue, which has been owned by the Widmers since 1979.
Even if you're an alpine skiing enthusiast, adding Nordic skiing to your repertoire can help add to your winter experiences. "Nordic skiing is a great cardio workout, and you can go to some beautiful, peaceful places in nature that you otherwise wouldn't see," Erwin says. "A lot of what you practice in Nordic skiing can help you become a better alpine skier, too. 
Nordic skiing around Banff
Want to follow the paths of champions? Check out these great Nordic ski trails in the Banff area, and be sure to follow Heidi Widmer on her Olympic journey.
Cascade Fire Road - Park at the Lake Minnewanka parking lot. Features a double trackset trail.
Spray River Loop - You can start from the end of the 15th hole at the Fairmont Banff Springs Hotel, or from the Spray River Trailhead located just past the Banff Springs Hotel parkade. 
Canmore Nordic Centre - This world-class facility is home to a number of Olympians, including Heidi Widmer and her brother Phil.
Once you've burned up and down the trails, check in to the Juniper Hotel at the base of Norquay Road in Banff. The hotel features stunning views of Mount Rundle and the Banff townsite, so you can practically scope out the Nordic trails from your window.
The hotel also offers quick access to Highway 1 westbound to Lake Louise or eastbound to Lake Minnewanka and Canmore.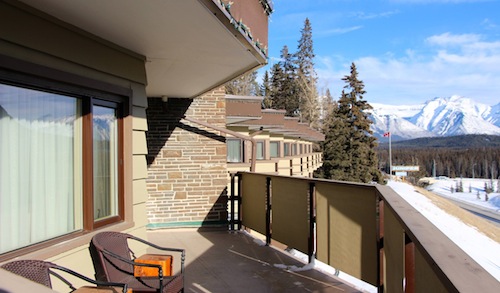 Juniper Hotel is on the sunny side of Banff.
Photo by Paula Worthington
If you want to stay connected to nature at the end of your Nordic ski adventure day, the Juniper Hotel & Bistro is the place to stay. With unrivalled views and genuine guest service, it's still close to town but far enough away that you'll feel like you're really getting away from it all. Find out more by visiting Juniper's website.
Check out the Juniper hotels Ski & Stay package.
For more information about Heidi Widmer, visit www.heidiwidmer.com
For more stories and detail on Banff check out our SnowSeekers' destination page.