Rossland's glades will keep you coming back for more, and more, and more...
AMBER HAYES
ROSSLAND, BC — I was skiing with a group who had travelled to Rossland for the annual Winter Carnival, and we went powder-hounding through some of Red Mountain Resort's treed fall lines. The group kept remarking on the how we consistently found fresh lines and they had never seen a hill with such artfully trimmed tree lines. Red allows skiers and riders to carve lines without feeling like they are being flayed, and yet the aesthetics of the trees are still in tact. As an avid tree skier, this makes Red a haven.  
There is nothing like carving a fall line through a forest of trees, looking ahead as the perfect line of fresh powder opens up for you. It's like skiing in your own world; trees whizzing by in your peripheral vision as you focus on the goods ahead. There is something sublime about the flow of the snow in a good tree line, and you won't find more options available than at Red Resort in Rossland, BC.
Steep trees, tight trees, and one of my favourites - the curtain trees that reveal a beautiful glade layered with untouched snow for you to lay tracks in.
No bowls, no problem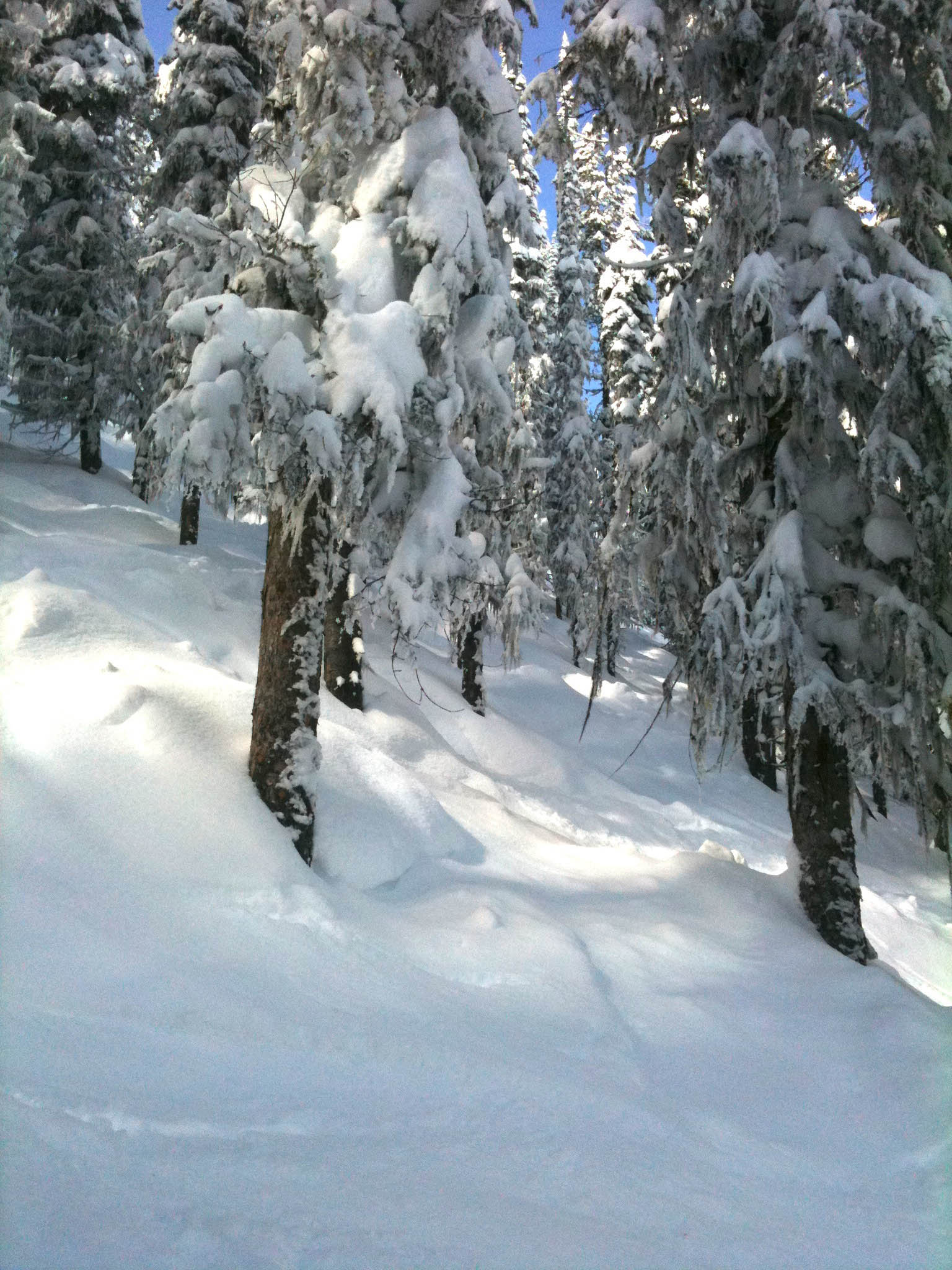 Skiing the trees at Red Mountain Resort will honestly satisfy you for years on end.
Photo courtesy of Amber Hayes
As a lover of the tree-skiing experience I can judge a hill by its trail map; open bowls and alpine may excite some but those huge expanses of white on a hill's map does nothing for me. I want to see lots of tree areas (preferably with black diamond's on them) and lots of tree skiing terrain; and Red Mountain's map has tree groves on every single aspect of its terrain. Plus, Red Mountain works hard year after year, trimming and spacing so there are countless lines that have been artfully spaced out to allow access and a sense of flow without affecting the sense that you are skiing through a forest.
The other technical way to catch deep powder is to take advantage of Red's 360 degree skiing aspects. To do this you follow the wind pattern and find the trees that have been acting as snow fencing by catching blowing snow, doubling the snow depth in pockets of bliss. Swooping in and poaching these pillows is a sweet treat.
Ego trees
I understand not everyone loves the trees, and this is where Red Mountain delivers again. If you have a group that is split with some groomer skiers and some tree skiers, hit Paradise chair and the group can literally ski in parallel with the tree skiers in sight of the groomers - and they are fun trees!
These runs on Paradise (and the trees under lower Red chair) also offer what I would describe as ego trees. Ego trees are perfectly spaced on a gentle pitch and also offer a quick exit to an open run if needed. If you want to learn how to tree ski, then this is a great option.
There seems to be no end of options for tree skiing at Red Mountain Resort; I am coming into my 14th year skiing here and am still finding new lines.
I invite you to Red to experience the tree terrain, and if we happen to meet on the chair I'll share a few of my favourite tree runs with you.
For more head over to the SnowSeekers Facebook page.
For the latest deals, snow reports and contests, sign up today to our SnowSeekers e-newsletter.