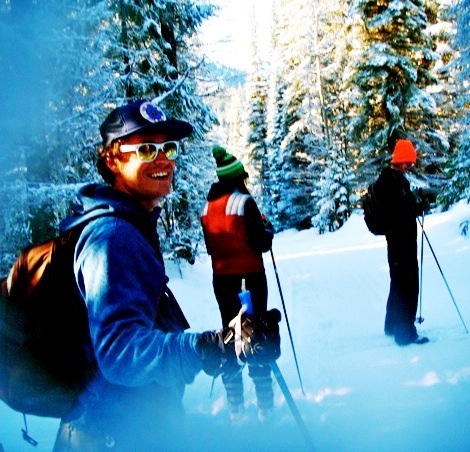 On an adventure that is challenging, fun, with a delicious gourmet lunch in a remote lodge. 
Photos courtesy Sage McBride
SAGE MCBRIDE
Welcome to this story from SnowSeekers' classic collection.
It was a beautiful warm morning in January as we began our journey to Island Lake Lodge. The journey that day – cross country skiing to a gourmet lunch.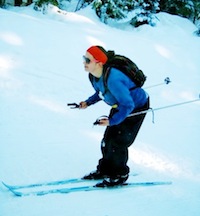 Practising her Nordic ski stance.
I grew up cross-country skiing in the wilderness of Northwestern Ontario, with two very avid cross-country skiers as parents. My friends on this journey, one from North Vancouver B.C., one from Richmond Hill Ont. and one from Aberystwyth Wales, on the other hand, had never tested out their Nordic skills. They thought their alpine abilities would cross over seamlessly.
Four people with varying degrees of skill, agility and balance began, and what followed was one of the most memorable days of our lives.
We had our skis waxed, packed some water and snacks and headed up the slope.
There was definitely a learning curve on the upward climb for my friends. I showed them the herringbone, the side step and edging our skis for control. And after a few slippery missteps and laughs, everyone was getting the hang of it. We stopped for photographs and admired the beautiful mountains that surrounded us from every side. More than once we marveled at how this kind of beauty was present in our backyards.
After a vigorous two-hour climb to the top of the snow covered groomed trail, all of us had worked up an appetite for a gourmet lunch served in one of the most remote and spectacular lodges in B.C.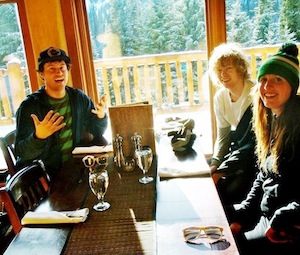 Luxury dining on a wilderness adventure.
As the sun peeked through the window, we drank wine from their impressive 3000-bottle library.
For lunch I had the sweet pea and butter leaf soup with a BBQ tofu wrap, while my friends had the chef's plate with slow roasted Alberta beef strip loin.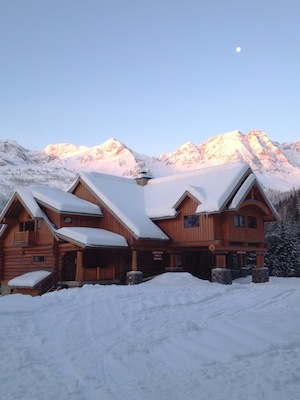 Island Lake Lodge blanketed in snow.
 The sun was setting behind the mountains, and we had become far too comfortable beside the warm, fire, and too accustomed to having the gorgeous high-ceilinged Tamarack lodge to ourselves, but the time had come to bundle up and make our way home.
Although we had been skiing uphill for two hours, I would have climbed another four to have some of the amazing food prepared by the Island Lake chefs. 
We had the most spectacular ride down, soaring down the snowy, curvy road.
My friends, who had mastered the incline technique, took a few falls to get their downhill bearings and trust their ability while they navigated the steep spots.
But after a few minutes we were all cruising with the wind blowing in our faces and having the best time.
By the time we reached the car about four hours had passed. We arrived with full bellies, burning legs and couldn't stop laughing about a few sharp turns gone awry.
This is one Fernie adventure suitable for people new to Nordic skiing or seasoned Nordic skiers.
I plan to make it an annual winter experience.
IF YOU GO:
The lunch experience is offered every Friday or Saturday and must be booked 24 hours in advance.
Island Lake Lodge also offers a snowcat ride up to the lodge to enjoy their winter wonderland.
Lunch and a cat ride is $79/person. They also offer snowshoe and cross country ski rentals for $10, so you can do a snowshoe hike or cross country ski directly from the lodge.
If you choose to venture up to the lodge on your skis or snowshoes, lunch is $29.95/person served with dessert.
You can also book in a spa treatment, but must book in advance.
Click here for more information, or to book your fabulous adventure
For the latest deals, snow reports and contests, sign up today to our SnowSeekers e-newsletter.