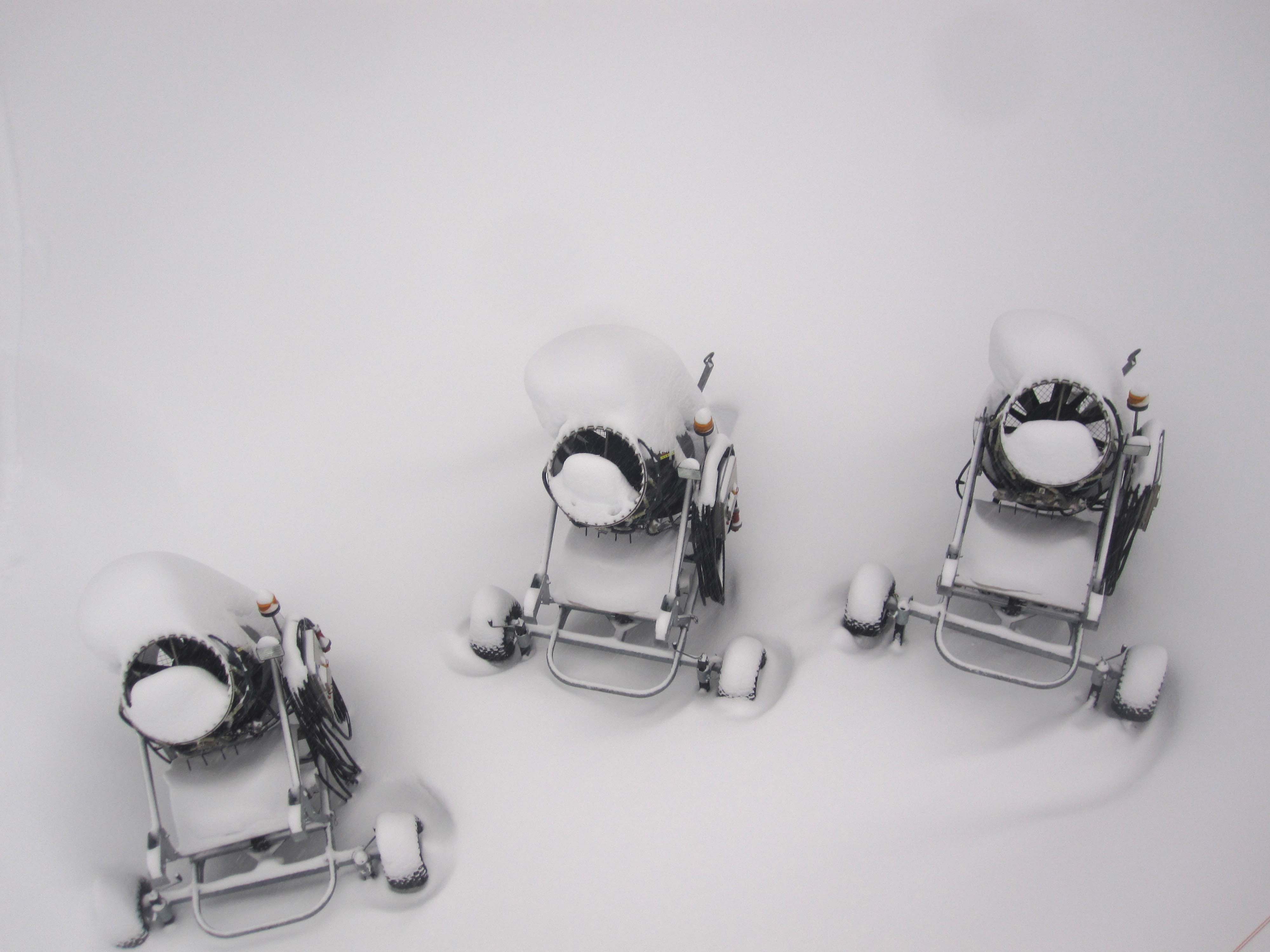 Ever since upgrading its snowmaking capabilities, Marmot Basin hasn't really needed it.
Photo courtesy of Sterling Todd Keys
STERLING TODD KEYS
JASPER, ALTA. — If there is one mountain in Alberta that I'd call my true "home" mountain, it's Marmot Basin. Out of all the trips I've made through the years, heading to Jasper is always one of the more memorable ones. Compared to some of its Western Canadian counterparts, the mountain isn't necessarily a large one, but its terrain and charm draw me in time and time again.
Wanting to arrive from Edmonton for first chair, we entered the resort before the hill opened and were greeted by a 50-car conga line that was patiently waiting to pull into the parking lots. Thanks to an unexpected dump of fresh snow, everyone and their grandmother wanted to get a piece of the mountain.
If the sheer number of cars weren't testament enough, the ticket and rental areas had lines circling around the building, filled with people anxiously waiting their chance to ride the chairlift up for their first turns of the day. As we stood in line, avalanche bombs could be heard going off in the distance. The popping sound of these avalanche control devices were a welcome sound to the clamor of the crowd. Knowing that there had been enough snow to merit this kind of avalanche control was a good sign for the day to come, as well as knowing that patrol was out there keeping us all safe.
A brand new Marmot Basin
Even though the hill was inundated with skiers and boarders, Marmot Basin has wisely invested a considerable amount of capital into their infrastructure over the last few years to ensure spacing on the mountain is never an issue. Their three newest lifts - the Canadian Rockies Express Quad, School House Triple Chair and Paradise High Speed Quad - made short work of the hordes of shredders.
Despite having never seen that amount of people there before, our crew managed to spend no more than 5 minutes in lines for the lifts at the base of the resort the entire time we were riding (this, during the peak of holiday season). Plus, faster chairlifts meant less time in the air, which meant more time on the ground. Could there be a better investment then getting more runs in a day? My heart said yes … my thighs are still uncertain.
With fresh snow all around us and more falling by the minute, it was easy to get lost in Marmot's various areas. The new snow, pushed a bit off to the side on the groomed runs, provided a generous grabbing point for our skis, and our warm-up runs on Highway 16 and Sleepy Hollow quickly turned our thoughts to steeper and deeper. A few nice hikes into the Knob area, where we dropped into Charlie's Bowl and it's plentiful amount of fresh turns, provided the rush (and pow) that we were looking for.
One of the best days in recent memory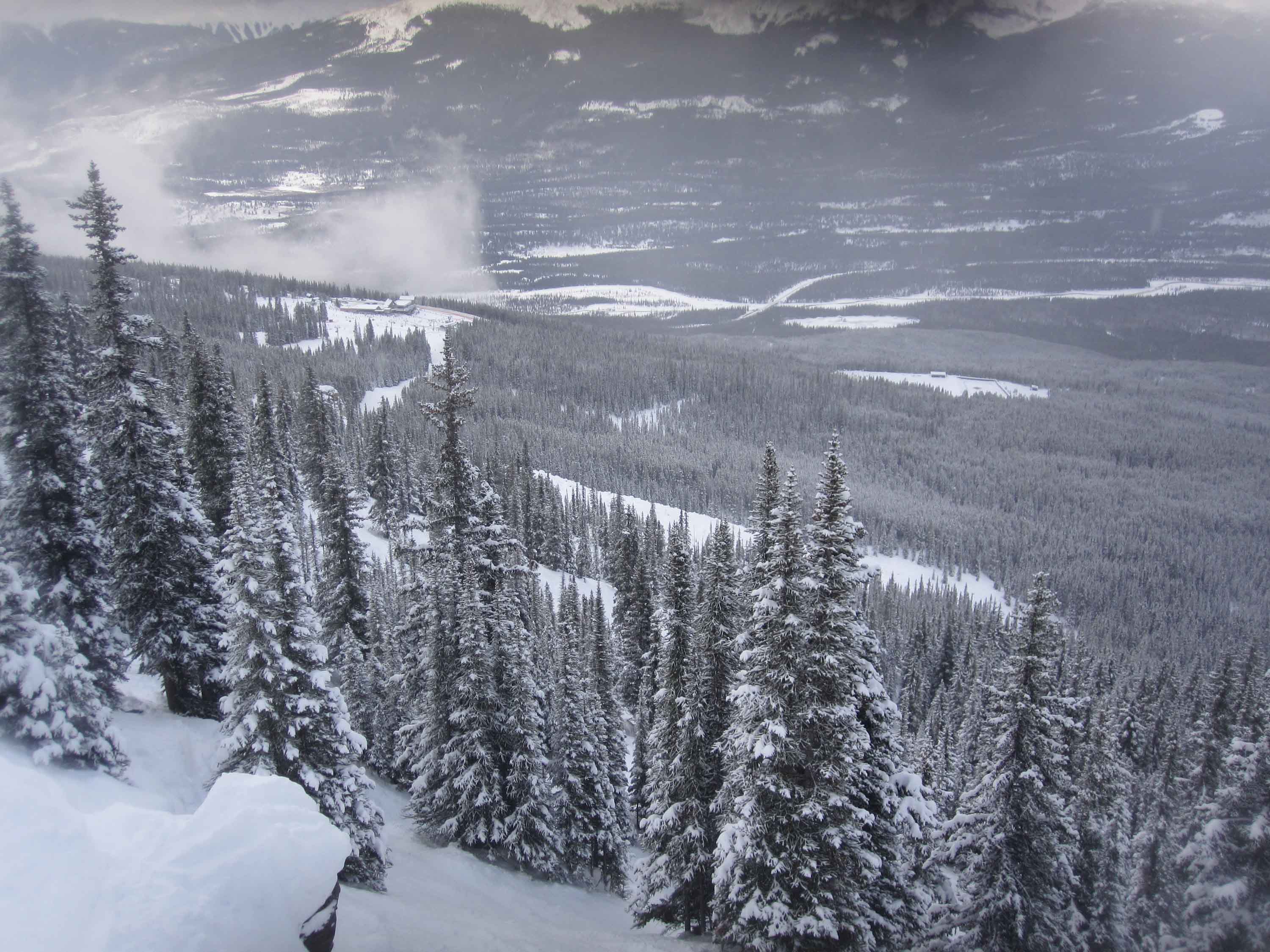 Sterling and co. made the most of Marmot's glades, as should you.
Photo courtesy of Sterling Todd Keys
Our afternoon was spent primarily in Eagle's East, a veritable playground of steep slopes and glade runs. As much as most powder hounds say that "there aren't any friends on a powder day", being able to feel the snow splash up into your face and hear the whooping and hollering of your friends hitting the exact same turn that you made is one of the best feelings in the world. Despite the conditions, we stuck together as a group the entire day, so as to be able to congratulate each other on a nicely chosen line and regale the last run on the chairlift up.
A quick stop mid-mountain to enjoy a packed lunch and the warmth of the communal fire and we were off again, eager to find more spots to lap up before the resort closed or our bodies told us it was time to call it quits.
We left Marmot Basin with a sense of fulfillment. This final trip to the mountains during a sojourn back to Alberta turned into one of my best days in recent memory; a veritable playground of fresh snow with great friends.
Here's to hoping that everyone else gets to experience the same amount of fun I've been lucky enough to have. For now, it's back to Vancouver Island and Mount Washington. 
Sterling's day at Marmot Basin concluded a trek that saw him re-discover Lake Louise Ski Area, spend a night at Castle Mountain Chalets, rip it up at Kicking Horse Mountain Resort, and take in the phenomenal Kicking Horse River Lodge.
For more stories and detail on Jasper check out our SnowSeekers' destination page.