This season we welcome Bob Covey and Tourism Jasper to deliver our audience a new blog post at least once a month through the season. Bob Covey is the publisher and editor of The Jasper Local, online at www.thejasperlocal.com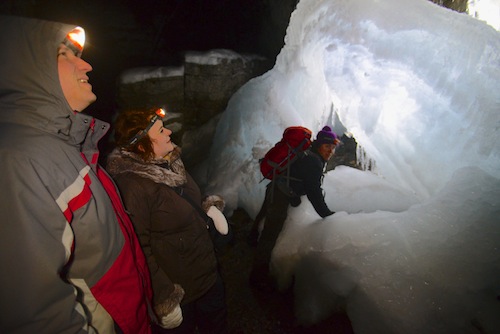 Take a promenade through the icy caverns of Maligne Canyon. Make sure to wear your finest in snow suits.
Photo by Bob Covey 
BOB COVEY 
A chandelier-strewn silver promenade, a dazzling spectacle of sparkling lights and a chauffeured ride to the ball.
Would you believe we're in Jasper National Park?
The lights, in this case, are a zillion stars shining overhead (Jasper National Park is the world's largest accessible dark sky preserve); the limousine is a Maligne Adventures tour van; the silver promenade is a two-kilometer long, 10,000-year-old gorge known as Maligne Canyon. Instead of formal wear, we're bundled in ski pants and mittens; instead of designer shoes, on our feet are rubber boots and that most important canyon crawling accessory: ice cleats. 
This isn't the ball, it's a Maligne Canyon crawl—at night!
Having studs on your soles is paramount to enjoying the chandelier-strewn walkway without landing on your backside. Maligne Canyon's silver carpet is spectacular, but it's also super slippery.
Luckily, Sarah, our mellow, knowledgeable and smiling guide from Maligne Adventures, has warned us to take small stutter steps on our way down from the summer trail that traverses one of the largest canyons in the Rockies. She offers an arm as we slowly pick our way to the bottom of the gorge, where only two months ago the Maligne River would have been boiling.
The river's steep descent from the Brazeau Icefield, through Maligne and Medicine Lakes high above us, is the reason Maligne canyon exists at all.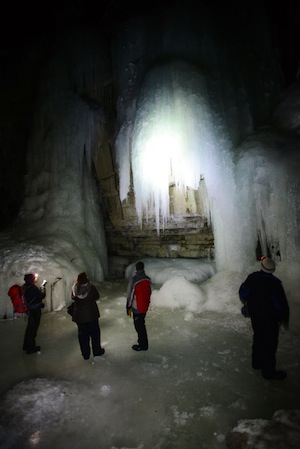 Photo by Bob Covey
That, and the nature of the rock itself. Sarah explains that much of the geology in the Maligne Valley is water-soluble limestone. An enormous underground karst system exists here, meaning the water above ground is but a droplet compared to that which runs underneath. Experiments to see how far and wide the Maligne River drains has led geologists to conclude that the aquifer may be the longest cave system in Canada.
After we marvel at shimmering Bridal Veil Falls, we get a sense of the canyon's cavernous possibilities when Sarah shows us the entrance to a partially-hidden passageway. Smooth stalagmites and hairy hoar frost indicate warmer air escaping from somewhere inside the rock. "It's a bit of a squeeze to get through but if you're willing to crawl on your stomach for a few metres there's a really cool room you can stand up in," Sarah says.
It's an alluring invitation, but on this night claustrophobia edges out curiosity. We amble on, the interplay of shadows from our headlamps, plus the alternately rocky, icy and snowy footing, dictating that we take it slow.
Not that we want to rush it. That would be missing the point when trying to admire eons of glacial etching. Pointing her torch skyward, Sarah shows us swirling formations in the rock, estimated to have been made thousands of years earlier, based on the depth of the canyon, which plummets to 55 metres in the deepest spots. To reaffirm the time-trap, next Sarah shows us a tiny ammonite, a snail-like fossil in the canyon wall that has been preserved since this area was under an ocean.
"This creature was extinct before dinosaurs roamed the earth," Sarah says.
As we roam this prehistoric ice world, we take care not to step in slushy spots for fear of contracting that malady that terrorizes millions of Canadians every year: wet sock (our supplied waterproof gumboots render this fear irrational, but still). We approach the canyon's piste de resistance, the ice waterfall known as the Queen of Maligne.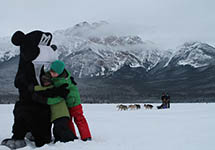 Celebrate with Jasper
Discover why Jasper is one of the top Canadian Rockies destinations.
This is a climber's mecca, evidenced by the frozen shrapnel which litters the land. The ice chunks have been chipped and chopped by the axe swings of innumerable alpine adventurers, but even more impressive than watching a climber's ascent of the Queen's weeping wall is understanding her healing power: she can reform her icicles at an astonishing rate of three metres per day.
Nearing the end of our canyon crawl, a Parks Canada hazard sign halts any further progress. This year's unusual melt-freeze cycle has created a dangerous, chest-high ice shelf at the far reaches of the silver carpet.
While it may be tempting to amble underneath, Sarah explains that the two-foot thick slab could collapse at any moment. And while here in the canyon moments can be stretched into millennia, we'd rather be looking at ancient ammonites, not be like them.
As we tramp back along the trail, we reflect on the river's unceasing cycle of canyon carving, the intergalactic star-scape above and the unsolved mystery of the Maligne Valley's underground cave system. Before we know it, we're back at the van. A time slip? Perhaps. More likely, in Jasper National Park, is that we've just experienced something timeless.