Powder King's unique location sets it up for epic snowfalls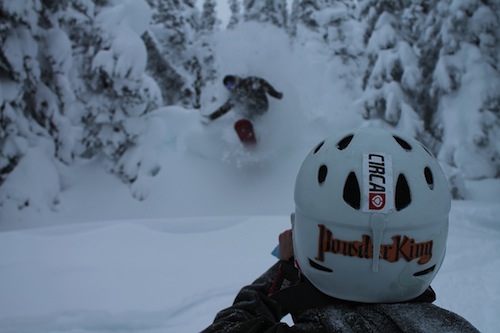 Stephan Malette coming out of the pow.
Photos by Doc Pow
DOC POW
PRINCE GEORGE, B.C. – As Powder King's chief groomer at Powder King Mountain Resort, the one thing Stephan Malette and his team does not have to worry about is making snow.  
If you're looking for abundant snow-filled adventures this winter, head north - about two hours north of Prince George B.C., where you'll find Powder King. If you have yet to experience it, you can guess why it's called Powder King.
On a recent visit, I had the chance to shred with Malette, who's also the snow forecaster and monitor for the resort, and learn why it gets so much powder.   
Annually, this incredibly powder-blessed destination, sees snowfalls that consistently place the King in the top five locations on the globe for snowpack. 
"Currently we are sitting number one in Canada and number three in the world for our snowpack (as of Jan 8, 2014)," said Malette.
Take a look at these shots from January 8, 2014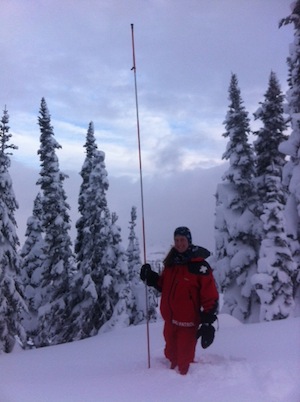 Here is Kat Stephan, ski patroller at Powder King, standing with a three-metre probe.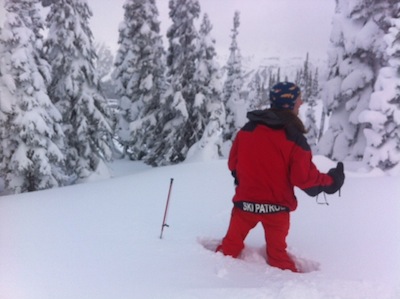 And here it is after. 
"It's reading 284 centimetres. Pretty soon we'll need a much longer probe," says Kat Stephan, ski patroller with Powder King.
The microclimate effect 
Powder King sits alongside B.C.'s biggest lake. What used to be a river is now a lake also known as a reservoir for BC Hydro. The Williston Reservoir/Lake is the seventh largest reservoir in the world.  Check out the statistics on Williston, courtesy of this Wiki, which says it's 251 km long and at some points 155 kms across. 
As Malette explains because of this huge body of water west to the resort, it results in consistent powder to its slopes. Directly across on the east side, is the backbone of the Canadian Rockies, so winds loaded with moisture butt up against those mountains and unload the snow.
This lake and geography effect creates its own microclimate and Powder King just happens to lie right in the middle of it.
Having worked in Whistler and Panorama for many years, Malette has a good understanding of snow conditions across Western Canada. 
"What I've seen at other resorts is one dump of snow every week or so, while here at Powder King we see a big dump in December which sets us up for the season."
Malette cites the most recent example - just 10 days before Christmas – when 150 centimetres (that's nearly five feet) of snow fell. 
 "After that big dump in December, we will then see pretty much 10 to 15 centimetres nightly through the rest of the season."   
SnowForecast.com
In order to help monitor and report the region's snowfall, Malette recently became a contributor for www.SnowForecast.com
As a snow reporter for the popular site  - which  charts snowfalls and potential snowfalls for hundreds of resorts around the globe - daily, well before dawn, Malette is submitting observations required to help forecast when the powder could hit. 
"There are two weather stations we maintain here on the mountain. With only one- fifth of our terrain in-bounds, it really helps the backcountry community to have the most up-to-date information on snow conditions."
Get your plans in order and hit The King this season. For where to stay and for information on other adventures in the area during  your visit, check out Tourism Prince George's website 
Aptly named Powder King Mountain Resort gets over 41 feet of powder each season. It's a powder paradise that every level of skiing and snowboarding ability can enjoy. From breath-taking drops to gentle groomed slopes, there is something for everyone. Locally owned and operated means you'll be part of the Powder King family in no time. Planes, trains and automobiles will get you there. Air Canada, West Jet, Central Mountain Air, Pacific Coastal Airlines and Via Rail all stop in Prince George. Rent a car at the airport using the #SkiNorthBC discount campaign.
If you go
Get the details about that snow here www.PowderKingResort.com 
Prince George International Airport http://www.pgairport.ca/
For all your Travel Northern BC details, the folks from Northern BC Tourism can help make the planning process smooth. http://www.travelnbc.com