Community ski areas nurture new generations of skiers  
JEREMY DERKSEN  
EDMONTON - In over 30 years of skiing, my favourite memory begins with me straight lining into a large kicker. Knees bent, stance wide, tucking to get speed as I came into the jump.  
My skis broke the edge of the lip, but I didn't have enough momentum to carry me over. As we slid backwards down the ramp, my three-year-old son — tucked between my knees — burst into loud, uncontrollable laughter and we collapsed on our backs in the snow. 
That warm spring day at the Edmonton Ski Club changed everything I knew about skiing. 
The early days of the Edmonton Ski Club.
Photo by the Edmonton Ski Club
"Growing up" skiing 
Up until then, my mission was seeking out and skiing the steepest, deepest and most extreme terrain I could. Local ski clubs weren't really on my radar. 
Over the next five years, though, I began to see just how important community or "feeder" hills are: to young skiers and families, to aspiring athletes, and to the ski industry as a whole.  
"We're the place kids start to ski," says Hildur Sinclair, co-owner at Troll Mountain in Quesnel, B.C. Her father founded Troll over 40 years ago, and it's stayed in the family.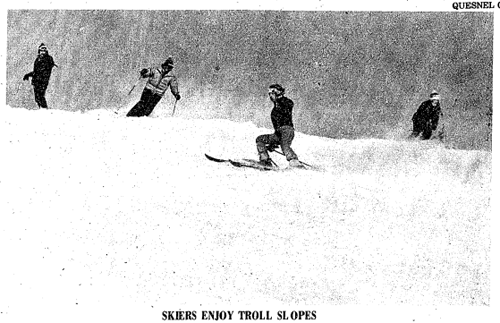 Skiiers have always enjoyed Troll Resort as place to 'brush up on their skills before that big trip.
Photo by the Quesnell Observer
"This is where people come to brush up on their skills before that big trip." 
At a recent meeting of the Canada West Ski Areas Association, Sinclair recalls, members were asked by a show of hands where they got their start as skiers — big destination resorts, or community hills? When it came to the latter, Sinclair says, "these are the movers and shakers of the industry in Alberta and B.C., the managers, instructors, owners — and 90 per cent of the room put up their hands." 
Sinclair doesn't see that changing. "I think the drivers in the industry are still going to come from the local areas, because those are the people who grew up skiing." 
Old school, new school 
One of David Martel's favourite childhood memories is being pulled out of a snowbank by his dad while skiing. "It was like a cartoon … my head was straight down, my skis were in the air." 
Martel grew up in a family of skiers, and he was fortunate enough to marry into a similar family. They were all so passionate about it, they decided to buy a ski hill together in 2010. Now, Martel, his wife Robyn, her parents Alios and Marie Kunc, and Robin's brother Tomas Kunc are co-owners in Canyon Ski Resort in Red Deer.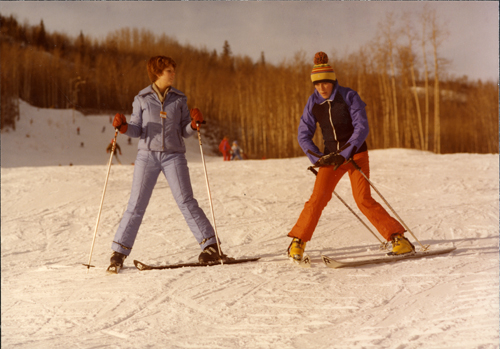 Learning to ski back in the day at Canyon, the largest non-mountain ski area in Alberta.
Photo by the city of Red Deer
Five winters in, the Martels are raising their own little skier — two-year-old daughter Charlotte. Like the rest of the family, she's already hooked. "She's been asking to go skiing since the summer," he laughs. 
That resonates with me — it's been that way in our home ever since my eldest son started skiing. Since then I've nurtured two more young skiers. This fall I spent a lot of time explaining to my two-year-old that he has to wait until there's snow on the ground. Instilling an enduring passion for skiing — and winter in general — among new generations is what it's all about. 
That's where feeder hills come in. At Canyon, the largest non-mountain ski area in Alberta, school groups make up a major part of the business. Martel estimates between 200 and 300 kids per weekday, between December and March.  
That's about 1,000 a week, and over 15,000 in a season — not counting all the others who come on weekends. Canyon's largest demographic, says Martel, is the 12 to 16 year age group. With terrain parks and race clubs, community hills are a ladder for kids who get hooked on the sport to climb. 
 "When the big ski resorts heard we had bought the hill, they came and thanked us," Martel says,  
Still "growing up" skiing 
These days, with three kids in my house clamouring to ski, it takes time and money — buying gear, lift tickets and travelling to and from the hill. Again, that's where community hills help.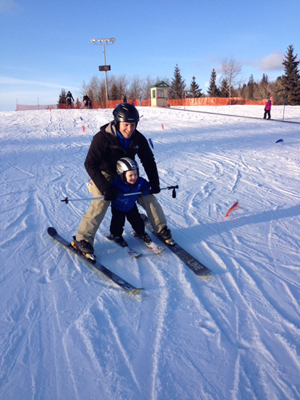 Snow Valley in Edmonton is the perfect place to start skiing.
Photo by Jeremy Derksen
"It's become so expensive to get your kids out skiing, but at the community hills we've managed to keep it more affordable," says Sinclair.  
"When kids are starting to ski, they don't want to ski the whole day," she says "They want to play in the snowbank, slide on their butts a bit, ski for a few hours. If you have to pay for a full day lift ticket at a destination resort that can be an expensive proposition."    
The local ski area is an affordable, welcoming place to nurture new skiers, or brush up the skills before that trip to the mountains. 
But as I've learned through my own kids, community hills can also teach us to rediscover the simple joys of skiing: playing in the snow, having a hot chocolate, hanging out with friends and just being a kid — no matter what your age. 
Become a SnowSeekers member build your bucket list and get exclusive access to deals and more.
Learn about Castle Mountain, the little mountain that stays true to humble roots.
Show your stoke for growing up skiing by sharing this page with your friends!
For the latest deals, snow reports and contests, sign up today to our SnowSeekers e-newsletter.