BARB MARTOWSKI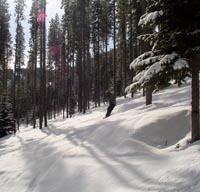 Tree skiing and big cruisers are in abundance at Kimberley. 
DOC POW,SnowSeekers
KIMBERLEY, BC — Tucked away in the East Kootenays in British Columbia is a resort that defies its reputation. Part of the Resorts of the Canadian Rockies family, many consider Kimberley Alpine Resort a family resort. And it is, but it's a family resort that caters to every member of the family, including those who love to dive into chutes and hit the glades.
"With a front side that is mostly blue, the backside offers some exciting expert runs that definitely get the adrenaline pumping," says Chris Elder, Kimberley's former resort manager. "Here you can find some of the best glade runs you have ever skied."
Elder also points out that there are very few flat spots for those who prefer snowboarding over skiing, something my friend, Boyd England, really appreciated.
"The hill definitely has a country club feel about it, and it's very underrated – something you don't find out until you actually get here. I'm a speed demon; I like hitting those steep, big open cruisers and really ripping down on my board and Kimberley offers that, plus, with fall line skiing off of every chair, there's terrain for every skill level."
Surreal experience
Kimberley is where I first came across an inversion cloud – a weather formation that results from colder surface air slamming into upper warmer air. There I was, cruising along Rosa off of the North Star Express when around one slight curve I came face to face with what looked to me like a solid wall of cloud.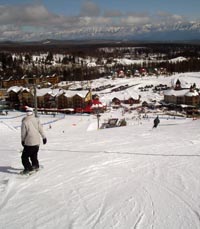 All runs lead back to the village at Kimberley. 
DOC POW, SnowSeekers
If you are above the cloud, especially with the sun shining, which it was, it gives the impression of being solid and stretching out from one peak to another – like you could walk straight across. If you are inside one, it's a whole other story.
Inside these inversion coulds is where you really learn to ski with your feet. Sound is amplified and other skiers and riders appear out of the mist like transparent ghosts that never really formulate unless they are right beside you. It's very surreal.
"It happens here a few times a season," said one local, who I shared a table with in the day lodge after my experience. "You never really get used to it, but if you (as a visitor) get to experience it, it's something you will never forget. It can really freak you out if you don't just go with it and pay attention to where your feet are."
Only one way to go
An added bonus to Kimberley, if you find yourself in an inversion cloud or are visiting the hill for the first time, is that you can't get lost.
"One of the nice things about the hill is that all the runs funnel back to two areas," said Elder. "On the backside, you come down to the Tamarack Chair and on the frontside, you end up at the North Star quad.
"Because of that, you really can't get stuck anywhere; all the runs take you back to one spot. So it's great for families; the kids can go and play and you don't have to worry about them getting into areas of trouble. We also offer night skiing on the weekends."
Check out this video about riding through Kimberley's trails!

For more stories and detail on Kimberley check out our SnowSeekers' destination page.