Sterling Todd Keys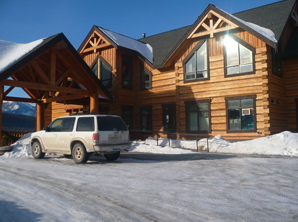 A rustic and cozy accommodation, Kicking Horse River Lodge has gained a world-class reputation in just 5 years.
Photo courtesy of Kicking Horse River Lodge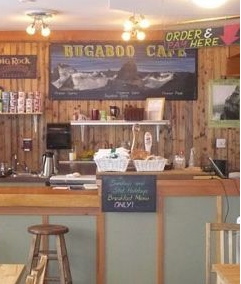 The Bugaboo is fast becoming a must on the list for locals and visitors alike.
Photo courtesy of Kicking Horse River Lodge
GOLDEN, BC — After a day of shredding at Kicking Horse Mountain Resort, barely able to climb a set of stairs, let alone spend the next seven hours riding in a car trying to make it back home to Edmonton, I couldn't have been more thankful to have decided to crash at the Kicking Horse River Lodge soon after packing away my skis.
Nestled on Kicking Horse Trail Road, near the last turnoff before the resort, this hostel-styled lodge is a welcome sight for any weary skier. Providing a combination of loft, dorm, and private rooms, it has the look and feel of an expensive hotel but has the vibe, cost, and the amazingly helpful staff of a hostel.
Great service goes a long way
Here's something to prove that last point: if you've ever stayed at a hostel, the staff are the front line for information and a great way to get to know the area you're in. After checking in and inquiring about the local areas and what we should be the lookout to do or see, our hostess provided great information about a few locations and we went on our way.
After a few moments of unpacking, a small knock on our door revealed the same hostess. "I'm also relatively new to the area, so I called my co-worker and had her help me out on this," she said as she handed us a map filled out with all the locations we had asked about, as well as a multitude of others that hadn't been discussed before.
As with any service industry, great customer service goes a long way in making someone's stay that much better, and Kicking Horse River Lodge has it down pat.
Nothing but praise
As for everything else, I don't have anything but praise for the Lodge. The common room is bright, has ample room, and is filled with brand new furniture. The Bugaboo Café, located right inside the lodge, has amazing breakfasts and snack foods (should you forget your own) and is available for both dine in and dine out. 
Finally, in true hostel style, it boasts a large (and clean!) community kitchen for your own cooking needs. A great lodge in a great location in a great ski town! What more could you ask for?
Kicking Horse has always been a personal favourite for me when it comes to Western Canadian ski resorts, and each time I visit it keeps getting reaffirmed. If you're ever wondering whether it's worth the extra drive to make the trek to The Horse, don't hesitate … just go for it. Chances are you'll get as hooked as the rest of us.