Keeping love aflame on the frozen lake
Keeping love aflame on the frozen lake
A warm fire, some wine, and cuddles can make icefishing romantic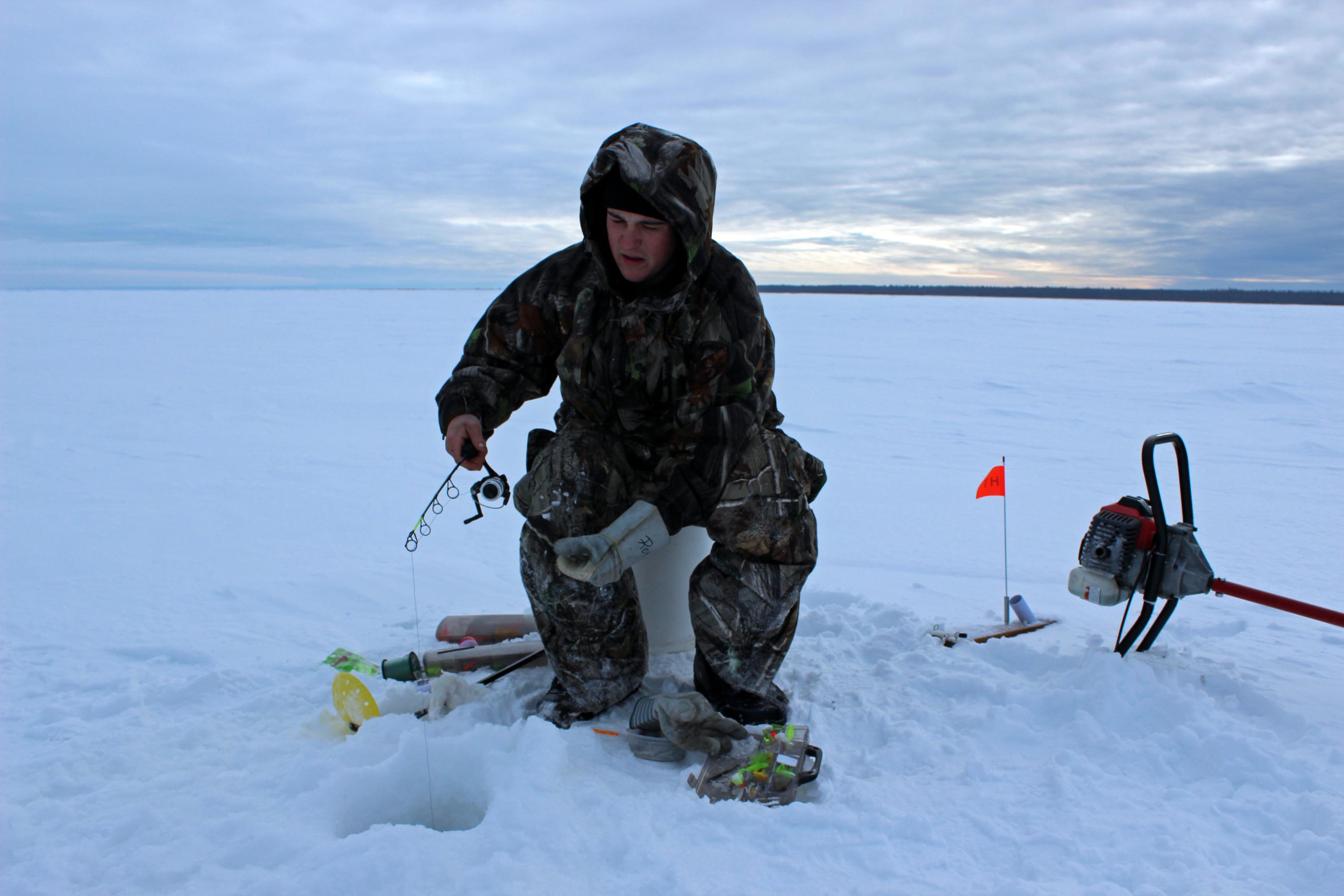 Justin Shewchuk fished for dinner, while his girlfriend Mackenzie Pawlick stayed by the hut, kept the fire going, and visited with neighbours. It takes solid preperation to have a successful romantic icefishing trip, but the effort is worth it.
Photo by: John Korobanik
JOHN KOROBANIK
SLAVE LAKE, AB - When the idea was proposed for doing a story on ice fishing as a romantic getaway, my immediate reaction was the two ideas simply do not go together.
It just seemed unlikely that any women would consider ice fishing and sleeping in a hut on a frozen lake, in -24 C temperatures, as a romantic getaway.
However, when I mentioned it on Facebook, a friend posted this: "Candles and wine and two bodies as close together as possible to keep warm. Catching fish would be a bonus. The sunset on a clear evening on a snow-covered lake sounds cool, too."
So the more I thought about it I realized that yes, it is quite possible to turn ice fishing into a romantic getaway; it just takes planning.
Preparing for romance
On Lesser Slave Lake, a comfortable two-and-a-half to three hour drive from Edmonton, there are both day and overnight huts for rent. These are not four-star hotel rooms but there are light cooking facilities, wood stoves for heat, lights (if you bring a generator), and outhouses.
When it comes to romance, the accommodations play a major role so it's important to go prepared. Bring sleeping bags that zip together and items like a table-cloth, utensils, your favourite wine with glasses, and plenty of warm clothing.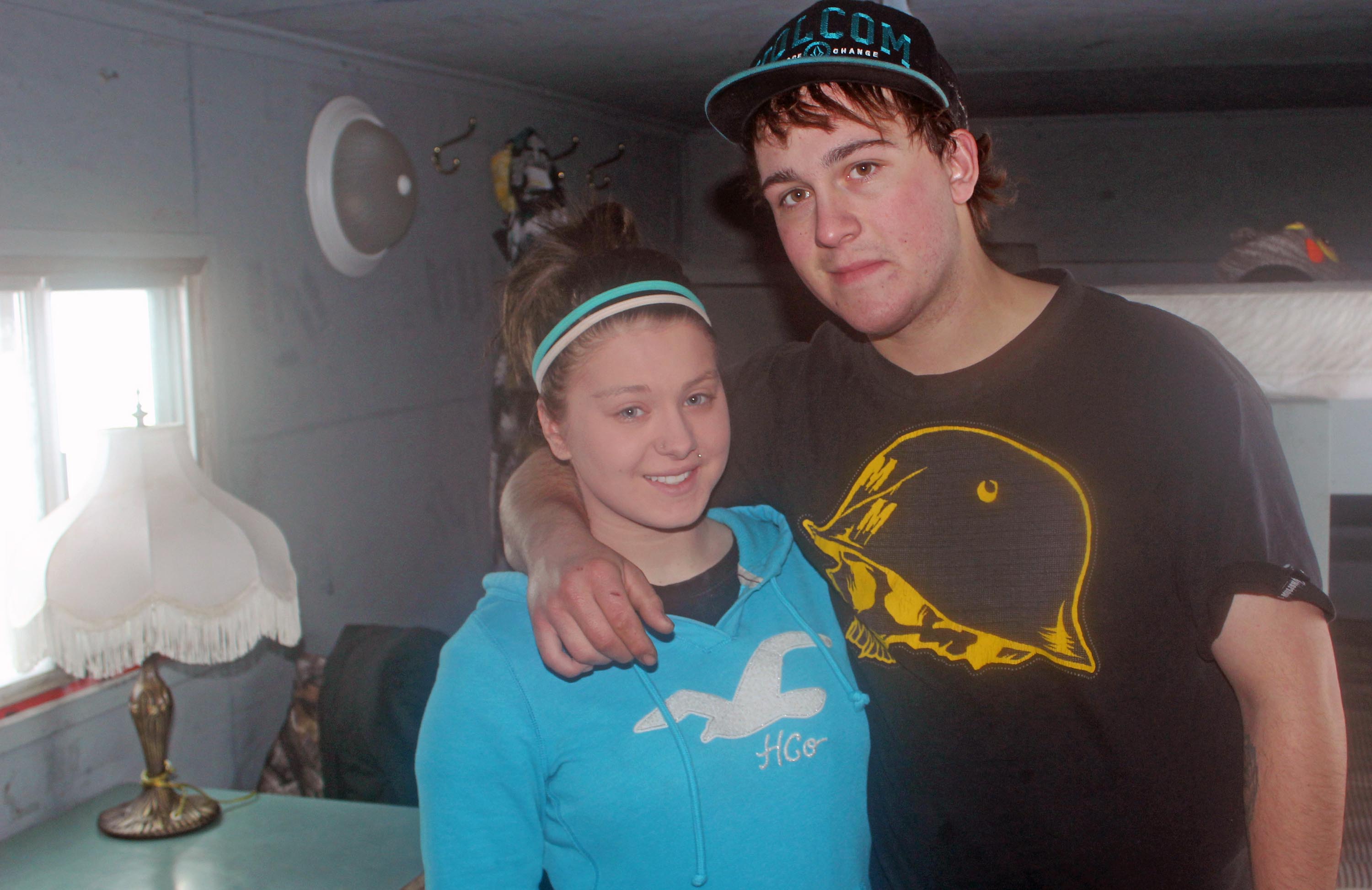 Mackenzie Pawlick and Justin Shewchuk inside their hut-away-from-home.
Photo by John Korobanik
"It's been fun, but cold," said 17-year-old Mackenzie Pawlick of her recent trip to the lake with Justin Shewchuk.
"At night you snuggle up to keep warm," she adds, laughing. "And you have to work together to keep the fire going."
Her trip was "not romantic at all" she says but that was partly because of the temperatures and partly because the young couple didn't come prepared for romance. While Shewchuk was spending the days fishing, Pawlick was left to "visit neighbours, keep the fire going, and cook food."
Bad move, Justin.
Words of wisdom
According to Cheryl, an outdoorswoman who grew up fishing and hunting in southern Alberta and didn't want her last name used, what Shewchuk should have done was be better prepared to ensure both of them enjoyed the outing.
"Romance is mainly about showing forethought for the one you are with," said Cheryl. "Take care of the details. If you want your woman to enjoy the trip, pamper her by not expecting her to do the cleaning and cooking."
So guys, if she doesn't fish, take along things that will make her more comfortable. Pack her a care kit of things you know she would enjoy while you are fishing: favourite snacks, a magazine, or even download a book you know she would enjoy reading.
"If she is among the uninitiated in the joys of fishing she may get bored from time to time and consistent little reminders of how you've thought of her care, enjoyment and comfort can make ice fishing romantic," said Cheryl.
Keep the fire going
And if he's lucky enough to catch fish, he should clean it and cook it himself. When planning the meals ahead of time, be sure to include foods that you both like and are easy to prepare. Add some candles, a nice wine, a warm fire and the evening holds all kinds of possibilities.
As one male friend said: forethought leads to foreplay.
Most women enjoy being catered to or pampered, and that's all part of the package. Prepare a dinner with a dessert she enjoys and afterwards take a walk on the lake, especially if it's a clear, starry night with the moon illuminating the white ice surface.
While it may be tempting to let the fire go out overnight so she's more inclined to cuddle tighter, don't do it.
"Our stove went out about 5 a.m.," said Pawlick. "He didn't get up, kept sleeping. I woke up, my God I'm freezing."
So guys, keep the fire going, the hut warm and in the morning, why not be the real gentleman and serve her breakfast in bed? That would certainly get the day off on the right foot and put her in the mood for romance, even if it is on the middle of a frozen lake.
For the latest deals, snow reports and contests, sign up today to our SnowSeekers e-newsletter.