Golden is great for horsing around
GOLDEN, B.C. - Avid snow seekers tend to have the blinders on when it comes to other things to do in winter. Chasing the pow is all we do. But. Yes, there is a but. But sometimes we need to poke our heads out from under the drift and see what else there is to do near our favourite double black.
Standing at the top of Kicking Horse Mountain and peering into the valley, you realize you've actually driven through a town to here. Golden is right there offering plenty of "other things" to do in winter, including visiting wolves, great food, walls to climb and lots of beer.
Visit with the wolves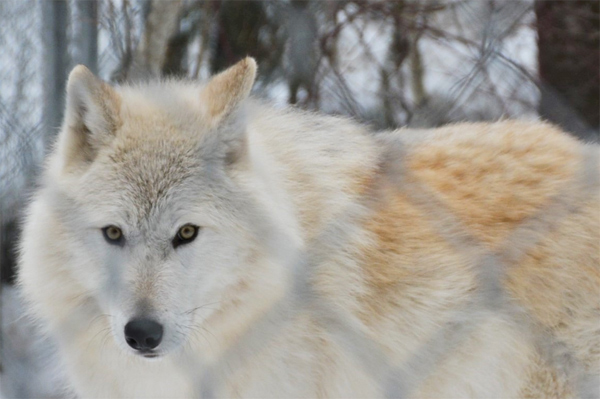 Watching the wolves at the Northern Lights Wolf Centre, just west of Golden, gives you a glimpse at their elusive ways.
Photo by Joanne Elves
Watching the wolves eat at the Northern Lights Wolf Centre is proof where the term "wolf down your food" comes from. What's even more interesting is that when they are done eating a meal, more than 20 other species benefit from what is left over.
The Northern Lights Wolf Centre is only a few minutes west of Golden up a paved road into a thick forest. A visit to the centre gives you and the kids a chance to learn about the elusive hunters and to see them up close. There is no need for reservations; the hosts are always available to take your group on a quick tour of the wolf enclosures.
During the winter and until May, Northern Lights Wolf Centre is open 12-5 daily. The hours extend in the spring. Check the website for options to walk with the wolves (no leash required!). Admission to the centre is $35/family. Walks and photography tours are extra.
Looking for flatter runs? Try Dawn Mountain Nordic Centre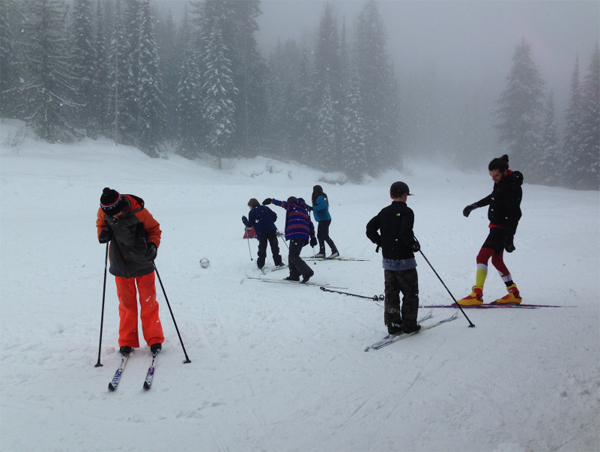 The Dawn Mountain Nordic Centre is a terrific for cross-country skiing with more than 30 kilomtres of trails. 
Photo by Joanne Elves
A short drive from Kicking Horse Mountain Resort is the Dawn Mountain Nordic Centre with 33 kilometres of track set for both classic and skate skiing. The trails are well marked from green to black and offer opportunities to try harder terrain by taking routes that branch off and loop back. All the trails eventually loop back to the club house so you can't get lost.
A new snowshoeing trail is bringing in the crowds. The route circles around a great big beaver pond. After a big dump of snow the trail is a pretty good workout for those quads. If you do the entire snowshoe circuit it will take just over an hour.
There is a small user fee to use the trails and it's collected at the drop box if there isn't someone present at the day lodge. Ski and snowshoe rentals are available on weekends. The fee for the rentals is surprisingly inexpensive considering the quality of the gear.
Climb the walls in Golden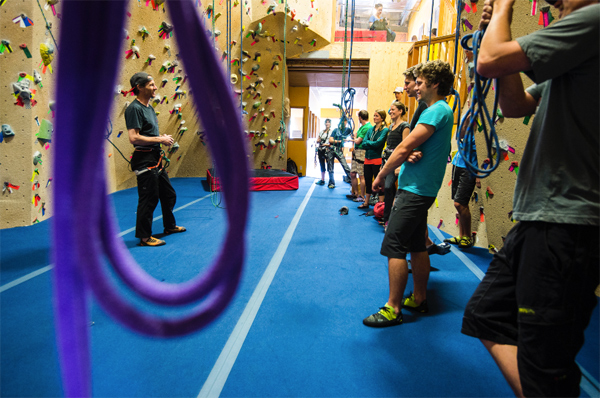 Check out the Dog Tooth Climbing Gym, a great place for kids to get comfortable with heights and exhaust their energy. 
Photo by Bruno Long
Dog Tooth Climbing Gym in Golden is perfect for anyone needing to climb the walls, across the ceiling and back down again. Every surface has hand and foot holds – except for the floor. Its covered in a soft surface or padding. Top ropes are there to clip in for the longer climbs. The drop-in rates are reasonable – you can entertain the family for less than $60. The facility is open daily from 4-9:30 p.m., Monday to Thursday. Saturday 1 – 8 p.m. and Sunday noon to 9:30 p.m.
Food and beer and trivia night
Check out the Wolf's Den for dinner and just try to finish the Gringo. Whoever thought a burger needed to be topped with corn, beans, salsa, avocado and cheese and wrapped and deep fried in a tortilla before going into an over-sized bun loaded up with more condiments, was pure genius. Stick around and digest as you listen to local musicians or catch a game on the big screens that hang along the log cabin walls.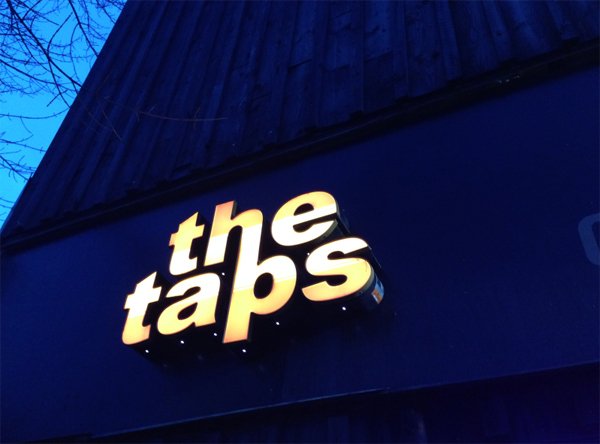 Trivia night at 'the taps' is a fun way to meet the locals and show off your trivia knowledge. 
Photo by Joanne Elves
If it's Tuesday, put your thinking cap on and head to "the taps" for trivia night. Be there by 7:30 p.m. or you won't get a table because everyone is there. Not kidding. It's fun to play the game and most importantly, it's a great way to meet other skiers, boarders and snowmobilers that think they know more than you.
Kicking Horse rules the range
Kicking Horse is known for its epic stashes of snow.
Photo by Joanne Elves
OK, it's true - winter in Golden is all about the snow and Kicking Horse Mountain Resort has it stashed all over the place. Some people may think of it as more of an expert's hill, but in-between the blacks and double blacks, there are easy routes down.
Kicking Horse has four lifts taking guests to over 2,800 acres of skiable terrain with a stash of over 1,000 more acres waiting to be opened. There are 121 marked runs, four bowls, countless chutes and terrain to challenge everyone. The breakdown looks like this: 20 per cent perfect for beginners; 20 per cent for intermediates; 45 per cent for the advanced skier and 15 per cent ready to kick the experts into next week.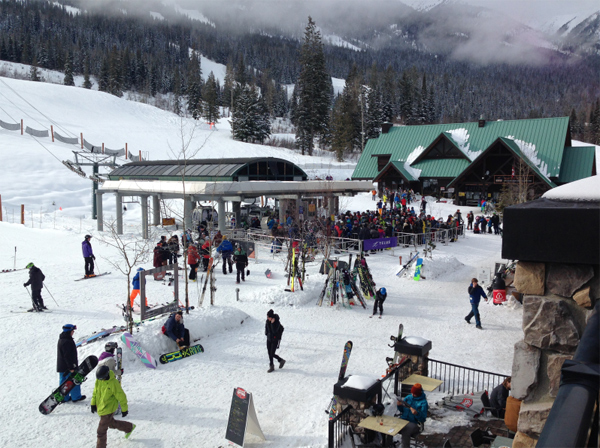 The Kicking Horse ha two places to stay at the base, letting you wake up and be metres fro the gondola. 
Photo by Joanne Elves
Each winter the summit gets an annual snowfall of over seven metres while the mid-mountain runs are covered in almost four metres of that champagne powder.
If you head there for the weekend, consider staying at least once at the base of the gondola at the Mountaineer and the Glacier Lodges of Kicking Horse Lodging. Watching the sun set, watching the groomers creep across the slopes all night and finally waking up within metres of the gondola is something we have to experience at least once - each season.
Slope-side dining
There are a few choices for dinner on the hill from fine dining at Corks to pub grub at the Kicking Horse Saloon. Kids are invited into the saloon until 8 p.m. After that, it's a great place to hang out and enjoy the evening.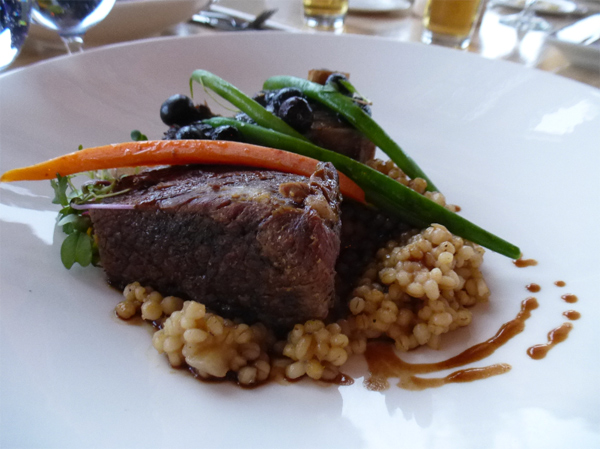 The The Eagle's Eye Restaurant at the top of the gondola not only has fabulous views, but also terrific food.
Photo by Joanne Elves
Don't forget to reward your efforts with a drink on the best patio in the world at Eagle's Eye Restaurant at the top of the gondola. Peaks from five national parks surround you as you sip a cocktail or local craft brew. Make sure to stay for dinner.
More information
For more information about Golden visit the Tourism Golden webpage. Check the Kicking Horse Mountain Resort page for deals on accommodations.
Want to learn the epic history of skiing in BC?
Are you ready to check out Golden for yourself? Share this page with your crew and get them ready to adventure with you.