Get stoked for the 2018 Rossland Winter Carnival
The January 25-28 festival might be Western Canada's greatest celebration of winter
AMBER HAYES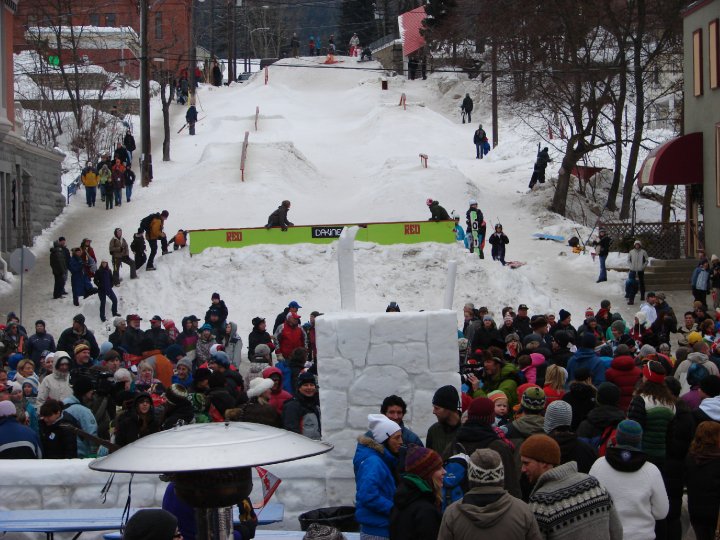 The Rossland Winter Carnival literally transforms its downtown into a railjam and bobsled course.
Photo courtesy of Peter Gearins
ROSSLAND, BC — Like many ski town residents, I continuously offer reasons why mine is the best. In Rossland, the snow is sublime (at Red Mountain Resort). The terrain defies classification. The town is only minutes from the lift (with my personal record being seven minutes from pulling out of my driveway to sitting on Red chair). But the crown jewel of the Rossland experience has to be the Winter Carnival; if you are looking for an excuse to make the trip to Rossland and Red Mountain Ski Resort, this is it.
January 25-28, 2018, the town will be rocking with energy as the Winter Carnival is in full swing. Given that my little town has been throwing this same party for over 120 years, it's safe to say that they know what what they're doing. They deliver … each and every year. 
The festivities
If you like dancing or jamming out, there is music playing in every venue in town each night, ranging from blues to rock to electronica. There are tons of events at Red Mountain for families and adventurous folks: there's luging, the downhill triathalon, and much more. The most famous event is the crazed bobsled race down Spokane St. (right in the middle of town), in which contestants make their own bobsled and race down this urban course with some teams clocking  speeds of over 80 km an hour! (No, that is not a typo)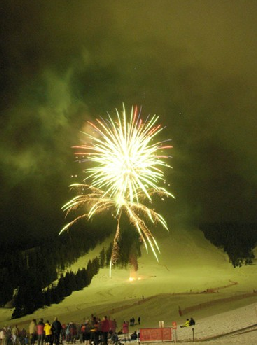 The Winter Carnival is a celebration like you've never experienced.
Photo courtesy of Amber Hayes
Kelly Acheson, Winter Carnival President, declared that, "This is the best carnival in the world.  The ONLY carnival that builds TWO runs (one for a bobsled race and one for a rail jam comp) right into downtown. From the railjam, you can almost jump across the highway and land in the beer gardens. There is no better outdoor fun than Rossland the last weekend of January every year."
A unique, genuine celebration of all things winter
The central town will boast a rails competition, sidewalk entertainment, food stands, and snow sculptured beer gardens. One of my favourite memories from last year's Carnival took place after sundown, where I was surrounded by happy fellow skiers on Main St. after a day of great turns. The floodlights were highlighting the competitors hitting rails, right beside Drift restaraunt. Fire jugglers grooved out to the tunes across the road at the snow sculptured beer garden, where more folks celebrated. Vehicles slowly travelled through town, with passengers' mouths agape as they took in what might have been their first view of a ski town truly celebrating winter.
We may have looked a little crazy to those folks, but to anyone who loves winter and the skiing and boarding it brings, this is a really unique, genuine way to celebrate it: with hundreds of like-minded peers.
Hope to see you there this year!
Red Resort has great packages for ski and stay. For more information on upcoming events, check out www.redresort.com. And for more about Rossland Winter Carnival, please visit www.rosslandwintercarnival.com.
Pamplona, Spain has its running of the bulls.
New York has New Years in Times Square.
But where else on Earth are you going to find a street-run bobsled course and men dressed
in women's nightgowns hurtling down the street at 70 kph?
Only at Rossland's 115 year-and-running Winter Carnival.