Find some snowy fun with these Top 7 winter activities 
JEREMY DERKSEN
EDMONTON - Let's be honest: in the city, winter is really a drag until you find a way to make it fun. It's not fun taking the garbage out in the dark, or brushing a foot of snow off your car, or trudging through deep snowdrifts. I'm not going to attempt to try selling ice to inhabitants of the North.
But Edmonton is a winter city, and if you embrace winter and get outside, you may discover something special, unique and yes — even fun — about our winter season.
Tobogganing
Snow plus gravity equals mad fun, no skill required. Enough said? This is the ultimate winter starter sport, it's low-cost and there are great toboggan hills all over. Popular spots include Connors Hill and the east end of Mill Creek Ravine — but just about anywhere with a little slope and a run-out (emphasis on the latter) will do. 
Skiing/boarding at local hills
Tobogganing is awesome but combining snow and gravity plus a little challenge is an even greater rush. You don't have to be a gold medal boarder like Shaun White. Edmonton has some of the best teaching hills anywhere. I've skied them all multiple times and the one constant is people are always smiling and having fun, whether they're first-timers or park pros.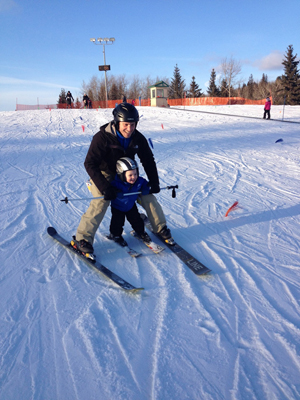 Skiing in Edmonton is the perfect place to enjoy family fun!
Photos by Jeremy Derksen
Edmonton Ski Club is the granddaddy of them all, at 103 years old. In the early days, Edmontonians used to flock here in thousands to watch ski jumpers launch down a ramp that extended right over Connors Road! Popular with racers and park kids, it's also a great family venue right in the core of the city. (Inside tip: try reversing down the ramp with a toddler in your arms, for immeasurable hilarity.)
Rabbit Hill is the largest of the local areas, nestled on the banks of the North Saskatchewan near Devon. Being the largest, it has a devoted a sizeable area for terrain parks, with a mini-park, large park, a halfpipe and tabletops.
If you're spending more time on your butt than your board, then Sunridge might be for you. It's the only hill of the four to offer daily snowtubing, letting you put a bit of cushion under you as you enjoy the high-speed slide.
Loading and unloading chairlifts can be one of the most unnerving experiences for newer skiers. Snow Valley's detachable quad chairs unhitch while at the station, allowing slow loading and unloading, and then re-attach for a fast ride between stations. The east-facing hill gets great sun, and there's a modern lodge with a large stone fireplace.
Snowshoeing at Elk Island National Park
Finding solitude and beautiful winter spectacles is easy on snowshoes, especially in Edmonton's closest national park. Aside from bison, there are wintering birds, elk and even the occasional coyote or owl, not to mention the night sky and the prospect of northern lights. New this season, local guide Haskin Canoe is offering rentals and guided tours.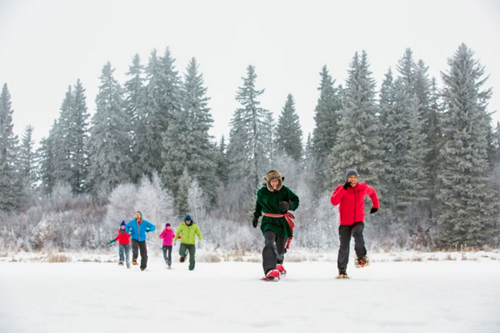 See how fast you can run in snowshoes!
Winter festivals
Perhaps it's our pioneering heritage — a way to beat cabin fever and gather as community — but the artistry, ingenuity and general party vibe of Edmonton's winter fests makes the season bright. Giant ice slides, snow sculptures, special effects, musical entertainment and games at the Silver Skate Festival, Ice on Whyte, Deep Freeze and the Flying Canoe will get your blood pumping all the way to those chilly extremities so you can clap, dance, sing and play along.
Cross-country skiing
Another deeply ingrained activity, Nordic skiing is a great way to get out and enjoy the river valley. Once you've got the rhythm, gliding through the snow is pure freedom. With new public warm up huts, as well as new cafés popping up, there are more places to take a break and enjoy that wonderful sensation of coming in from the cold and into that baked, warm goodness of a Little Brick or Culina. This year also marks the 30th anniversary of the Canadian Birkebeiner.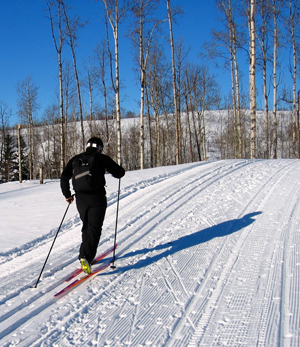 Edmonton is home to incredible cross-country skiing trails.
Trail running
Admittedly, this isn't an entry-level activity — but if you're moderately fit, there's nothing more invigorating. Trails are less crowded and with cooler temps and proper dress, your muscles won't overheat, so you can find your pace and go. If you're just starting out, a few good hikes will prep you for more challenge. The rewards are akin to Nordic skiing — beautiful views, great exercise, vitamin D — with less technical demand.
Visit the Muttart
If you've done it all and your winter enthusiasm is waning, it's time for a recharge. Instead of a trip south, pop in to the Muttart Conservatory. Humidity, bright sunlight and exotic foliage will help you refocus on the season's beauty — and if you've managed to try each of the other six tips here, you can take heart knowing that spring is probably just around the corner.   
Like this story? Share it with your friends and get them excited about winter in Edmonton!
For more stories and detail on Edmonton check out our SnowSeekers' destination page.