Feeling bubbly after a delightful Big White weekend
Ski, tube, skate, eat, drink and be merry at this resort that has every winter activity covered 
REBECCA BOLLWITT (AKA @MISS604) 
KELOWNA, B.C. – Jingle bells on two eager Clydesdales chimed as we slid through the snow on our way to a warming hut for brunch. "It's a winter wonderland!" says a young guest who was staying at Big White with her family.
This was the last activity for my friend and I before we headed home after a full weekend at the resort. On the sleigh, we compared notes with the youngster, whose itinerary was similar to ours.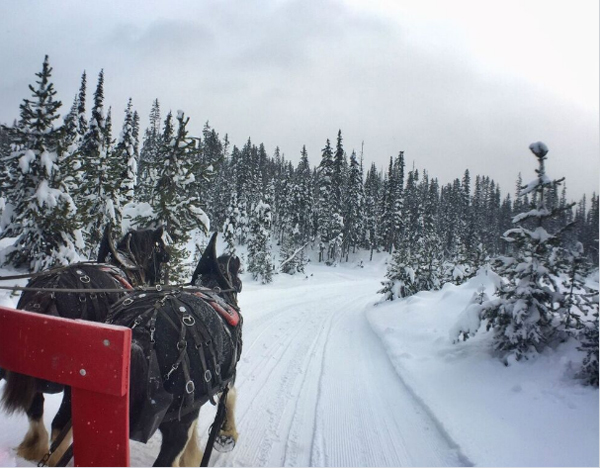 Sleigh rides are a fun way to unwind any time of day. 
Photos by Rebecca Bollwitt
"Tubing, then skating, then games?" She looked up to her mother to confirm her agenda. We had already done all of the above (although, we subbed the games for apres cocktails).
We told her about our sunset tubing adventure followed by skating on Canada's highest elevation outdoor rink at this award-winning resort. We giggled with the memory of our experience and she giggled with anticipation. Whether you're travelling with family or a on girl's getaway, there's something for everyone at Big White.
Snow Hosts have a cool job
Our weekend started in the Village Centre Mall, where you can fuel up with Clocktower Coffee Co. and the "Heck Ya" breakfast sandwich – brie, egg, crispy pancetta, espresso aioli on a biscuit. It was there we met up with Karl Kuipers, a Snow Host at Big White who has been skiing at the resort since 1981.
"Being snow host is cool because everybody's here to have a good time, there's no grumpy people," said Karl. And that's because of the amazing ski terrain, he says.
Anyone at Big White can meet up with a snow host for the day and take a free mountain tour. All you have to do is show up at the Snow Host Meeting Place sign in the Village Centre, in front of Dizzy's Ski Shop, at 10:15 a.m. Tours run daily and will open your eyes to the local's favourite spots.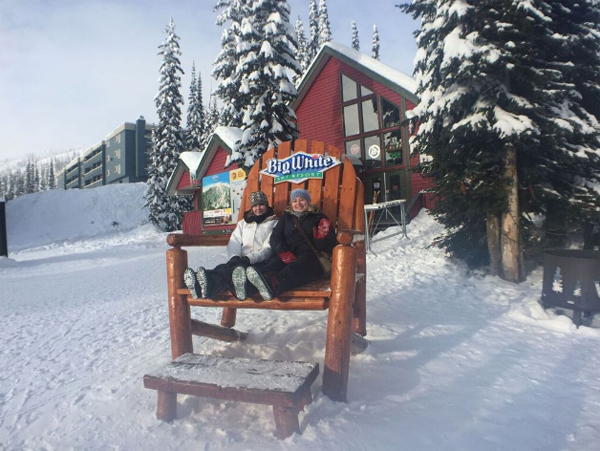 Misty Gaudry and me on the Big White chair. 
I can tell Karl loves this mountain because of its versatility for all levels.
"It's so easy to be super proud of this mountain and show it off. It's just massive," Karl told me over coffee at The BullWheel, an establishment owned by John Mooney. Over that weekend, Mooney also opened up Six Degrees in the village – an upscale dining option where the name indicates the perfect temperature at which to serve champagne.
"You could be skiing with somebody who can't ski at all, absolutely green, green, green and you could ski blue runs right beside them and meet up at the exact same spot," Karl says.
It doesn't matter whether your group is made up of green, blue, or black diamond skiers – you can always take the same chair up and meet up again at the bottom, with the more advanced runs flanking the easier terrain, he explained.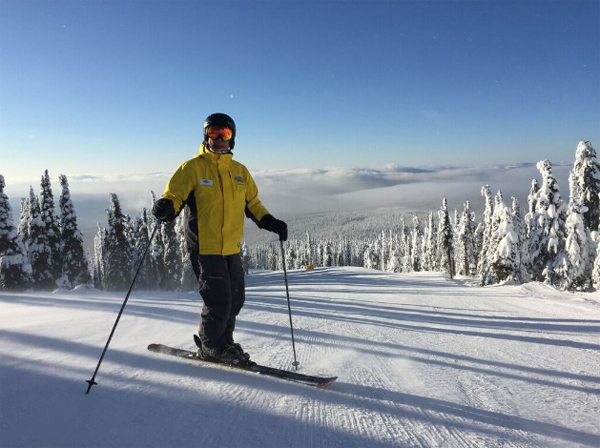 Snow Host, Karl Kuipers. 
"You can work as hard as you want to or as easy as you want to," he says of the event, which is held regularly throughout the season at Big White.
Just pick up a boarding pass at the Concierge Desk in the Village Centre Mall before you head out to each of the blue runs on the mountain (a snow host can help you out there, too). Find the signs on the runs and write down the corresponding letters to find the secret phrases. Then head to the prizing ceremony, where you can cash in your boarding pass for a free t-shirt and other prizes.
After our second round of coffee and some lunch at The Woods, Karl also showed us the remaining dozen dining establishments in the village before heading out for the day.
Big White offers something for everyone
The diversity of the terrain matches the wide array of activities for all ages at Big White. From a sleigh ride to brunch in a snowy forest to local craft beer on a slope-side patio, to partaking in a game of shinny on the outdoor rink or climbing a tower made of ice – it's all here.
We scratched the surface over our weekend stay, where we could have tried to also fit in snowmobiling, snow shoeing, dog sledding, and the legendary "Kelonut" we spotted at the take-out counter at Globe Café and Tapas Bar. It's a combination of a croissant and a donut with custard in the middle.
The good news is that between the bubbles at Six Degrees and bubbles in the hot tub after a long day of riding, we were able to plan our next trip to Big White and reflect on our absolutely fun-filled weekend.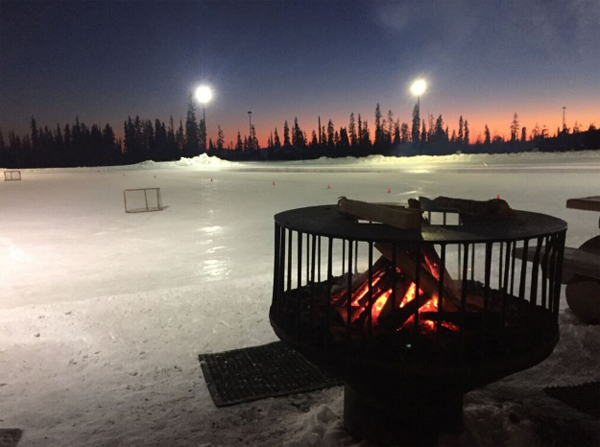 Getting cosy by the bonfire near the ice rink at sunset. 
If you go
Get more information on deals and packages at Big White Ski Resort when you visit the official website.
Big White has partnered with Air North to offer a Vancouver Inclusive Fly, Stay, and Ski packages starting from $498 per person.
Stay in the know about snow in B.C. and Alberta by following us on Facebook and signing up for our ENews.