Can A Middle-Aged Woman Survive Kicking Horse Mountain Resort?
Yes, and here's how with a little help from some friends
LEIGH McADAM
I've become a skiing wimp in my middle-age. Black diamond runs that I would have once skied with abandon have little appeal. Fortunately, cruisers especially the groomers with untracked corduroy and mogul runs, providing the moguls come in nice shapes, remain perennial favourites. And I'll always say an enthusiastic 'yes' to a powder day. So my skiing days are hardly over.
But I am intimidated by steep terrain.
And that is what Kicking Horse is best known for. Count the black diamonds on the trail map and you'll find over 90 runs rated as advanced to expert, versus 36 runs rated beginner to intermediate. Take out the beginner runs and you're down to 15 intermediate trails, hardly an endorsement to spend a weekend at the resort for a skier like me.
Get more information on deals and packages at Kicking Horse Mountain Resort when you visit the official website.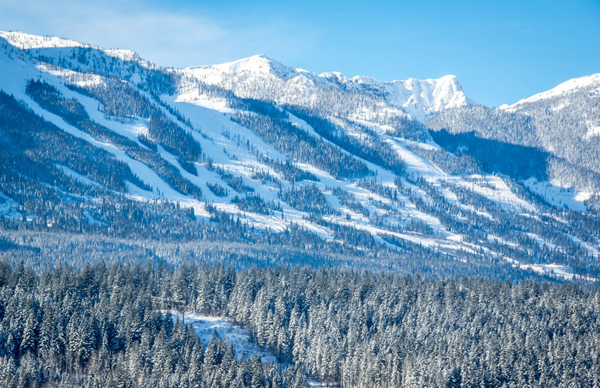 Kicking Horse is known for its many advanced and expert level ski runs - 90 in all. 
All photos by Leigh McAdam
Last year I skied the mountain for the first time. Skied is not quite accurate. I groped my way down whatever run looked doable in dense fog, where I could hardly see my ski tips. At the end of the day I vowed never to return.
And here I am, less than a year later saying a cautious yes to another weekend at Kicking Horse. But this time I would have a guide and a goal. Could I actually have fun skiing at Kicking Horse?
Nathalie Gervais, an ex-Freeride World Tour Competitor, and as she describes herself a passionate, obsessed big mountain skier, was my guide. I'm thinking great – here's someone who lives for gnarly, steep slopes. How's this going to work?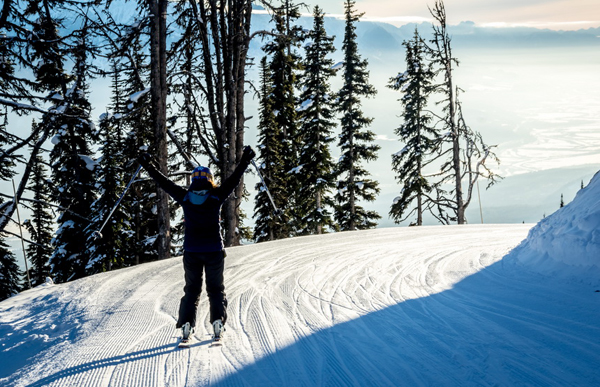 Sign up for a guided Kicking Horse's tour that helps you get familiar with the terrain.
Fortunately, within minutes of meeting Nathalie my fears were put to bed. But she was no pushover either. All of our time was on the top part of the mountain except for the top to bottom runs at the end of the day and surprise – I had a shocking amount of fun. What made the difference was local knowledge and the knowhow to get into the bowls and avoid the really steep stuff.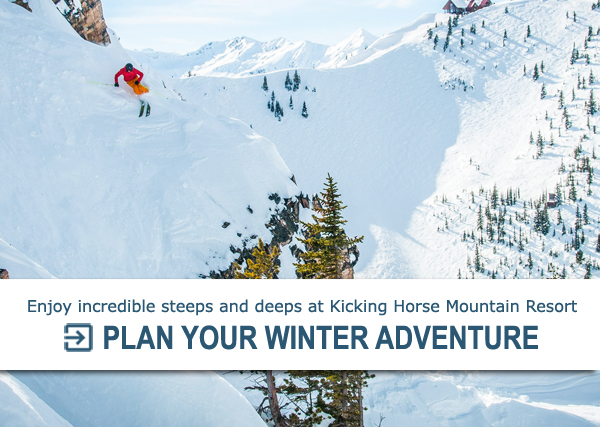 Our time together started with a ride up the Golden Eagle Express gondola. There is an easy route down from the top as well as a couple of intermediate runs but with so many cliffs and roped off areas it looks intimidating. Follow her down and it suddenly feels easy. It's also an incredibly beautiful area with far reaching views down the Columbia Valley. (Even if you're not a skier take advantage of the reduced rate of $10 per person to ride the gondola between 2 and 3:30 p.m.)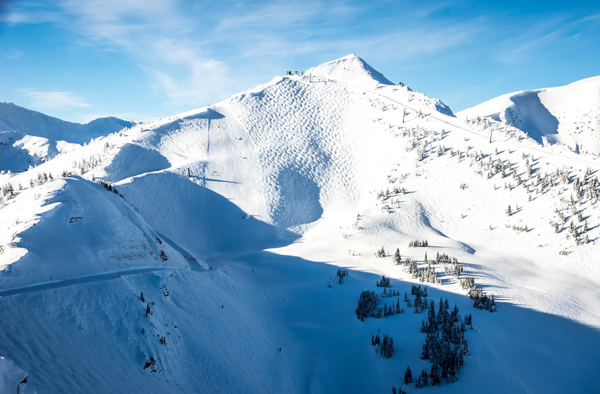 A steep and sensational view of Whitewall. 
Some of my favourite runs were the blues that led to the Stairway to Heaven chair. It accesses a steep cruiser and some serious terrain including the Whitewall with its gut twisting views. Without Nathalie I would never have done the boot hike to the top or peered over the edge – and yet it was a highlight of the weekend.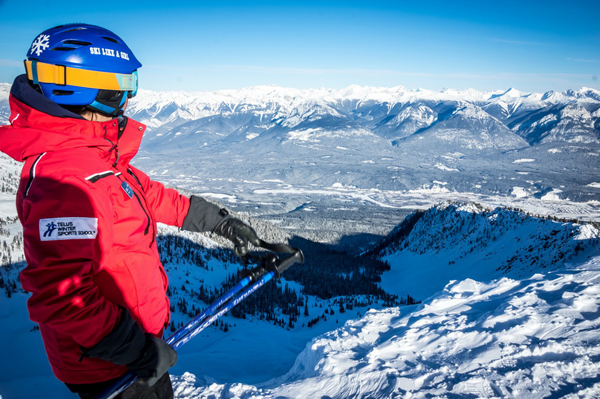 Nathalie Gervais recommends taking a tour with a snow host to get a lay of the land. 
Nathalie's advice to me or anyone who feels intimidated is straightforward. "Explore the lower mountain first as the slopes are friendlier. If a trip to the top of the mountain feels too uncomfortable, buy a Catamount pass and ski a good variety of runs, most of which are easy. Take a free mountain tour with a friendly mountain host at 10 a.m. and/or 1 p.m.. And get on the mountain early when the slopes are freshly groomed and there aren't many people around."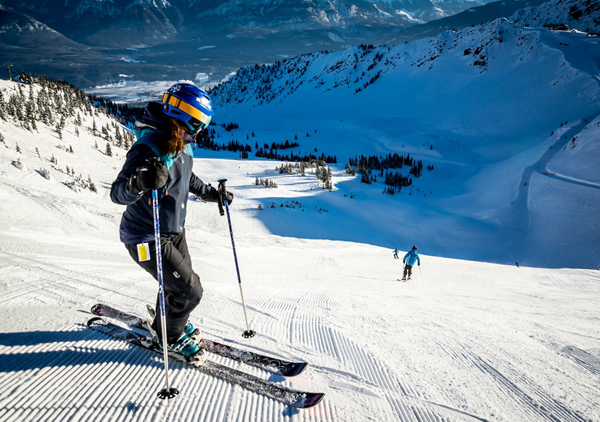 There are plenty of corduroy cruisers for those who don't like the steeps.
At Kicking Horse people are super friendly and very helpful. The locals understand that the mountain can be scary and are happy to point you in the right direction. As Monika, one of the snow hosts said to me "This mountain made be a good skier and now I can tackle anything."
I'm not quite there yet – but I would return, now that Nathalie has paved the way.
If you go
Get more information on deals and packages at Kicking Horse Mountain Resort when you visit the official website.
Like this story? Share it with your friends on Facebook.