RICK MACDONNELL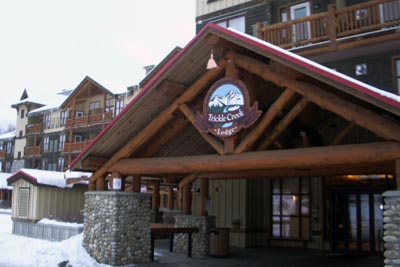 Kimberley's Trickle Creek Lodge offers comfort and plenty of amenities for every member of the family.
RICK MACDONNELL/SnowSeekers
KIMBERLEY, BC — There are almost too many reasons to come to Kimberley: alpine skiing, nordic skiing, ice fishing, fly fishing, white-water rafting, snowmobiling, snowshoeing, dog sledding, heli tours, and even a mining railway tour. It's a town that absolutely demands you make an extended stay. And if you're going to stay anywhere in Kimberley, you'd best do so at the Trickle Creek Lodge.
Located at the base of North Star Hill at Kimberley Alpine Resort, nestled in British Columbia's pristine Purcell Mountains, Trickle Creek Lodge is the most centrally-located accommodation in town. But it's not just the location that keeps customers coming back for more.
Memorable experience
"We're complimented all the time on how fantastic our service is here," said Patti Andrews, Trickle Creek Lodge's general manager. "From the service, to the comfort of our suits, to the location, to our fantastic amenities, we offer everything you need to make your next stay in Kimberley a memorable one."
Said amenities include an outdoor heated pool, two outdoor hot tubs, multiple meeting rooms, a fitness room, on-site laundry, and a bountiful breakfast buffet. The Lodge is also steps away from Kelsey's restaurant, as well as Kimberley's daycare centre.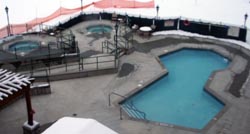 Kimberley's Trickle Creek Lodge features an outdoor heated pool and two outdoor hot tubs.
RICK MACDONNELL/SnowSeekers
"Kimberley Alpine Resort is known for being a great family experience, and so we definitely do everything we can to make families feel right at home here. Parents can drop their kids off at the daycare centre while they get a few turns in on the hill, and then the whole family can walk just down the hall and enjoy a terrific dinner at Kelsey's."
Full family deal
Trickle Creek Lodge's dedication to family is perhaps no more evident than in the fact that they allow pets to stay in every room, for a small charge. 
"We've had everything from hamsters to greyhounds. Here at the Lodge, we understand that to a lot of people, their pet is a member of their family, so we want to accommodate that."
Not only is the Lodge close to all on-hill amenities (including the Stemwinder Bar & Grill, Sports Alpine Boutiques, the rental shop, and more), but by the nature of Kimberley's close proximity to the ski hill, you're never more than a few minutes away from your favourite destination in town.
"Kimberley is home to a wide variety of restaurants and shopping opportunities, as well as the Trickle Creek Golf Course, and the Lodge is comfortably in the middle of all of it."
Plan that trip today
Trickle Creek Lodge is a 4.5 star full-service ski-in/ski-out hotel. With 80 deluxe suites, each with its own kitchen, fireplace, and balcony, as well as all the amenities you'll need to make your stay as comfortable as possible, the Lodge is the perfect accommodation for your family's trip to Kimberley.
For the latest deals, snow reports and contests, sign up today to our SnowSeekers e-newsletter.