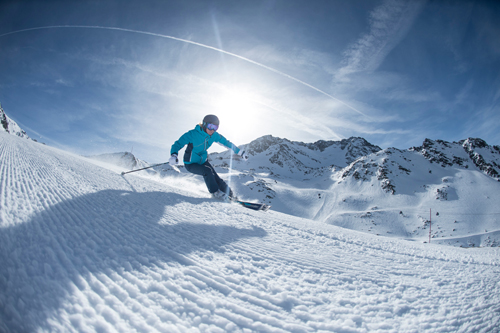 Looking to spend more time in the mountains this winter? Spend some time at a Winsport clinic.
Photo by Sindy Thomas
PAULA WORTHINGTON
CALGARY - I've always thought that I have no business being in a terrain park. I've tried riding the tiniest rails, without much luck or grace. As an adult, I've long figured that the skier I am now is likely the best skier I will be.
Winsport's Canada Olympic Park is shattering that stigma for skiers and snowboarders with a new adult program that will showcase its world-class facilities while teaching new-found skills and techniques that skiers and riders can apply to any mountain.
New for 2015 is the Rossignol Performance Experience and Burton Performance Clinic, which will take place at Winsport on Thursday evenings starting on Jan. 15, 2015. Targeted towards advanced skiers and riders, aged 18+ the program takes participants who are willing to go out of their comfort zone and learn skills on Winsport's mogul pitch, terrain park and impressive 22-foot Under Armour Superpipe.
With proper instruction, anyone can learn moguls, half pipe and terrain park features.
Photo by Dean Blotto Gray
According to Patrick Breault, performance manager of the Winsport Academy, you don't have to travel to the big resorts outside of Calgary to get a world-class, advanced-level experience. "Winsport is home to some of the best snow features in the world. Not only will participants get the chance to learn some fun and safe techniques to ride features, but the instruction will give them more confidence to become a more well-rounded expert skier or rider."
As adults, we're often intimidated to learn new skills, particularly when it pushes us out of our comfort zone, even if we have a solid level of experience. "There's a natural comfort level by being part of an inviting group environment, and our coaching team will provide the world-class instruction and tips to take the fear away," says Breault. "With proper instruction, anyone can learn moguls, half pipe and terrain park features."
Anyone? Even me? Breault has me convinced.
The convenience of being able to hone skiing and riding techniques within the city provides a number of time-saving benefits. Winsport proves that it's much more than a learn-to-ski area. I liken it to golf - even the best players in the field still practice their skills close to home at world-class facilities - why wouldn't we do the same when it comes to skiing and snowboarding?
Breault encourages everyone to "find their inner teenager" and their adept coaching team will take care of the rest.
The five-week program will offer specific instruction and topics each week, such as specific skill development, safety, etiquette, terrain park, pipe night and demo night. The programs are offered exclusively through Ski Cellar locations, and are open to a maximum of 30 participants (20 skiers, 10 snowboarders). Registration opens Dec. 15 and closes once it's filled. The program price (including lift tickets and coaching) is $549.99 +GST for five weeks and starts Jan. 15, 2015.