DOC POW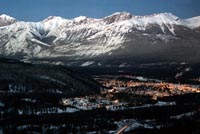 Dusk settles over the Rockies as the lights of Jasper come up.
Photo courtesy Jasper Tourism
JASPER, ALTA. — Located approx. 350 kilometres west of Edmonton, Alberta, in the heart of the Canadian Rockies, you will find a place that is unlike most other ski resort towns. Jasper is its own little piece of true wilderness nirvana.
It has a very community feel, one that a few years back, ran McDonald's out of business because the town folks would rather get their meal from one of the local restaurants. It's since re-opened, however the town still holds onto a charm that is all its own.
Alberta beef at its best
You'll notice it immediately upon arriving at a place such as the Tonquin Prime Rib Village & Nic's Bar. Nick Bartziokas opened this authority on Alberta beef 40 years ago and has been feeding hungry skiers, tourists and outdoor enthus iasts ever since.
Many, such as myself, look forward to getting back to the lounge for one of his signature prime rib sandwiches. It's a meal that will leave one of those long lasting memories for years to come.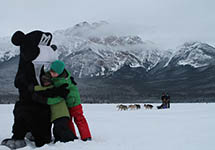 Celebrate with Jasper
Discover why Jasper is one of the top Canadian Rockies destinations.
The sandwich isn't so much a meal as it is an experience; served with some horseradish, and au jus on the side – just typing these words has my mouth watering. Be sure to enjoy it with some of his outstanding Greek salad and just for good measure, pair it all up with a Caesar or a glass of his house red.
The Prime Rib Village is located in Decore Hotel's Tonquin Inn, a perfect spot for those who are looking for some quality accommodations at an affordable p rice. Spacious rooms are joined up with an indoor pool and a couple of outdoor hot tubs.
Mouth-watering treats
Across the street, you can step up your accommodations a bit with a stay at the Mountain Park Lodge's Chateau Jasper. Newly renovated rooms allow guests the perfect spot to unwind after a big day on the slopes or canyon tour.

The Chateau also features an indoor pool and plays home to the Silverwater Grill & Lounge. Dive into the signature dish, the Teriyaki Ginger Beef Tenderloin for a taste sensation that will knock your taste buds off. The restaurant feature a wide range of dishes and the Silverwater also makes a great Après spot with a stellar lounge, pool table and some comfy chairs.
Either the Chateau or the Tonquin allow for a short stroll into the main part of town which serves up a ton of stellar nightlife and dining options. If live music's on the menu, be sure to head into the Athabasca Hotel (known affectionately as the Atha-B).
Time to party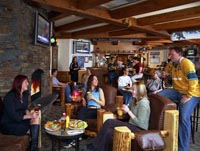 The Whistle Stop Pub is a great place to meet up with friends.
Photo courtesy Jasper Tour

Here, you will get a chance to rock out with the locals while enjoying bands that hit the stage pretty much every Friday and Saturday night throughout the ski season. Eight years ago, the locals decide that the Whistle Stop Pub, located in Whistlers Inn, would make the ideal spot to hold jam sessions. They still do.

Every Sunday afternoon and Wednesday night, there can be three or 12 or more musicians picking the strings and belting out some great tunes from the likes of Johnny Cash to some of their own. You are welcome to join in.

Around the corner from the Whistler Stop is the Downstream Bar & Grill. With its stylish interiors, the Downstream offers up some great DJ tunes and an always happening atmosphere. The food is pub-style fare which will not set the pocket book back at all.

When you're out on the town for a big night, the morning may just come a little too early, but do make a quick stop on route to the hill at the world-famous Bear's Paw Bakery. Load up the finest finger fixings like their scones or the bacon and cheese croissants – trust me, with the impressive line up of baked goods behind the counter, it may take a bit to make the right call, or just do as I do and grab a few extra snacks for the road.