DOC POW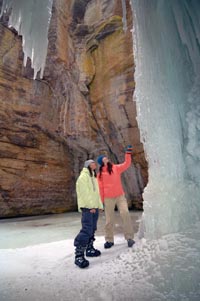 Sculpted by Mother Nature, the natural art of Maligne Canyon is breath-taking.
Photo courtesy JASPER TOURISM
MARMOT BASIN, ALTA. — In addition to Marmot Basin Ski Resort, Jasper National Park offers up some stellar winter adventures sure to keep any snow seeker stoked. One of the most popular attractions in the winter is Maligne Canyon.
I had the chance to head into the canyon with local guide, Dieter Regett from the Jasper Adventure Centre.
"Maligne Canyon was formed thousands of years ago, carved away by a river flowing through here. Because all the rock that makes up the canyon is limestone, the water had an easy time carving its way through," said Regett.
A beautiful 20-minute hike puts you at the entrance to this natural wonder. Equipped with gear provided by the Centre, including weatherproof boots and cleats to help gain traction against the ice, Regett and I descended into the canyon's depths.
One of the impressive things about the canyon is just what he described – its formation. You can see its history for yourself by just checking out the walls and noticing the effects of the erosion.
A must-do
Along some of the areas, it almost seems like the water was carving through butter, the sides are so smooth. Filled with caves, frozen waterfalls and beautiful site lines to shoot some amazing photos, Maligne Canyon is an approximate three-hour experience that no one should miss.
It's a destination that ranks high on the list for many Western Canadian ice climbers as well. On any given Saturday or Sunday, the weekend warriors will be out in full force and it's a great opportunity for you to get into the canyon and just spend time watching them to move with grace, as they work their way up the ice.
"A canyon guide is really important to add to your experience," said Regett, a 30-year resident of Jasper, who has been taking groups through Maligne for years. "We are able to, not just provide the background and answer questions, but also make sure the experience is a safe one."
Offered through the Jasper Adventure Centre, there are three tours daily – 10 am, 2 pm and 7 pm. The Canyon ice walk is a great option for anyone who does not ski or snowboard. Or if you are in for the week, get a full morning in on the slopes and than head into the Canyon for the afternoon. However, Regett recommends an evening tour.
"If you can time it right, coming into the canyon during a full moon is amazing."
In addition to the ice walk, the Centre also offers dog sledding, snowshoe tours, introduction to cross-country skiing and its signature Jasper-to-Banff day tour, which takes you along one of the world's top drives, the Glacier Highway.
Walking on ancient ice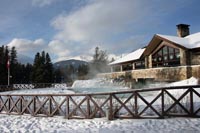 The Fairmont Jasper Park Lodge offers pure comfort in a rustic setting.
Photo courtesy JASPER TOURISM
Along the storied Highway 93 that connects these two Rocky Mountain towns are the planet's only glaciers accessible by road. Part of the tour will stop at the Columbia Icefields, where you can not only take some great photos, but also get out and walk on a glacier.
For those who may not be a huge ski and snowboard fan but still enjoy winter, there is no better place to set up shop than the Fairmont Jasper Park Lodge. Set along the banks of Lac Beauvert, the JPL, as it's commonly known, could be a winter destination all to its own. Skating, cross-country skiing, enjoying the outdoor pool or feasting on some fine cuisine are all options located right on site at this magnificent property.
Steeped in history, the JPL is a four-star accommodation with individual cabins around the lake and has played host to many celebrities including Marylyn Monroe and the Queen of England. Even if you are staying in the town of Jasper, make a morning or afternoon visit to the JPL's skate shop, pick up a pair of rentals and skate around the lake a few times.
End your day by spending some time relaxing in big over-grown beach chairs around the fire pits and enjoy a hot chocolate. In Jasper, life is always good. With Marmot Basin just minutes away, how can it not be?
For more stories and detail on Jasper check out our SnowSeekers' destination page.