Miles of varied terrain around coulees and river valleys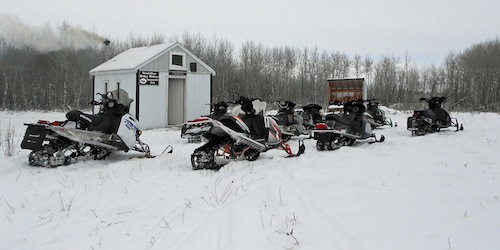 Snowmobilers can warm up in the club's cabin.
Photos by John Korobanik
JOHN KOROBANIK   
VERMILION AB - On a normal mid-winter day it takes Warren Young about five minutes to ride from his dad's Vermilion shop to the outskirts of town and a beautiful scenic spot overlooking vast tracts of farmers' fields and the Vermilion River valley.  
It is a view that perfectly illustrates the best of what riding around Vermilion has to offer – plenty of wide-open spaces with rolling hills, river valleys and magnificent views. Granted, it's not the Rocky Mountains, but it has its own appeal. 
"We have miles and miles and miles of riding in the area," says Chris Swan, vice-president of the Vermilion snowmobile club. "When you drive out here on the highway, Highway 16, you don't see the variety of terrain we have," says Swan, referring to the huge network of coulees to the south and the many river valleys.  
"We have the Vermilion River valley and a little bit further the Saskatchewan River valley, so there's a lot of interesting terrain. And we usually have pretty good snow, like several feet of good powder snow." 
The club is relatively small – about 10 active members and another 30 or so, who buy their trail passes through the club from the Alberta Snowmobile Association. Currently, its trail system is also small compared to other areas but that will change in future winters.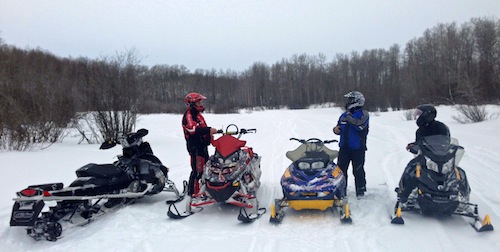 Taking a break on the trail.
Warren Young, president of the club, says there are about 13 kilometres of trails now – heading east to the club's warming cabin – but plans are in the works to triple that. 
If all goes according to plan that expansion will link Vermilion with Mannville to the west, and Dewberry to the north. Once they reach Dewberry there are trails to Myrnam and those trails tie into the Trans Canada Trail.
Swan says there are also plans to take the trails north of Myrnam to the St. Paul area where it would hook up with Alberta's Iron Horse Trail.
So why would riders in the Edmonton area, for example, head east instead of west to the mountains? 
"It's a tough thing to compete against (the mountains)," says Young. "It's so much warmer there, the snow is so much better. But it's also more dangerous because of the avalanche conditions. They have more consistent snow, ours is hit and miss." 
But when it comes to families, it's a lot easier for the Vermilion area to compete because the trails are more open, less dangerous and there's more to the rides than just snowmobiling.  
Young says lots of families like to ride to the club's cabin where the family can warm up, go tobogganing on a nearby hill, and then light a fire to roast hot dogs, or head inside for lunch before heading home. 
Plus, says Swan, who got his first machine in 1969, for Edmontonians it's about a four-hour ride to the mountains but less than half that time to Vermilion.
More trails:
For the latest deals, snow reports and contests, sign up today to our SnowSeekers e-newsletter.